Quick Overview - CorVel Corp (NASDAQ:CRVL)
CorVel helps control healthcare costs for worker's compensation, group health, and auto / liability claims. Their customers include employers, third party administrators, insurance companies, and government agencies. They have two main business lines: 1) Patient Management (51% of revenues) - controlling claims by active management of patient treatment and 2) Network Solutions (49% of revenues) - a medical savings solution with bill review / repricing and PPO management. CorVel is a hidden gem, ignored by Wall Street with no analyst coverage. Market Cap = $987 MM, PE (TTM) = 32.4 (at closing price of $47.16 on 12/27/2013).
Recommendation - Buy CRVL
Revenue from CorVel's medical cost savings solutions will grow as the Affordable Care Act drives insurers to step up their focus on reducing treatment costs. As revenues grow, economies of scale will drive margin expansion. CorVel should continue to buy back shares building on its strong track record of share count reduction (4.6% CAGR share count reduction over previous 4 years).
Sell targets for different investment timelines are listed below. Sell targets are based on the Risk Based Valuation (see details below). Returns are based on the closing price of $47.16 on 12/27/13.
Investors with a < 6 month timeline should sell above 54.1 for a 14.7% return
Investors with a 1 year timeline should sell above 61 for a 29.4% return
Investors with a 3 year timeline should sell above 84.7 for a 79.6% return
Investors with a 5 year timeline should sell between 79.5 and 171 for a 113.1% to 262.5% return
Investment Thesis
The investment thesis for CorVel is based on three key points:
#1: The Affordable Care Act will continue to drive higher revenues for CorVel's medical cost savings solutions - CorVel has shown a strong uptick in its Network Solutions business (+15% revenue growth) as the Affordable Care Act is implemented. This effect was highlighted by CEO Gordon Clemens on their most recent earnings conference call:
I''ll speak first to the markets for our services. As we're all well aware the Affordable Care Act, the implementation has implications for every aspect of any healthcare or healthcare insurance services. Both providers and payers are under pressure to reduce costs. The first impact on CorVel from the legislation has been an increase in the demand for our network solution services, specifically our proprietary mid check select hospital bill review services, we see opportunities in each segment of the market place, whether that is in the private carrier market, Medicaid or Medicare.
CorVel's services allow providers and insurers to closely monitor and minimize patient treatment costs. Demand for cost containment services will rise as the Affordable Care Act accelerates adoption of Value Based Purchasing (VBP). VBP is an approach to healthcare reimbursement that seeks to reduce costs and improve the quality of care. In a VBP payment model, when providers deliver quality care below a "reasonable" benchmark cost, they can earn a share of the savings. Providers may have to pay a penalty if the cost exceeds the benchmark. In some cases, providers receive a fixed payment for the benchmark cost amount. They get to keep all savings below the benchmark and are responsible for any costs above the benchmark.
#2: Margins are expanding as revenues grow - CorVel's margins have been increasing as revenues grow. Quarterly revenue growth in the September quarter was 13.2%. Margins expanded across the board. Gross margins increased by 1.14% from 21.65% to 22.89%. Operating margins increased by 2.36% from 10.29% to 12.65%. Net margins increased by 0.98% from 6.29% to 7.27%.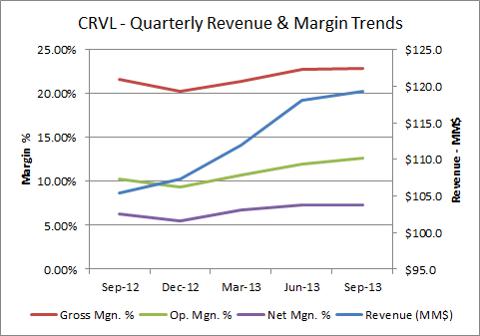 #3: Strong track record of stock buybacks and share count reduction - In the most recent quarter, the CorVel continued its stock repurchase plan by repurchasing 372,000 shares of stock at an average price of $33.42. On an inception to date basis, the CorVel has repurchased approximately 32 million shares for $321 million.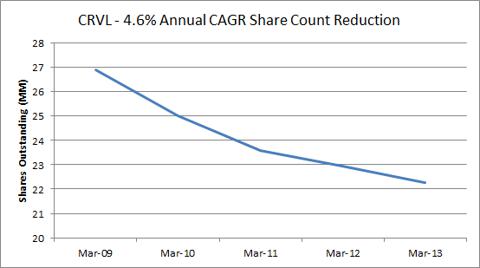 Risk-Based Valuation
The risk-based valuation for CorVel estimates a worst case, expected, and best case investment return over a 5 year time horizon.
Stock Price = (Revenue * Net Margin / Shares Outstanding) * P/E … based on 5 year forward projections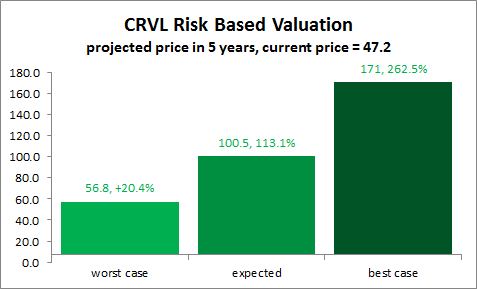 The waterfall chart below shows the relative impact that projected changes in revenue, net margin, shares outstanding, and P/E have on CorVel's estimated valuation (expected case, 5 year forward view). Net margin growth has the greatest impact, driving 69.5% price appreciation. Revenue growth drives a 33.8% positive return, decrease in shares outstanding increases return by 33.4%, and P/E contraction reduces return by 23.7%. The net result is a 113.1% expected return.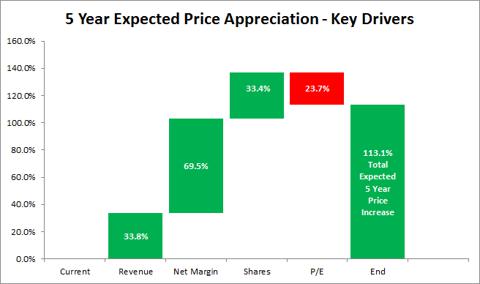 Key assumptions for the risk-based valuation are summarized below: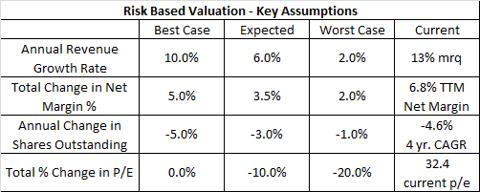 Best Case Assumptions - Basis
Revenue: 10% vs. 13% mrq, growth driven by Affordable Care Act
Margin: +5% over 5 years, margins expand as revenues grow
Shares Outstanding: 5% reduction vs. -4.6% four year CAGR
P/E: 0% increase in P/E, P/E remains the same as growth potential stays high
Worst Case Assumptions - Basis
Revenue: 2% vs. 13% mrq, Affordable Care Act impact diminishes over time
Margin: +2% over 5 years, price competition limits margin expansion
Shares Outstanding: 1% reduction vs.- 4.6% four year CAGR, share buybacks slow
P/E: 20% decrease, P/E contracts as growth slows
Expected Case Assumptions are all set at the average of the best and worst case assumptions
Risks to the Investment Thesis
#1: Emergence of alternative cost containment services / technologies - As the Affordable Care Act increases the reward for reducing medical costs, new service and/or software solutions will be developed. These solutions could take customers away from CorVel if they provide more value than CorVel's solution.
#2: Increased in-sourcing of cost containment services - Insurance carriers and large self-funded employers could decide that they could do a better job than CorVel. They could develop an internal capability to manage medical costs.
#3: Pricing Pressure - Competition for market share could force CorVel to lower pricing in order to retain customers. This would have a negative impact on their margins and earnings.
Disclosure: I have no positions in any stocks mentioned, and no plans to initiate any positions within the next 72 hours. I wrote this article myself, and it expresses my own opinions. I am not receiving compensation for it (other than from Seeking Alpha). I have no business relationship with any company whose stock is mentioned in this article.