On October 24, 2013, Muddy Waters, LLC ("MW") released a research report (the "MW Report") claiming that NQ Mobile, Inc. (NYSE:NQ), a Chinese-based public company traded on the NYSE in the U.S., "is a massive fraud." MW further stated that "at least 72% of NQ's purported 2012 China security revenue is fictitious."
We are not invested long or short in NQ and have no plans to do so in the short term. We have no ulterior motive for writing this article other than that we are attempting to develop our readership. The Founder of SkyTides formerly served as an external auditor at a Big 4 accounting firm, worked with a variety of financial firms in China, and has conducted various businesses in Asia since 2006. This article is written to address the following topics:
While assuming NQ is not a fraud, we outline specific possible next steps for NQ that are dramatic and unheard of but are ultimately perhaps the only reasonable path forward for NQ if the company wants to "defeat" MW. These possible next steps include a "Special Attestation Report" that would be made public by NQ once it is complete. NQ's Special Committee recently hired Deloitte & Touche Financial Advisory Services Limited ("Deloitte"). NQ could revise its agreement with Deloitte such that Deloitte would go beyond the normal forensic testing that typically takes place in this scenario. A Special Attestation Report could include auditing-type testing at NQ's primary billing and collection agencies, along with the tracing of cash proceeds received by the former owners of NQ's acquired entities, and interviews of the former management of those acquirees. The testing would be completed under the Public Company Accounting Oversight Board's standards for such Special Attestation Reports. The key to this is having Deloitte agree to make its testing procedures and findings public. This is not common with traditional audits for liability reasons but could be possible for a Special Attestation Report. We think NQ should demand that Deloitte agree to make the Special Attestation Report public. This is the only way to convince investors that Deloitte's testing was substantial and conclusive. We believe Deloitte's name alone, along with perhaps those of all auditors, no longer provides enough credibility on its own to convince investors that Deloitte executed the testing as it was designed and the results of the testing are credible. This is a path forward that we are very sure no other U.S.-listed Chinese company alleged to be a fraud has taken thus far. We believe some version of a Special Attestation Report we outline below is NQ's only hope if the allegations by MW are truly baseless and NQ wishes to fully recover from the attack by MW. At the end of the day, a partial recovery should not be an option. NQ needs to "defeat" MW just as much as MW needs to defeat NQ. There is so much at stake, not the least of which is NQ's lost market capitalization.
To outline the specific attestation procedures we have developed that Deloitte could utilize to resolve any and all issues relating to (1) revenues (2) cash receipts and (3) possible fraudulent transactions involving or resulting from the NQ's prior acquisitions. We believe these are the most critical allegations against NQ. We believe a robust attestation program designed specifically to solve the issues identified at NQ (the "Program") can be designed and executed by Deloitte, which is a fully independent firm with significant experience in China. We only wish that Deloitte could remain independent and deflect any influence by NQ's board, management or its special committee, all of whom are inherently not independent. The audit firm suggested by MW is not acceptable. We explain why further below. We have attempted to design a Program within this article. Our intent is to assist investors so that they can gain an understanding of how complex the auditing environment is in China but to also show that a firm such as Deloitte should be able to adapt to any auditing environment, even in China, to test and solve the issues raised by MW. The only question is if NQ and its business partners will agree to allow Deloitte to execute a Program.
To respond to certain selected issues involving NQ that MW has brought up that are important for investors to consider.
The Auditor's Actual Role
An auditor of a U.S. public company is generally responsible for completing a traditional audit under PCAOB auditing standards and for issuing an opinion stating essentially that they were given accounting and third party supporting documents that allow the auditor to say that the financials are correct to some degree of materiality (the "Audit Report"). Although the PCAOB provides some guidance on the subject of what is material, materiality is ultimately on some level an arbitrary determination made by the auditor. The Auditor's Report generally includes standardized terminology. NQ's 2012 Audit Report, is shown below for reference.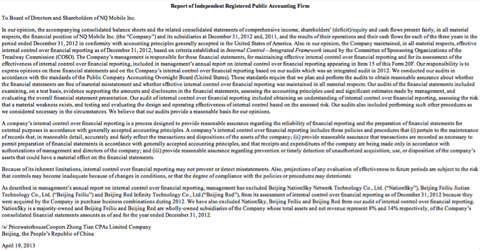 Note the following phrases included in the Audit Report:
"In our opinion, the accompanying consolidated balance sheets and the related consolidated statements of comprehensive income, shareholders' (deficit)/equity and cash flows present fairly, in all material respects,"
"Those standards require that we plan and perform the audits to obtain reasonable assurance about whether the financial statements are free of material misstatement."
Simply put, the auditor designs their audit to comply with the PCAOB's auditing rules but, as we point out, the liability of the auditor to detect material misstatements, i.e. large errors, is limited as a result of the inclusion of phrases such as "material" and "reasonable assurance." It is also important to note that nowhere within the audit opinion, which consists of substantially standardized wording used by all auditors throughout the auditing industry, does it refer to any fact that an auditor attempted to detect fraud - even though they are actually under an obligation to conduct various tasks during an audit in order to attempt to detect fraud. However, in the current regulatory environment, we believe these tasks are generally not considered a major component of any audit and are therefore not given enough attention by auditors. Surely, if the auditor's opinion does not reference the work an auditor does to detect fraud then the auditor is going to be less concerned with that testing than the testing or actual issues referenced in the audit opinion.
Secondarily, the Sarbanes Oxley Act of 2002 ("Sarbanes Oxley") mandates that a U.S. public company with a market capitalization over $75 million is required to hire its auditor to provide an attestation report on management's assessment of internal control. In the wake of the Enron scandal the U.S. congress thought that a focus on ensuring internal controls were improved at U.S. public companies would decrease the risk of fraud by U.S. public companies. The chart below was published on a Harvard University blog and suggests Sarbanes Oxley has not achieved that result. It is clear that securities frauds are still just as common today as they were back in 2002. This is not surprising to us given the lack of a specific focus on fraud detection at public companies.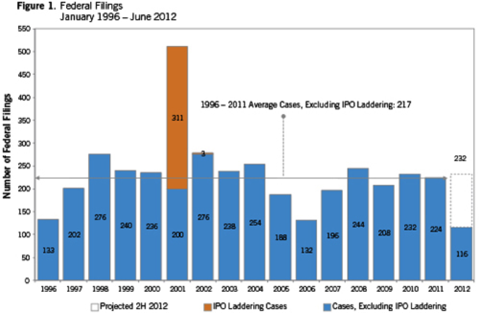 The internal control assessments mandated by Sarbanes Oxley do likely mitigate the risk of fraud to some degree but ultimately no internal control system can fully eliminate the risk of fraud. Additionally, the Sarbanes Oxley regulations do not mitigate the types of fraud that have been alleged in China. Most Chinese alleged fraud allegations seem to have involved more than one individual or entity. The various parties work together ("in concert") with others to conduct fraud. This is a complex form of fraud known as collusion. We do not believe improved internal controls that are mandated by Sarbanes Oxley have a chance of thwarting collusion. This is the issue now. How can collusion be stopped?
It is very hard to blame the auditors for an undetected fraud given that they are simply following the rules prescribed to them by the U.S. regulators, PCAOB, the SEC and Sarbanes Oxley itself. An auditor's role is not currently focused on detecting fraud. The auditor's role is actually very narrow. The fact is that the financial results of NQ could be auditable and determined to be correct by the auditors but collusion may still be occurring. NQ's internal controls could also be functioning appropriately and could receive a passing grade when NQ's auditor, PriceWaterhouseCoopers Zhong Tian CPAs Limited Company ((PwC)), reviews management's assessment of internal control. With all of the testing that the U.S. regulators, namely the PCAOB and the SEC, have prescribed and mandated, nowhere in that testing is a substantial amount of time, on a percentage basis to the total time an auditor needs to complete their audit and internal control attestation, allocated for a broad and all encompassing review and attestation related to fraud. It is now 11+ years since Sarbanes Oxley was enacted, and the issue of fraud remains. It is clear that new, more creative and comprehensive ideas to resolve fraud are needed. These ideas, such as the Special Attestation Report focused on fraud detection that we describe below, need to come from the auditing and accounting industry and need to be enacted by the regulating organizations of the U.S. securities industry as soon as possible.
So to be very clear, with U.S. public companies, the auditor generally has two roles to play as outlined below.
The auditor conducts a traditional audit to ensure financial statements are free of material misstatements.
The auditor provides an attestation on management's assessment of internal controls. There are some tasks associated with fraud detection that are involved in a traditional audit but ultimately an auditor has no specific and significant role to detect fraud.
We suggest a third role be mandated by the PCAOB or SEC, or both, with the approval of the U.S. Congress, that involves Special Attestation Reports focused on the detection of fraud. To further ensure the firms performing the testing are motivated to do their best to complete their work, the design of testing and the results of testing that is opined on in the Special Attestation Reports should be required to be made public upon their completion. This also positively impacts the investing public as their understanding and trust in the regulatory environment should improve.
The Auditor's Misunderstood Role
The need for the Special Attestation Reports is clear when fraud allegations such as those made against NQ are made. But this suggestion is not relevant to just Chinese companies. The need for this change is broad and is a result of both the misunderstood role of the auditor, and the limited liability an auditor takes on when they issue an auditor's report. There are several instances where the auditor's role and the disclosure of what the auditor does and does not do has been in question by the public lately. Herbalife's (NYSE:HLF) stock recently skyrocketed on the news that the auditor had not declared HLF a pyramid scheme upon releasing HLF's re-audited financials. Bill Ackman ("Ackman"), a well-known short seller, reacted by correctly stating, "It is not the role of Herbalife's auditor to determine if the company is a pyramid scheme."
On January 7, 2013, a well-known investor relations firm that had been very active in China and represented numerous Chinese companies accused of fraud, announced they were exiting the Chinese small cap sector. Dave Gentry, the CEO of Redchip, Inc. stated "If we cannot trust the audit work of firms registered with the Public Company Accounting Oversight Board ("PCAOB"), which is the final line of defense against accounting fraud in Chinese companies listed in the U.S., as has been proven in dozens of cases over the past two years, and the Chinese regulatory authorities are not willing to work with the U.S. Securities and Exchange Commission ("SEC") and the PCAOB in helping uncover fraud and punish wrong-doers, and apparently they are not, then it is time for investors to jettison the China sector." Mr. Gentry seems to be suggesting that the audit work of the PCAOB-registered firms is primarily to blame. He does not understand that the auditors likely just followed their audit programs, which are very standardized within the auditing industry, and the auditors were not necessarily focused on detecting fraud during their audit work. It is simple. That is not the primary or even secondary focus of an audit. Mr. Gentry has been very successful but still appears to be unsure of what the auditor's role is and what it is not. This is not an attack on Mr. Gentry. We are simply pointing out the fact that the blame for the fraud allegations in China is misplaced and his statements do not represent the first time the blame has been misplaced or the auditor's role has been misunderstood.
In a recent interview with Bloomberg, Carson Block, the Director of Research at MW, stated, "Auditors are not liable if they receive forged documents." Block is incorrect on this point. Auditors are potentially liable if they receive forged documents and did not use professional judgment to consider the data included in the forged documents and the prospect of fraud involving forged documents. This serves to show again that even someone who has a significant amount of experience conducting research into U.S. and foreign public companies is still unclear about the specific role of an auditor. Again, this is not an attack on Mr. Block. We believe a large portion of the investing public is also unclear on this subject.
Below we reference the specific relevant authority, which is AU 316, Section .05 that defines the auditor's role in regards to detecting fraud.
"Fraud is a broad legal concept and auditors do not make legal determinations of whether fraud has occurred. Rather, the auditor's interest specifically relates to acts that result in a material misstatement of the financial statements."
The lack of clarity over the auditor's role in the audits of Chinese companies where fraud has been alleged or a U.S. company such as HLF where a form of fraud, a pyramid scheme, is alleged, is causing havoc in the stock market. It does not seem like it would be a difficult task to show various instances where investors lost billions of dollars in recent years as a result of a securities fraud. This is simply because an audit is focused on a more narrow objective. That narrow objective is discussed below and is ultimately the result of U.S. regulators and the U.S. Congress allowing public company reporting, auditing and attestation standards to remain extremely weak in the face of ongoing securities frauds being perpetrated both within U.S. borders and also by executive officers of U.S. public companies that reside outside of U.S. borders.
Chinese Executives of U.S. Public Companies Face No Risk in Conducting Fraud
Fraud is less likely to occur in an environment where committing fraud results in a severe penalty and that penalty can be prescribed and executed on the perpetrator. This is possible when a U.S. citizen commits fraud and they reside in the U.S. However, fraud is more likely to occur in an environment where the penalty for committing fraud is lessened or is actually non-existent at all. When the penalty is non-existent the amount and impact of the fraud will be potentially on a grand scale. The frauds alleged at China MediaExpress Holdings Inc. and Sino-Forest Corporation, to name just a few of the many, support this conclusion.
We believe any Chinese person serving as an executive of a U.S. company has almost zero risk in ever being penalized for committing fraud in the U.S. or by way of investors in the U.S. After recent events where Edward Snowden, who is not even a Chinese citizen, was held in Hong Kong, a Chinese-controlled special administrative region, and not extradited to the U.S., it is even clearer than ever that China would be highly unlikely to extradite a Chinese citizen to the U.S. for prosecution by the U.S. for an alleged securities fraud.
As a result, whether or not a Chinese executive of a U.S. public company such as NQ is actually trustworthy, one has to consider that this particular person's motivation and unique abilities to commit fraud is at a much higher level than that of any U.S. citizen or resident of the U.S. that is involved with NQ. Fraud allegations in China have been widespread in recent years. Some allegations included the claim that Chinese bank employees actually helped Chinese companies commit fraud by creating forged bank statements for them. This type of fraudulent activity is absolutely unheard of in the U.S. Something this egregious is only considered present with regard to Chinese companies listed in the U.S. because of the lack of risk that a Chinese person will be extradited if they commit fraud in the U.S. or by way of U.S. investors. It is time to finally do something about this issue.
The Solution: The Special Attestation Report
Auditors of U.S. public companies will generally refuse to release detailed information about how they completed an audit, and how they design their audit testing etc. Auditors are not required to disclose their testing methodologies. Perhaps they should be. But if and until they are, an audit will be somewhat of a black box issue. No one really knows how good of a job the auditors have done on every audit they complete. A Special Attestation Report is different. These reports are designed by a firm such as Deloitte, and approved by management before they are executed. The Special Attestation Report is issued after a firm completes a unique set of tasks that are designed with unique concerns such as for the detection of fraud (the "Program"). The firm that issues the Special Attestation Report is much more likely to be willing to release their report and findings publicly as the risks associated with doing so are much less limited given that all they are supposed to do is complete specific detailed tasks that are outlined in a Program. Traditional audit programs can be revised throughout the audit process and are substantially subjective in nature. A Program that is designed to allow for a Special Attestation Report can be designed and not modified during the execution of the Program and is therefore less risky to release to the public. If investors are able to see the testing that was performed by Deloitte when it is released to the public then the impact would likely be much more definitive and MW's allegations of fraud will be proven right or wrong with specific facts and the results of testing to support those results.
U.S. regulators need to adopt measures to broaden the objectives of auditors to include a significant focused effort on fraud detection. To be clear we are suggesting public companies, with some limitations and also some special considerations, be required to potentially hire firms such as Deloitte to complete three forms of attestation each year:
A traditional audit under PCAOB rules
An attestation of management's assessment of internal controls
A Special Attestation Report on a program specifically designed for each company to detect fraud
The mandate for a Special Attestation Report should include limitations and special considerations as outlined below.
To decrease the overall cost of implementation, a random selection process can be instituted to dampen a potential fraudster's perceived chances of succeeding in committing securities fraud.
Geographic and country-specific issues such as whether the country has a history of fighting extradition to the U.S. for prosecution of crimes should also be considered. For example, Chinese companies should be subject to a higher chance of being randomly selected solely because of the extradition issue. This is not discrimination. It is U.S. regulators adapting to the current environment and protecting investors which is supposed to be paramount. We need a level playing field.
Auditors who perform the Program and issue the Special Attestation Report should not be the same auditors as who perform the traditional audit. All independence issues need to be taken into account in determining which firm is chosen for this task.
The firm chosen for the Special Attestation Report work must have demonstrated significant experience within the geographic focus area and specific industry with which the client primarily operates in. The Program must be adapted to assign individuals who have specific experience in the geographic focus area and specific industry and must be fluent in the local languages in both written and spoken form.
Other considerations can be implemented as well. This is just a start.
This essentially levels the playing field by ensuring that all executives of all U.S. public companies are subject to similar levels of scrutiny and their perceived and actual chance of conducting a successful securities fraud is reduced. The overall point here is that the current role of an auditor is not enough to protect shareholders anymore.
Roundtripping
Our focus in designing the Program is to alleviate concerns raised by MW and also two other articles on Seeking Alpha that discussed the idea of "roundtripping." Roundtripping is described first in an initial article by Robert Zangrilli. Another article was then published by Trade Star that essentially discredits the idea entirely.
This article will not address the issue of roundtripping to the lengths that either of these authors did.
Mr. Zangrilli explains roundtripping as the creative use of cash provided to NQ's purported customers by the former owners of companies NQ has acquired. The process of roundtripping is summarized below:
Former owners of companies NQ has acquired, who MW suggests were just farmers who could not possibly have operated technology companies, sell the stock they received from NQ.
The cash proceeds from the stock sales are given to NQ's purported customers.
The customers then transfer the cash to NQ, thereby creating an audit trail that can be easily supported with contracts and other purported third party evidence.
This is clearly fraudulent activity. MW sums this up by stating that "Yidatong is controlled by NQ" and that "fake counterparties" such Yidatong are roundtripping to assist NQ in its fraud. Again, with no risk of prosecution for committing securities fraud, both NQ and the entities it may be colluding with, are highly motivated to execute a fraud. The only question is if they are doing so or not.
The Program
The Program we designed in this article relates to NQ specifically and is not complete. These are just a few testing procedures we can envision at this point. We intend to simply show that these issues discussed above, such as roundtripping, can be tested but a traditional audit and basic forensic testing will not involve the form of testing we are suggesting. Also, a Special Attestation Report focused on the detection of fraud cannot be in a standard format and needs to be adjusted on a per company basis to specifically take into consideration the unique attributes of the company and also the environment in which it does business. The NQ Special Attestation Report should be focused on the following ideas, or something very similar.
Existence - the firm chosen to perform the Program in connection with the Special Attestation Report (the "Attestation Firm"), possibly Deloitte, will ensure that revenues are real by communicating with the original customer that sold or utilized NQ's products or services. This is not Yidatong. Because of the large role Yidatong and other billing and collection firms ("Downstream Partners") could play for NQ, we don't believe they can be considered independent entities with regard to any audit testing or the Special Attestation Report. To be clear, we suggest testing be completed with China Mobile, China Telecom and China Unicom as primary examples. They are the only Downstream Partners that we know of so far that are likely independent of NQ and Yidatong. These communications will be directly between the Attestation Firm and the Downstream Partners, and will be conducted using a variety of communication tools designed to cross-check third party communications. Communications will occur using email, written letters requesting a response in writing and also by telephone on a large percentage sample selection basis. Both NQ and Yidatong will have no involvement in any of these communications as they are both not independent parties in this context. Attention will be paid not to the original sample size selected but to the resulting fully cross-checked sample size matrix available to the Attestation Firm subsequent to the testing being completed. The communications will be designed to communicate with various individuals at each Downstream Partners rather than just one individual or one department at each Downstream Partner.
Completeness - during the communications with the Downstream Partners, the Attestation Firm will attempt to confirm a large number of attributes associated with that Downstream Partner's sales to NQ or NQ's other Downstream Partners that are not determined to be independent, such as Yidatong. An example of attributes to be confirmed will be contractual terms, units shipped in the most recent period or year, pricing per unit in effect for each month of the year, the amount of cash transacted between the Downstream Partner and NQ or NQ's other Downstream Partners in a period or year, and the accounts receivable balances owed to NQ or NQ's Downstream Partners as of the reporting period, namely December 31, 2013.
Private investigator - Hire a Chinese private investigator firm and a technology consultant familiar with NQ's technology. Ensure that each team includes bilingual personnel. These personnel will be considered the "Investigative Team." They will report directly to the Attestation Firm. The Investigative Team will develop their own specific program that will include contacting the former management of each business previously acquired by NQ (the "Acquirees"). The program developed by the Investigative Team will include interviews with the former management of each Acquiree to determine their abilities and the likelihood of whether they would be able to operate the former business of the Acquiree. NQ's involvement will be limited to a written letter directed at each member of each Acquiree's management outlining NQ's approval for them to speak with the Investigative Team. Each of them will be asked to outline how much cash proceeds they received from their stock sales, which broker they used to sell the shares, the dates of the sales, and what they used the cash for after the sale, for example. It should be very obvious if the individuals did not retain the majority of the cash from the stock sales. In that event, if the individuals did not still possess cash or assets that represented a significant portion of the value they received from NQ, then the case against NQ will be strengthened. Though this testing alone does not prove anything. The Investigative Team will ask the individuals for their approval, in writing, to contact their brokers, to confirm the details associated with their stock sales. Tracking the cash proceeds after the sales will be the most difficult part of this testing. The Investigative Team will have to work with the Attestation Firm to determine other steps as necessary.
We believe, if just these three steps can be completed, then the majority of the concerns raised by MW could be alleviated. However, we believe the only way for NQ to really "defeat" MW is if NQ were to hire an Attestation Firm that developed a complete multi-faceted Program that alleviated every concern raised by MW. The Attestation Firm would have to be willing to release their Special Attestation Report publicly.
Other Important Key Concepts Related to NQ
MW suggests that independent committees are professionally biased. MW is absolutely correct. No member of NQ's Special Committee or Board of Directors wants NQ to be determined to be a fraud. If that happened then the individuals would be highly embarrassed on a professional level. On that simple basis alone, they are not independent.
Fund Managers Stating That They Are Satisfied with their Due Diligence is Meaningless and Likely Just Self-Serving
On November 18, 2013, Jim Oberweis of Oberweis Asset Management stated "We have done enough of fundamental research to realize that the most of the allegations against NQ are not correct." Mr. Oberweis is a successful fund manager but his fund's credibility with regard to due diligence in China has not been discussed and detailed and is unlikely to be anywhere near the level necessary to fully ensure NQ is not a fraud. One of the largest Chinese frauds, ChinaMediaExpress Holdings, proved that successful fund managers can be successfully lured into a fraudulent investment. They are not immune. Starr International Co. was a well-known victim of the fraud at ChinaMediaExpress Holdings. There were many others.
Variable Interest Entity
Every investor in NQ should understand the accounting and legal issues associated with a Variable Interest Entity ("VIE"). These issues do have an impact on their investment in NQ as the majority of NQ's cash is held by Beijing NQ Technology Co., Ltd., an entity actually owned by Henry Yu Lin, the co-CEO of NQ, and several other Chinese nationals. A description of the major issues and the significant causes for concern are outlined here.
Muddy Waters Research Proposal
MW made a proposal to NQ in December 2013. MW suggested that, with NQ's permission, it would hire Plante & Moran, a PCAOB-registered accounting firm, to conduct a review of the work performed by NQ's special committee. We are unsure why MW chose this accounting firm to do this work. Plante & Moran appears to have no offices in Beijing, where NQ's headquarters is. Also, just 2 of its 2,007 employees are based in China, according to LinkedIn, as shown below. Simply put, Plante & Moran appears to be a fine firm but its credibility and experience within China appears to be minimal, at best. By contrast, a quick search shows 3,640 Deloitte personnel in China.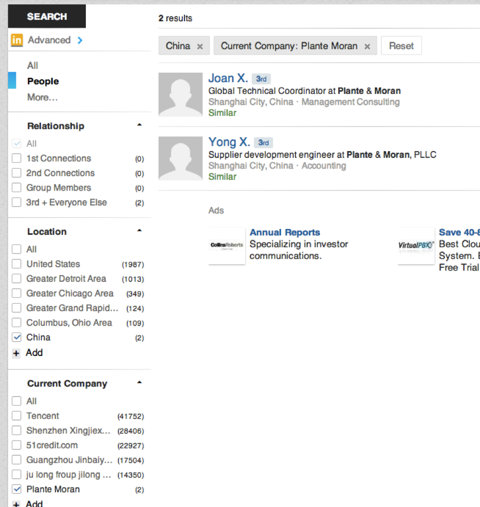 NQ's Only Path Forward
If NQ is a real business, we believe NQ's special committee needs to accept the current environment it operates in, get organized, put a plan together, work with its business partners, and prepare a press release to explain their intentions, such as the following (NQ should fill in percentages and figures as indicated):
"NQ 's auditor, PriceWaterhouseCoopers Zhong Tian CPAs Limited Company ("PWC"), is the Beijing, China affiliate of one of, if not, the most well-respected audit firms in the world. We do not question their abilities. However, in response to inquiries by shareholders of NQ, we have decided to revise our agreement with Deloitte & Touche Financial Advisory Services Limited ("Deloitte") to design and execute a Special Attestation Report in order to resolve any questions our shareholders have raised in recent months. The Special Attestation Report will include a publicized outline of tests performed and results achieved. The tests will include a review of not only NQ's business operations, but also the operations of certain of NQ's billing and collections partners. These partners, including Tianjin Yidatong Technology Development Co. ("Yidatong"), which processed billings for approximately X% of NQ's preliminary unaudited revenues and X% of NQ's preliminary unaudited total receipts from customers for the December 31, 2013 year end, have agreed to participate fully in the Special Attestation Report. Ultimately, we project over X% of our billing and collection partners will agree to participate in the expanded attestation procedures that Deloitte will soon undertake. This testing will include the use of multiple methods of verification of data and will connect Deloitte directly to the three largest downstream sources of NQ's revenues, namely China Mobile, China Unicom and China Telecom, respectively. We expect that this testing will also include the hiring of local independent private investigators that will conduct a review of all of NQ's acquisitions since its inception. An outline of the expanded audit and attestation procedures we expect will be performed is outlined on NQ's website at www.nq.com;"
About Sky Tides
SkyTides searches for deep value investing opportunities and is always interested in finding and exploiting opportunities involving mispriced securities. We attempt to gather as much information from public sources and management or other sources as possible. We then attempt to value a security at a fair price using the information we have on hand at the time and utilize the most reasonable valuation methodologies available. Ultimately, subsequent to completing its research, SkyTides looks to capitalize on mispriced securities with either a long or short position.
All SkyTides articles are written by our founder, who is supported by a small team of research analysts. He has written on financial subjects, with a specific interest in technology, oil & gas and biotech stocks, since 2005, served as an executive of a variety of publicly-traded companies in the U.S., led several going public transactions, and is a former auditor at one of the Big 4 professional services firms. He has significant operating experience in the U.S. and Asia and currently resides in the Los Angeles area.
Stocks covered by SkyTides are generally risky investments. An investor in these stocks should always be willing to lose their entire investment in the stock. No publication by SkyTides should be seen as an offer or suggestion to buy or sell any stocks covered by SkyTides. An investor should always review the stock's SEC filings at sec.gov and all other publicly-available information about the stock before investing. SkyTides is under no obligation to update its research at any time.
Follow us on Twitter @SkyTides
Signup for email alerts at skytides.com
Disclosure: I have no positions in any stocks mentioned, and no plans to initiate any positions within the next 72 hours. I wrote this article myself, and it expresses my own opinions. I am not receiving compensation for it (other than from Seeking Alpha). I have no business relationship with any company whose stock is mentioned in this article.