A review of past disclosures by Uni-Pixel (NASDAQ:UNXL) shows that the company has repeatedly misrepresented its touch sensor production capability. Since 2010, Uni-Pixel's capacity targets have been dropping from 32 to 10 to 3 to less than 1 million sqft/month, while capex requirements have been rising, and actual production and shipping deadlines have been shifting further into the future. In essence, the company, with the approval of the Board of Directors, has been operating a Techno Ponzi scheme designed to extract money from new investors and partners to pursue what appears to be world-changing technologies but without ever producing any deliverables. Consequently, the company should be worth no more than its current cash holdings plus the liquidation value of its fixed assets, or about $5 a share.
An announcement of first purchase orders, such as the one in November, does not necessarily validate either Uni-Pixel's manufacturing process or its ability to commercialize its product. Despite similar announcements of initial purchase orders and shipments, the company's other overhyped products, the finger-print resistant protective cover film and the cover glass replacement film, each with hundreds of millions of dollars in potential annual sales and 50%-plus gross margin target, have failed to generate any meaningful revenues in the past five years.
The specific capacity numbers may also have relevance to the SEC investigation into the company's agreements disclosed in November. While Uni-Pixel never revealed the detailed contractual terms, it claimed that it received the two $5 million "engineering" payments from its PC OEM partner, rumored to be Dell (NASDAQ:DELL), and from its ecosystem partner, identified as Intel (NASDAQ:INTC), for the build out of a dedicated 1 million sqft/month production capacity each. However, as detailed below, the company previously claimed that it had already installed and calibrated 10 million sqft/month of capacity in July 2011. In other words, if the company were truthful about its capacity in 2011 and its agreements in 2013, then Dell and Intel were simply duped into paying for capacity that was already there.
The author attempted to contact the company about the issues raised in this report, but the two new interim co-CEOs are not taking calls and all inquiries are referred to the outside investor relations firm, Liolios Group. A voicemail message with questions about the company's touch sensor production capability and purchase orders left for the Uni-Pixel contact person there has remained unanswered.
32 million sqft/month capacity
The company officially announced its roll-to-roll touch sensor technology, UniBoss, in May 2010. At the time Uni-Pixel claimed to be "scaling up the process for full scale production" with plans to have pilot production quantities available by the end of September 2010. As of November 2010 the company had no such pilot production quantities, but instead put together this presentation slide in an effort to bring "mastering and manufacturing capabilities" in-house with a $15 million funding round: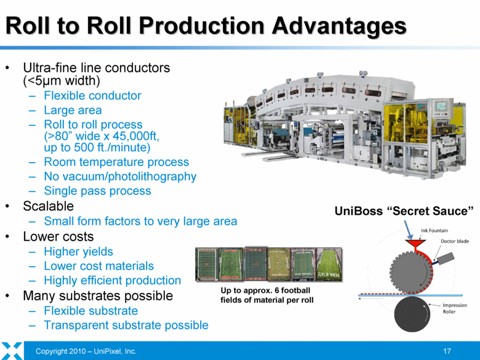 The slide was remarkably out of touch with reality as it showed that the UniBoss process was capable of producing 32 million sqft/month of touch sensors (20 days x 2 shifts x 8 hours x 60 minutes * 500 ft/minute x 80 inch roll width / 2 pieces of single-sided film), depositing a "Secret Sauce" by a gravure printing technique into 5-micron-wide lines using just one off-the-shelf machine, a coater by Group Up Industrial Co, Ltd. As the combined area of all the touch sensors shipped worldwide in year 2011 was estimated at less than 100 million sqft, the process on the slide could have produced all of them in just one quarter. And Uni-Pixel could do it with a selling price to the OEMs set at $5/sqft (see Slide 19 in the same presentation), while targeting over 50% gross margin as disclosed on the March 10, 2011, earnings call, in other words, at 1/4 the latest numbers provided by Uni-Pixel for the touch sensor's selling price (about $20/sqft) and manufacturing cost (less than $10/sqft) targets.
Down to 10 million sqft/month
Once the money was raised, the slide was quickly forgotten. The March 10, 2011, press release and the accompanying earnings call revealed that the capacity of the equipment was only 500,000 sqft/day in an 8-hour shift, or equivalent to only 10 million sqft/month capacity (20 days x 2 shifts / 2 pieces of single-sided film ). Limited production was to start as soon as the installation was completed and qualified by the end of July 2011, with mass production and production revenues to follow in Q1 2012, as an unidentified customer was targeting Q2 2012 for device introduction. On the August 10, 2011, earnings call, after spending only $2 million in equipment purchases, the company declared:
Our target milestone was to specify, procure, install and calibrate the equipment by July 2011. In the second quarter we achieved this major milestone by completing on schedule and under budget the installation and calibration of new in-house UniBoss mastering and production equipment.
The "new" capacity was just as unrealistic as the "old" one, as it implied that the company could supply the entire multibillion worldwide touch sensor market with just $20 million worth of equipment (10 sets x $2 million).
On the November 11, 2011, earnings call the initial production shipment target was moved to the end of Q2 2012, supposedly due to a shift in the customer's internal schedule from Q2 to Q3 2012. Note that the company gave the same bogus reason in May 2013 to explain another shipment delay. On the March 8, 2012, earnings call the company claimed to be shipping samples after signing 30 non-disclosure and material transfer agreements and a collaboration agreement with Texas Instruments (NYSE:TXN), but production revenue was suddenly at the "mercy of (customers') design cycles." On the next earnings call, the target for volume production was moved further to 2013.
Down to 3 million sqft/month
While the company was no closer to mass production in July 2012 than in the previous two years, it created another remarkable presentation and raised $12 million with it.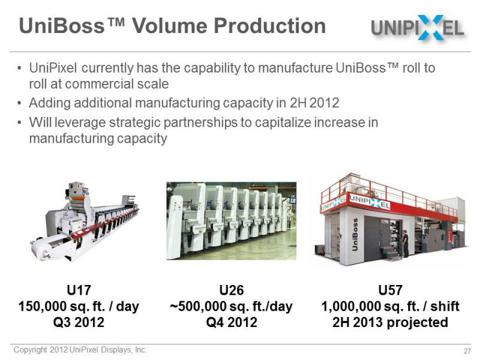 With a new capability to print double-sided patterns on a single roll of film, first announced on the August 10, 2011, earnings call, the manufacturing capacity should have doubled in 2012. Instead, the capacity suddenly dropped to 3 million sqft/month (20 days x 150,000 sqft/day, double-sided film) in the Q3 2012 quarter. The new capacity number in Slide 27 was accompanied by a picture of a Mark Andy P-series flexo printer operating on a 17-inch-wide (U17) substrate roll. The slide also showed capacity getting right back to about 10 million sqft/month in Q4 2012 (20 days x 500,000 sqft/day, double-sided film) with an obsolete Mark Andy Comco C2 flexo printer on a 26-inch-wide roll, and then jumping to the astonishing 40 million sqft/month (20 days x 2 eight-hour shifts x 1 million sqft/shift) in the second half of 2013 with a Uteco Onyx flexo printer on a 57-inch-wide substrate.
The entire touchscreen market in 2013 was estimated at about 270 million sqft. Slide 17 in the presentation pegged it at $14 billion. So with a $12 million investment and just one off-the-shelf printer, operating one to two shifts a day, the company would again manufacture all the touch sensors in the world and crush a $14 billion market in late 2013.
Slide 28 in the presentation detailed the more immediate Q4 2012 production schedule associated with the 10 million sqft/month capacity (26-inch substrate) for the first time acknowledging that the metalization step (that is, electroless plating) may be a capacity limiting factor.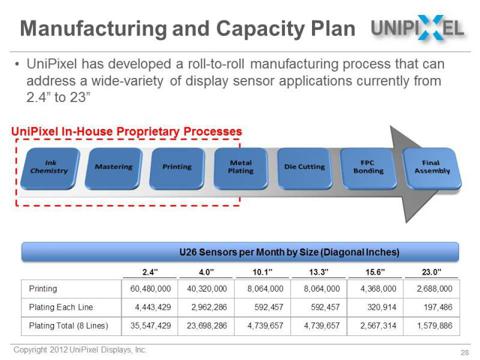 Based on the numbers in the table, the projected actual printing capacity was something like 8 million sqft/month (two 15.6 sensors fit into a 26 inch x 21 inch piece of film), implying an 80% printing yield, while the projected plating capacity was just 4-5 million sqft/month (8 plating lines with metalizing capacity of 500,000-600,000 sqft/month each).
Down to 0.06 million sqft/month
Once the money was raised in August, the above slides were quickly forgotten, again. On the November 7, 2012, earnings call the company provided an updated production capacity timeline with targets that were dramatically reduced: just 60,000 sqft/month by the end of March 2013 and about 175,000 sqft/month by the end of April. Through additional funding or a partner-funded model, the capacity could ramp to 700,000 sqft/month by the end of August, then to 1.3 million sqft/month by end of 2013, and then to 3.9 million sqft/month sometime in 2014. Volume production was now targeted in the second half of 2013. The printer the company had "brought-in" was projected to pattern only 1 million sq ft/month (in two 8-hour shifts a day, as clarified on the February 26, 2013, earnings call), and the printing process now had 10:1 advantage over the plating process, that is, the capacity of a plating line was only 100,000 sqft/month.
On the February earnings call, the company announced that its first plating line had been installed and was in the final stages of qualification, and that the company had ordered 2 additional printers and 2 additional plating lines, on the back of the recently signed capacity license agreement with the PC partner. But the capacity timeline shifted by a month: 45,000-60,000 sqft/month by the end of April, 200,000 sqft/month by the end of June, 700,000 sqft/month by the end of September, and 1.3 million sqft/month by January 2014. Capital equipment costs were set at $1 million for a printer and $1 million for a plating line, or $11 million for 1 million sqft/month capacity, as disclosed on the April 15, 2013, WFG-sponsored investor call.
Still no actual production
With the announcements of a capacity license agreement with Intel and a joint manufacturing and supply agreement with Kodak (NYSE:KODK), the company raised $41 million in April. On the earnings call later that month, the company declared mission accomplished:
We met our milestones of shipping production level product by the end of April by fully calibrating and qualifying our printing and plating lines. We've begun shipping initial batches of sensors to our PC maker licensee. The initial shipment quantities on the production line started at 50 [sqft], moving to hundreds and thousands over the next several months.
This was just another diversion. The initial shipment was never accepted by the customer, as the company was forced to admit at the Cowen investment conference on May 30, 2013, and no subsequent shipments ever occurred, a stunning development considering that the company had supposedly printed over 100,000 sqft of product by then already, according to the presentation at the Roth Capital investment conference on March 19, 2013.
On the August 8, 2013, earnings call the company insisted that it had achieved its production capacity target, while at the same time acknowledging that it had not completed the qualification process. As of November 7, 2013, the joint facility with Kodak, supposedly equipped with 2 printers and 4 new, higher-capacity plating lines (at least 1 million sqft/month combined capacity), was sitting idle, even though the installation and calibration of the machines should have been completed in July-August, according to the April 30, 2013, earnings call. The Texas facilities, with 1 printer and 3 plating lines (at least 300,000 sqft/month combined capacity), were also sitting idle, supposedly awaiting automated testing equipment, as indicated on the November 7, 2013, earnings call. Customs records indicate that "testing equipment" made by Dongguan Kejian Insturment Co., Ltd. for the Texas facilities, a KJ-7050 falling ball impact tester and a KJ-3086 motor-driven pencil hardness tester, did arrive in November, but it clearly is of no use in volume production: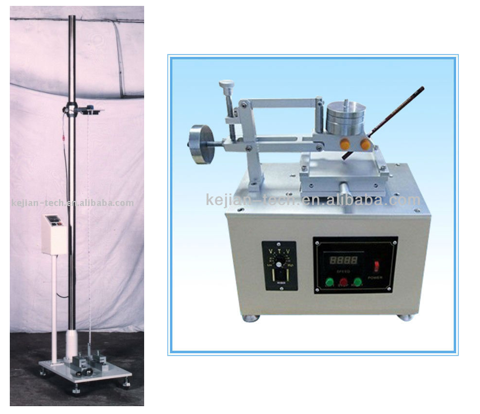 Based on the zero inventory and zero production revenues in the 10Q filed in November, the company has not produced or shipped anything by the end of September from either its own or Kodak facilities. Its only revenues for the year have been the non-recurring "engineering fees." While the company reiterated on the November 7, 2013, earnings call the expectation for "the start of production revenue" by the end of the year, it dropped a statement from the 10Q that had been present in all the previous periodic filings since February 2013:
We expect to sell the finished products to OEMs in 2013.
The omission of the statement indicates that reported 2013 production revenues, if any, would be immaterial.
Purchase orders are not a validation
On the same November 7, 2013, earnings call the company mentioned two "small" purchase orders in addition to the purchase order from its anonymous PC partner announced in a press release earlier that day. The company argued that these orders serve as "a strong validation of (Uni-Pixel's) technology and the price performance advantages" it offers.
However, no details were provided regarding the customers, the quantity and value ordered, or the payment and delivery dates for any of the three orders. The history of the company's previous revolutionary products, the finger-print resistant (FPR) protective cover film and the Diamond Guard hard-coat film, shows that announced purchase orders, and even shipments, never translate into material revenues.
Finger-print resistant film orders
While initially anticipating FPR production revenues by June 2009, the company finally announced its first two production orders for the FPR film in October 2009, one of them from an undisclosed Fortune 500 customer, declaring that execution is on track and expressing confidence in imminent high sales volumes (very similar to the statements made on the recent earnings call in November about the touch sensor product):
It is our plan to have film production begin in low volume this coming quarter for these initial customer orders and then ramp to high volumes for additional opportunities in the beginning of 2010. With high-volume production aligned, Uni-Pixel is confident that it is optimally positioned to aggressively ramp sales and business operations... We laid out a clear strategy and our execution is on track. We have now assembled a team of five separate world-class partner companies to participate with us in the commercialization of our ... films.
In January 2010, the company "rolled out" the product after rebranding it with Targus, eerily resembling the recent touch sensor rebranding with Kodak. In its 10Q filing for the March 2010 quarter, the company claimed to be already shipping its FPR film for multiple touch enabled devices, with distributor agreements lined up and even availability on Amazon.com ($5 for iPhone, $12 for iPad) later that year. On the March 10, 2011, call, the company announced:
In Q4 2010 we realized our initial sales of FPR films and we see this ramping up dramatically in 2011... Our first private label orders came out of Korea, with Anymode, a Samsung mobile accessory company. We are also supporting about 725 SoftBank stores in Japan and expect to expand that business as well. You can order our FRP films for your iPhone, iPad and other devices today from Amazon and should be able to find them soon at your local electronics retailer or wireless provider.
Even a 1% penetration of the touchscreen market in 2011, assuming a $20/sqft sale price, would have resulted in $20 million production revenues for the year. But on the August 10, 2011 call, almost two years after the first FPR purchase orders, the company finally admitted:
The revenues generated from our protective cover film products through targeted distributors and retailers did not meet our expectations - this will significantly lower the $6 million revenue number that has been discussed for fiscal year 2011.
The FPR film was then quietly forgotten.
Diamond Guard film orders
The development of Diamond Guard, "another new amazing product," a cover glass replacement film, was made public on the May 9, 2011, earnings call. On the next earnings call the company stated that it had "already accepted some pilot production orders" after becoming "full production qualified" with three manufacturing partners in 2011 and signing a global manufacturing and master distribution agreement with Carestream. On July 24, 2012 the company announced the completion of the production-level qualification with Carestream and fulfillment of the first purchase orders:
UniPixel has established the capacity to support large-scale volume production of more than 100 million sqft/year of Diamond Guard as either a cover glass replacement or protective cover film. UniPixel has now been able to fulfill a number of purchase orders for pilot production rolls submitted by major electronic OEMs, ODMs and film converters that are advancing product designs which take advantage of the unique characteristics of Diamond Guard.
Effectively, just the Carestream capacity could address the entire touchscreen market (estimated at 114 million sqft/year, of which 70 million sqft/year of tablets and 44 million sqft/year of phones, see Slide 11 in the July 2012 presentation discussed above). At $3/sqft (see Slide 11 again), it translated into potential annual revenues of over $300 million at full utilization. Gross margin was guided above 50% (see page 23 in the April 2012 company-sponsored report).
While the company had anticipated subsequent "large" orders in Q3 2012 according to the July 30, 2012, earnings call, it admitted on the November 7, 2012, earnings call that sales were going nowhere:
The ramp is going to be relatively slow. We have dedicated a lot of time and resources to the downstream supply chain and we have realized that it is a technical sale. We have a hard coat, we can laminate it, the process of putting it on a film is something we understand and know. The lamination process, the die cutting process, the printing process on the film for the graphics has been something that we certainly have to understand the requirements from all the customers and some of the requirements are different, so it has taken a little bit longer to get that into production than we thought it would from production-level orders.
No revenues materialized, even after the company claimed in April 2013 to have received some inquiries for the hard coat raw material (resin) rather than the film itself.
All in all, the combined cumulative production revenues from selling the FPR and Diamond Guard products, starting from their respective first purchase order dates, October 2009 and July 2012, add up to less than $0.5 million as of today. If history is a guide, Uni-Pixel's production revenues are unlikely to exceed $0.5 million cumulatively over the next 5 years, assuming the cash on hand lasts that long, because the touch sensor product addresses the same touchscreen market in terms of square footage.
A note on the CEO and COO "resignations"
The ousting of the CEO and the COO should not be viewed as a positive development. Any potential replacements with "operational-oriented managers" cannot suddenly transform the company, as the rest of the Board and management team is still the same. For example, UniPixel's Chief Technology Officer and General Manager, in those positions since January 2008, is still there. In August 2011, a month after the supposed 10 million sqft/month capacity had been installed and calibrated, he was touting his Ionic Oil instead, a company he claimed he founded in his kitchen to commercialize a miracle new technology that extracted oil from tar sands. Only a CTO of a Techno Ponzi would do that rather than focus 100% on fixing the recent FPR failure, commercializing the newly announced Diamond Guard, and putting to work the new touch sensor production equipment supposedly capable of generating $600 million (10 million sqft/month x 12 months x $5/sqft) in annual revenues.
Disclosure: I am short UNXL. I wrote this article myself, and it expresses my own opinions. I am not receiving compensation for it (other than from Seeking Alpha). I have no business relationship with any company whose stock is mentioned in this article.