As many of you have probably read, one year ago was the lowest we got to in the stock market. Today is also the anniversary of my stock picking beginnings. Its my one year anniversary. In the past year, I have turned my Buy Pick Portfolio into over $6000 from the beginnings of $3000, which is over 129% in profits. You can read more about that in my post I had over the weekend. Yesterday, we went 1/1ish. Our Short Sale of the Day was a success, pulling in 3%. We short sold Suntech Power (NYSE:STP) in the morning at 15.20 for a 3% gain, selling at 14.76, taking advantage of missed earnings in Yingli Green (NYSE:YGE) and an overvalued STP. We were able to get in at 15.20 due to our Morning Levels Alert, which adjusted our entry range upwards and better positioned us. Our Buy Pick of the Day we held overnight, which was SRS. We bought into SRS at 6.78 and closed yesterday down about 2%. This morning, however, the stock is looking to open just a few cents under. We are looking to get out for 1-3% on that one today.
Today, however, the market is looking to get a wee bit closer to where it was one year ago, as things are looking pretty down for the day. On a lack of economic news and earnings and seven days of rallying, it is time to the market took a breather. How do we play this breather?
Buy Pick of the Day: Direxion Daily Energy Bear 3x ETF (NYSEARCA:ERY)
Analysis: Over the past month, oil has been in a stellar rally that I do not think anyone could have predicted. My upwards range on oil over the past couple weeks has been $82-$83 per barrel, and I am putting us into an ETF that inverses the oil companies because we hit that high, and the oil market is turning around. In pre-market, the NYMEX has dropped almost 2% on crude this morning, which is a pretty large amount for the oil market. The market for oil companies has yet to catch up, but it will. The combination of oil dropping like a heavy rock in water and the fact that futures for the open are down around 20 points, make energy inverse ETFs look pretty attractive.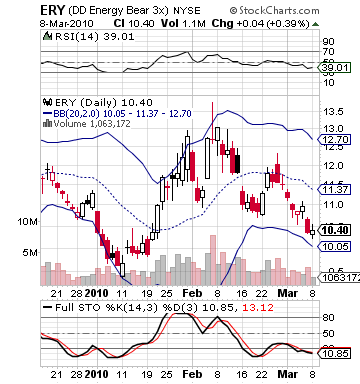 This is why I am recommending we buy Direxion's Daily Energy Bear ETF (ERY). The ETF is a 3x inverse ETF, so it is super volatile. When I am pretty certain that the oil market is on a decline, I like to buy this one. It has more risk, but it also has the type of movement we like to see for our day trades. I am not sure how much further energy prices can drop in one day, but a 2% decline is a hit in the face to many of Direxion's holdings, which include Anadarko (NYSE:APC), Chevron (NYSE:CVX), ConocoPhillips (NYSE:COP), ExxonMobil (NYSE:XOM), Occidental (NYSE:OXY), and Schlumberger (NYSE:SLB). The ETF is up just over 1.5% in the morning trading, and I like right at that level. It has not gotten away from us, but it is already making some movement to help reassure us of what we are thinking.
Further, Chevron announced this morning that the company will be cutting 2,000 US jobs… oops! This news should be a weight to CVX all day long and could cross over into the other integrated oils, which are the main makeup of ERY's holdings. Additionally, on the oil services front, SLB did not have any major news, but a smaller oil and service company Superior Well Services (SWSI) reported a quarterly loss this morning, missing earnings with an EPS of -0.58 vs. the expected - 0.38. That loss could be a burden, as well.
Technically, you have to like ERY's ability to rally big today. It is down almost 20% in the past month, and it is right at its lower Bollinger band. The RSI is below 40, and it is way oversold on stochastics. Yet, yesterday the fast stochastics looked ready to cross and head back upwards.
Get in at the range and watch out!
Entry: We are looking to get involved at 10.55 - 10.65.
Exit: Sell on gains of 2-3%
Stop Loss: 3% on bottom of entry.
Short Sale of the Day: Textron Inc. (NYSE:TXT)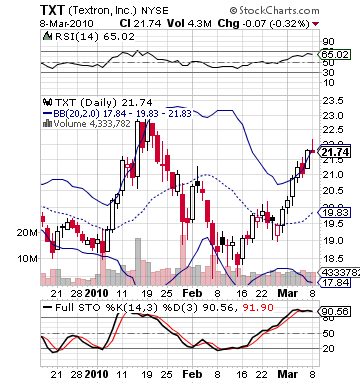 Analysis: Our Short Sale of the Day turns to the defense industry, which is a place I do not tend to turn very often. Yet, we have a perfect short for this aerospace defense company. Textron got a hurtful downgrade from JP Morgan this morning from Overweight to Neutral.
We didn't see the reason why it downgraded the company, but my guess is that after a one-year 550% rally, JP Morgan may think this one is right about back to where it should be trading, which is still not close to the 60s it was trading pre-market death. Yet, in the short term, this downgrade and the market's downturn present a nice opportunity to short. The stock has rallied for about 15% in the past month, and it is ready to make a pullback.
Technically, we see TXT right above its upper Bollinger band, its RSI is above 60, and it has been oversold for weeks. No one has sold because no investor wanted to miss this rally. Yet, the stock is set to open over 2% down. Well, a smart trader will take his profits and get out. So will a lot of others, creating a short interest and a gap in buyers, meaning we can excel by taking a short position.
Any downgrade is never good, but it is especially hurtful in combination with a market looking to take a breather off a major rally and a month long rally good for 15%. The stock has a large beta over 2, which means this stock can move.
We just hope it's to the downside. Good luck!
Entry: We are looking to get involved at 21.15 - 21.25
Exit: We want to cover on 2-3% gains on bottom.
Stop Buy: 3% on top of entry.