(Editors' Note: This article covers a micro-cap stock. Please be aware of the risks associated with these stocks.)
Back on December 5, 2013, Hebba Investments wrote an excellent article for SeekingAlpha: What It Really Costs To Mine Gold: The Newmont Gold Third Quarter Edition, where the gold-equivalent ounce all-in costs for many of the leading companies in the industry were disclosed.
"Compared to NEM's $1172 gold-equivalent ounce all-in cost; the few other gold companies we've covered in so far in Q3FY13 have reported the following costs: Goldcorp (GG) (costs under $1200), Yamana Gold (AUY) (costs over $1150), Barrick Gold (ABX) (costs above $1350), Agnico-Eagle (AEM) (costs under $1150), and current quarterly cost leader Eldorado Gold (EGO) (costs just over $1100). As investors can see, in terms of Q3FY13 costs, Newmont Gold's costs are quite good compared to the other majors. Comparing NEM to the second quarter true all-in costs of other companies they compare as follows: Goldfields (GFI) (costs over $1500), Allied Nevada Gold (costs over $1300), Alamos Gold (AGI) (costs under $1250), Kinross Gold (KGC) (costs over $1500), Randgold (GOLD) (costs over $1000), IAMGOLD (IAG) (costs over $1300), and Richmont Gold (RIC) (costs over $1300), and Silvercrest Mines (SVLC) (costs over $1000)."
With gold (NYSEARCA:GLD) trading around $1200 an ounce, we therefore have many of the key players in the industry losing money per ounce mined. Many of the stocks listed above have experienced sharp corrections in their stock prices over the last two years and I thought it would be timely to examine how the same firms were doing from a free cash flow point of view.

This analysis will use the following two free cash flow ratios:
Those new to this analysis can find an introduction by going here that will explain in detail how each ratio is calculated. When used together, these unique ratios generate a quantitative picture of a company's underlying fundamentals, taking into account both strengths and weaknesses.
The FROIC ratio (Free Cash Flow Return on Invested Capital), detailed in the table above, is in my opinion, one of the most accurate barometers for the conditions of a company on Main Street. Basically FROIC tells us how efficient operations are, as it identifies how much free cash flow is generated for every $1 of total capital employed.
Newmont Mining for example has a FROIC of -2%, which means that for every $100 of invested capital, they lose $2 in free cash flow. FROIC can also reveal how a whole industry is doing by generating an average group FROIC for the key players. The average FROIC for the eighteen companies listed in the table came in at -9%, which means that the average firm in the gold mining industry loses $9 in free cash flow for every $100 invested in total capital. This, by a wide margin, is one of the worst results of any industry that I track, and paints a dismal picture for the gold miners going into 2014.
Why is this happening and why are gold miners putting up such terrible FROIC numbers? The answer is that, as a group, gold miners went overboard in their capital spending, expecting gold prices to continue to soar. Unfortunately, the exact opposite has happened. Gold has fallen substantially since its 2011 high.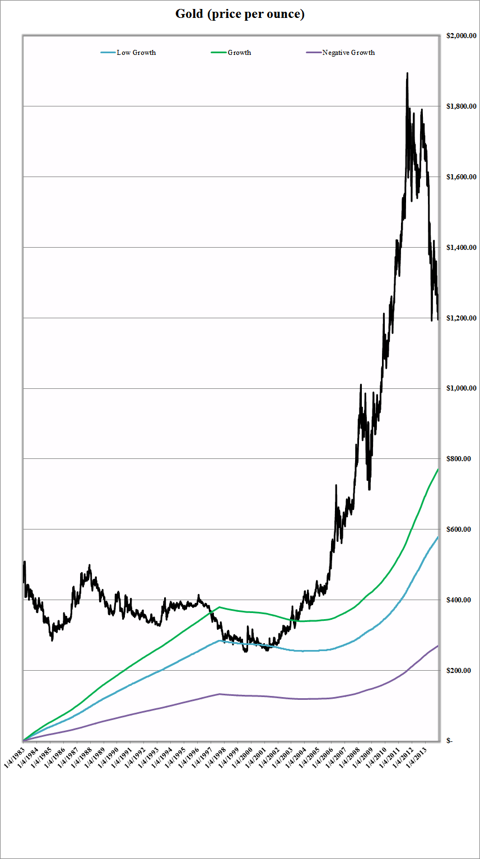 How do I know that the gold miners went overboard in capital spending? The answer lies in analysis of CapFlow. The CapFlow ratio shown in the table identifies how much capital spending is used as a percentage of cash flow. A result of less than 33% is considered ideal. Newmont Mining for example, has a CapFlow of 117%, which means that it spent 117% of its cash flow in capital expenditures which is almost 4 times more than the ideal. Newmont Mining's results are among the best in the industry. However, its results are still terrible, but not as bad as big spenders like Allied Nevada Gold (NYSEMKT:ANV) and Richmont Mines , who despite the fact of having negative cash flow, continued to overspend and thus had negative CapFlow results, which is as bad as it can get.
In conclusion, for those thinking about investing in gold miners, I suggest that you reconsider. I continue to see the industry as a whole having a tough year again in 2014. It takes time to fix the mistakes of overspending, and with gold itself showing little signs of recovering any time soon, I see very little upside from a quantitative point of view.
I recently wrote an article analyzing gold and gold miners from a technical analysis point of view (using my SIA system) and you can read that analysis by going HERE. Technical analysis is useful in analyzing commodities, as an ounce of gold has no balance sheet, no cash flow statement, and no income statement to work off of, so technical analysis is one of the few ways to gauge it. By using a long term moving average of 3,650 trading days, it allows the gold investor to get a good reading on investor sentiment.
Gold itself is a much safer investment that investing in the gold miners, as it takes a tremendous amount of capital expenditures to bring gold out of the ground. Many will argue that the best way to measure gold miners is by measuring their Book Value, but much of that value is based on land. I prefer to use a free cash flow analysis instead as I want to know how much in free cash flow is being generated for every $1 of invested capital. Land is useless to me, if it is not producing. An investor can analyze any company on an equal basis by judging it through a free cash flow analysis, whether it makes pencils or mines gold. The secret to success in investing is to generate a portfolio of strong FROIC and low CapFlow players, as such companies are generating huge amounts of free cash flow. This is exactly the opposite of what is happening with the gold miners at the moment. It you must invest in the gold industry, then I would recommend investing in gold itself rather than the miners.
Disclosure: I have no positions in any stocks mentioned, and no plans to initiate any positions within the next 72 hours. I wrote this article myself, and it expresses my own opinions. I am not receiving compensation for it (other than from Seeking Alpha). I have no business relationship with any company whose stock is mentioned in this article.