Much of this research on Human Genome Sciences Inc. (HGSI) was performed just prior to the company's earnings release on March 2, 2010, in large part to help decide whether or not to continue to hold after an 80% gain (now a 90% gain) in one of our portfolios.
It is interesting to note that the language used in HGSI's earnings report very closely matched what was unearthed during the research (see below). This should exemplify the usefulness of doing the research!
click to enlarge image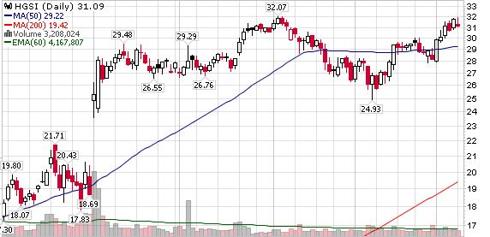 Click to enlarge
Another motivation for doing research on HGSI is that Seeking Alpha has had only one posted analysis article (from Zack's research) that focused purely on HGSI since November 2, 2009. Also, the day before earnings were released, OSIP gapped up 50% on a takeover. And on March 7, 2010, BIIB broke out to yearly highs with a decent amount of volume. When a sector heats up, one better pay attention.
The earnings report and statement were right in line with the research, so there was no surprise:
Human Genome Sciences Inc. said Tuesday its fourth-quarter loss narrowed on boost from partnership payments and sales of the inhaled anthrax treatment ABthrax to the U.S. government.
Cramer's comments on Mad Money on March 3, 2010 were as follows:
I am surprised by how much cash they have, the stock is looking good, they just reported… people like this, I continue to believe that this is a good spec…it is up on a spike so you will have to be a little careful.
Human Genome Sciences (HGSI) is a commercially focused biopharmaceutical company. The company has three products in late-stage clinical development: Zalbin (formerly Albuferon) for chronic hepatitis C, LymphoStat-B
There is a high level of confidence of FDA approval of key value driver Benlysta for treating lupus before 2011, after Phase III results in both the BLISS-52 and BLISS-76 studies met primary endpoints of improved patient outcomes versus the current standard of care. Many expect a smooth regulatory path, with FDA Priority Review likely, given lupus's significant unmet medical need, and its prospects for long-term use as a maintenance therapy and for a broad lupus patient population appear very likely.
As stated above, OSIP confirmed an unsolicited bid by Japan's Astellas Pharma for $3.5 billion for systemic lupus erythematosus and ABthraxtm for inhalation anthrax. Zalbin (Albuferon) and Benlysta (LymphoStat-B) are progressing toward commercialization.
In December 2008, the company reported that Albuferon met its primary endpoint in the first of two Phase III clinical trials in chronic hepatitis C. HGS also has several drugs in earlier stages of clinical development for the treatment of cancer, led by its TRAIL receptor antibody HGS-ETR1 and a small-molecule antagonist of IAP (inhibitor of apoptorsis) proteins.OSIP shares soard +52%! OSIP's trading action in prior days implied intimations of impending doom for the shorts. OSIP and some other biotech stocks were "brewing their breakout setups."
Apparently, some people already knew about the potential deal and the charts showed it. M&A is alive and well in this sector.

Three widely held biotech stocks by large hedge funds are BAX, OTC:CHBT, and HGSI. The note I made to myself was that "HGSI reports earning on March 2, 2010, so we shall soon find out if the run continues or not." Based on the research, it was likely not to be a disaster.
Their Hepatitis C drug carries more risk for long term success, but a big partner helps soften the blow if things don't work out as well. Worldwide co-development and commercialization agreement entered into in 2006, HGS and Novartis (NYSE:NVS) will co-commercialize albinterferon alfa-2b in the United States under the brand name Zalbin and will share clinical development costs, U.S. commercialization costs and U.S. profits equally. Novartis will be responsible for commercialization of albinterferon alfa-2b in the rest of the world under the brand name Joulferon, and will pay HGS a royalty on those sales.
Human Genome Sciences is focused on the discovery and commercialization of therapeutic proteins, antibodies and genes to prevent, inhibit or reverse diseases. HGSI uses proprietary sequencing, databases, and bioinformatics systems to discover partial gene sequences, and to identify genes corresponding to the sequences and encoded proteins.
At September 30, 2009, HGSI had $697 million in cash and balance sheet liabilities including $344 million in convertible debt, net of $59 million in unamortized debt discount, and $248 million in lease financing. In February 2009, the company repurchased $106 million of notes for $50 million in cash.
There is potential for HGSI as being solidly capitalized to address its debt when due next decade, with its cash position recently bolstered by a $75 million milestone payment earned from Novartis in October 2009 for completion of Zalbin's Phase III study and advancement to regulatory stages, and an additional 17.825 million share offering in December 2009, which generated $456 million in proceeds.
Earlier in 2009, HGSI raised $357 million in a 27 million share offering. In September 2008, HGSI announced a manufacturing deal with Hospira to utilize excess capacity, which could generate $30 million-$60 million in revenue over a three- to four year period.
Disclosure: Author holds a long position in HGSI