Yesterday saw some interesting trading in the forex and commodities complexes. First, we saw that the US Dollar was gaining strength finally which forced most commodities lower. Lastly, it was impressive to see gold and the rest of the precious metals complex rise strongly with those headwinds and end the day about 2% higher.
Our focus today is not upon the metals or the dollar, but once again on the weather and energy. With the snow falling heavily in the northeastern portion of the US and with the central US to get heavy snowfall and low temperatures starting this weekend we think investors need to pay attention to production areas such as the Bakken, Marcellus and Utica.
Chart of the Day:
This five-day chart of gold shows the recent strength that the yellow metal has had. We now see the media running stories that as whether 2014 could be the year that gold rebounds, especially seeing how 2013 was the worst year in decades for the commodity. We see no reason to be bullish at this time and think money allocated to gold now is at best dead money.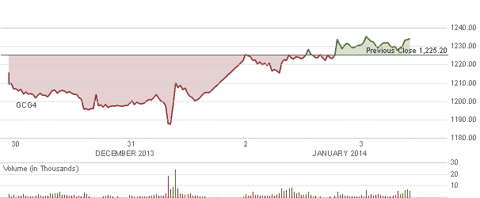 Source: CNBC
Commodity prices this morning are as follows:
Gold: $1,231.30/ounce, up by $6.10/ounce
Silver: $20.225/ounce, up by $0.097/ounce
Oil: $95.32/barrel, down by $0.12/barrel
RBOB Gas: $2.7051/gallon, up by $0.0101/gallon
Natural Gas: $4.282/MMbtu, down by $0.039/MMbtu
Copper: $3.3535/pound, down by $0.028/pound
Platinum: $1,412.70/ounce, up by $8.10/ounce
Storms To Affect Production Areas?
Once again we are seeing winter storms sweep across the United States and many government facilities and services have been shut down in the heavily populated northeastern US. In this region is the Marcellus and Utica Shales which have a number of producers with assets exclusively in either one of the plays or both. Although we have not seen any announcements of shutdowns in the area, we are watching Rex Energy (NASDAQ:REXX) and Cabot Oil & Gas (NYSE:COG). Both are names that we like and if they were to fall on weather related news might cause us to be buyers should the pullback be large enough.
Investors also need to be aware that should these storms keep up for a week or so it could slow down exploration efforts in the region and drive up drilling costs while also simultaneously delaying the midstream players who are busy building the necessary infrastructure to transport production.
Our main worry is not about the current storm and what is happening in the northeast but the unknown and what might happen in the Bakken and central US moving forward. Initially we are worried about the effect the next winter storm might have on production in the area and how that will impact EOG Resources (NYSE:EOG), Continental Resources (NYSE:CLR) and Whiting Petroleum (NYSE:WLL).
Continental is one of the producers who has bet big on being able to transport by rail moving forward, so if the US regulators decide to crack down on how Bakken crude in transported it could be disproportionately affected.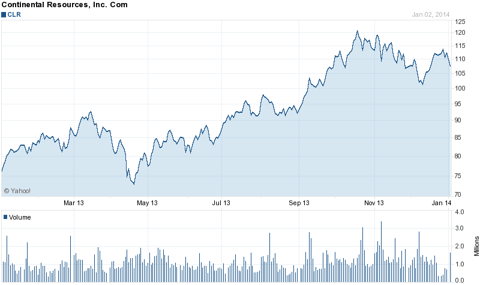 Source: Yahoo Finance
The real storm we are worried about is metaphorical in nature but potentially even more damaging for EOG Resources, Continental Resources, Whiting Petroleum and the other Bakken producers in regards to their efforts to transport their production out of the region in order to obtain the best price. Lately we have been discussing the need in this country for more pipelines as they are the best and safest way to transport energy in our opinion.
It appears likely that after the latest incident in North Dakota, the train accident, that this might very well provide traction for the fast tracking of new interstate pipelines in the region. This will be especially true if the government requires the railroads to begin to use railcars that are more durable and less likely to leak in an accident due to the latest revelation that Bakken crude is more flammable than other types of crude produced in the country.
Most say that the producers will be willing to pay more to continue to ship by rail, but that may not be the issue moving forward as there is already a shortage of rail cars. That shortage would only increase with more stringent regulations which would drive shipping costs higher but more importantly leave a lot of production stranded in the central portion of the US.
These will be stories investors need to pay attention to in the coming weeks and months.
Disclosure: I have no positions in any stocks mentioned, and no plans to initiate any positions within the next 72 hours. I wrote this article myself, and it expresses my own opinions. I am not receiving compensation for it (other than from Seeking Alpha). I have no business relationship with any company whose stock is mentioned in this article.