I've been bullish on Ford throughout 2013, and as the auto maker wraps up a year that shouldn't be considered anything but an astounding success, December U.S. auto sales seem to want to rain on Ford's parade. At first glance, Ford's (NYSE:F) December U.S. auto sales look disappointing - very disappointing. It was reported this morning that Ford's unit sales were up 1.7%, as opposed to analyst estimates of 4.3%.
Seeking Alpha laid out some of the finer points of the news reported this morning from Ford.
Ford saw trucks and utilities sell well again in December as passenger cars lagged.
Sales by brand: Ford +1.6%; Lincoln +8.1%.
F-Series sales rose 8.4% to 74,592 while Fusion sales were up 26.6% to 24,408. Taurus, Focus, and Fiesta all saw a big drop in sales during the month compared to a year ago.
A feather in Ford's cap, the automaker fully expects to end the year as the top selling auto brand in the U.S.
This news isn't as bearish as it can be made out to be, for a couple of reasons.
1. The Analyst Miss Isn't as Bad as it Seems
(click to enlarge - source, International Business Times)

GM and Chrysler also saw a decline in sales during the month of December, indicating that the issue holding back Ford's sales was not exclusive to Ford's business, but was a sector wide issue mired by issues out of the control of the company.
From The Globe and Mail:
Sales that may have occurred in December were pulled ahead to November because of a late-month, four-day Thanksgiving weekend, said John Felice, head of sales at Ford Motor Co.

December auto sales were also hampered by snowy and icy weather over parts of the country late in the month, said Chrysler spokesman Ralph Kisiel.
What this means is when put into context, the "analyst miss" - which still represented a monthly gain, isn't nearly as bad as it looks.
(click to enlarge - source Bloomberg.com)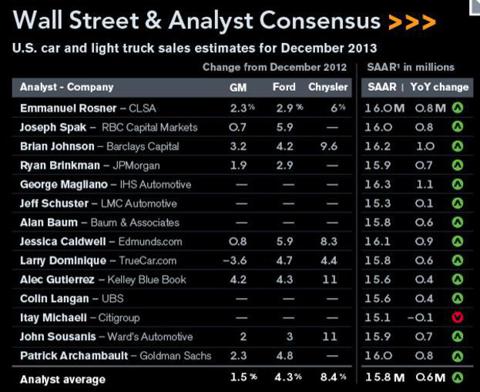 2. The Fusion Keeps Crusin'
The Fusion had a sales rise of 27% in December - a record for the Fusion - both monthly and annually. The Fusion was predicted by me in several articles (here and here) to be the driving catalyst behind Ford's sales heading into 2014. So, naturally, I've had more of a focus on how Fusion is performing versus the rest of Ford's lineup.
Our metrics today tell us the Fusion continues to be Ford's golden child.
Business-Standard reports:
Fielding attractive cars such as the Fusion has freed the Detroit Three from the long-time bind of choosing between volume or charging enough for their cars to earn profits, says Tynan. Each of the automakers boosted the average selling prices of their vehicles in 2013 as they outpaced a US auto market, now poised for a fifth consecutive year of expansion in 2014.
With Fusion continuing to catalyze Ford's growth, there is a significant chance that it is going to be able to give Camry a run for its money for best selling sedan in the U.S. in 2014.
3. Lincoln is Still Luxury
Lincoln's impressive run in December, including MKZ sales jumping 73% show us that Lincoln is still considered a luxury brand. December has always, traditionally, been a strong month for luxury - and Lincoln's growth compared to the Ford brand shows us that the brand name still resonates.
One of the things I'm constantly writing about is how a brand name can ruin a company once its tarnished. Sears (NASDAQ:SHLD), for example, has this issue and I wrote about it just yesterday. Other notable companies that are falling victim to their old, crusty brand names and logos include J.C. Penney (NYSE:JCP), RadioShack (NYSE:RSH) and Eastman Kodak (NYSE:KODK).
It is, however, possible to revive - and find success from - a re-branded brand name by completing a transformation to making it "new school". So, you can see why it's important to get some type of validation that Lincoln (like Cadillac) is a brand name that's successfully crossed the chasm from the Lincoln of old to the Lincoln of new.
Conclusion
I remain bullish on Ford into 2014. The company is likely to see another record sales year, despite ending 2013 on a stagnant note. As an investor, Ford's stock continues to look appealing and I continue to anticipate a dividend increase in 2014.
Disclosure: I have no positions in any stocks mentioned, and no plans to initiate any positions within the next 72 hours. I wrote this article myself, and it expresses my own opinions. I am not receiving compensation for it (other than from Seeking Alpha). I have no business relationship with any company whose stock is mentioned in this article.