Conservative estimates for the amount of China Mobile (NYSE:CHL) customers to buy an iPhone are approximately 2% for 2014. With the total China Mobile customer count at about 763 million as of the end of November 2013, this equates to approximately 15 million in iPhone sales. With the average price of an iPhone in China, currently at $525, Apple (NASDAQ:AAPL) stands to gain about $7.9 billion in additional revenue from China Mobile in 2014.
If the pace of iPhone sales from China Mobile customers continues at 2% per year and the customer base increases at about 7% year-over-year, here's how the projected unit sales and revenue will look:
Year

Total China Mobile Customers

iPhone Unit Sales

from China Mobile

iPhone Revenue

from China Mobile

2014

816 million

16.3 million

$8.5 billion

2015

873 million

17.4 million

$9.2 billion

2016

935 million

20 million

$10.5 billion

2017

1 billion

21.4 million

$11.2 billion

2018

1.07 billion

22.9 million

$12 billion
The estimate of $8.5 billion of iPhone sales from China Mobile represents 4.6% of total Apple revenue estimated for FY14. So, Apple will get a significant revenue boost from China's largest carrier. This is just a conservative estimate. If I go a little more aggressive and project that iPhone sales reach 4% of China Mobile customers, here's how the projections would play out:
Year

Total China Mobile

Customers

iPhone Unit Sales

from China Mobile

iPhone Revenue

from China Mobile

2014

816 million

32.6 million

$17.1 billion

2015

873 million

34.9 million

$18.32 billion

2016

935 million

37.4 million

$19.6 billion

2017

1 billion

40 million

$21 billion

2018

1.07 billion

42.8 million

$22.5 billion
With iPhone sales of 4% of China Mobile customers, the impact to Apple's expected FY14 revenue would be an increase of 9.3%. This would also provide a significant boost to Apple's earnings. For example, with a gross margin of 38%, $17.1 billion in revenue would produce an additional $6.5 billion in gross profit for Apple.
Having China Mobile as a carrier should prove to be a positive catalyst for Apple. China Mobile's customer base more than doubles the population of the U.S., so there is plenty of opportunity for growth. (Current China Mobile customers = 763 million vs. a U.S. population of 317 million)
What Could Go Wrong?
There are already about 42 million China Mobile customers who own iPhones. These users have been using their iPhones as standard cell phones on the network before 3G/4G service was available. Therefore, the projections for new sales of iPhones from China Mobile customers is not a guarantee. It's not clear how many more China Mobile customers will want an iPhone with the new service. It's also not clear if there will be a large amount of current iPhone owners upgrading to newer models.
Apple faces a lot of competition in China from Samsung (OTC:SSNLF) and Chinese companies such as Lenovo, Yulong and Huawei. These competitors have 32.7% of the market in China according to Q3 2013 figures. Apple had about a 6.2% market share in Q3. The competition offers many smartphones at a lower cost than Apple, so there is uncertainty as to how many CHL customers will purchase new iPhones. It is possible that Apple's market share contracts, while the competitors increase market share. However, my thoughts are that there will be enough interest in new iPhone purchases to grab 2% - 4% of CHL customers. It's a matter of taste and status with Apple and I think that 2% - 4% of CHL customers are likely to be interested in purchasing an iPhone.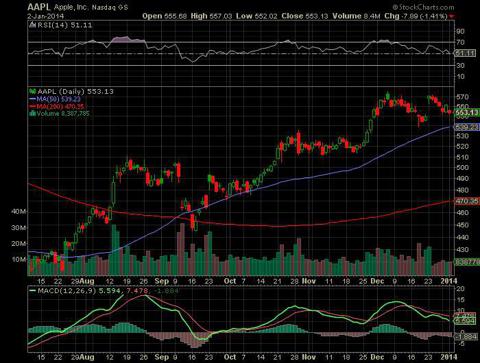 Apple's stock is currently undervalued due to investor fear from smartphone competition. Although the stock has recovered from just below $400 to the $550 - $575 range, the valuation metrics are still attractive. Apple's PE ratio spent about six of the past 10 years over 20. The stock is currently trading with a trailing PE of 14. It is trading at only 11.6 times next year's EPS, which is significantly less than the S&P 500's forward PE of 16.8. I think that the stock has room to run, although not at the pace of a few years ago.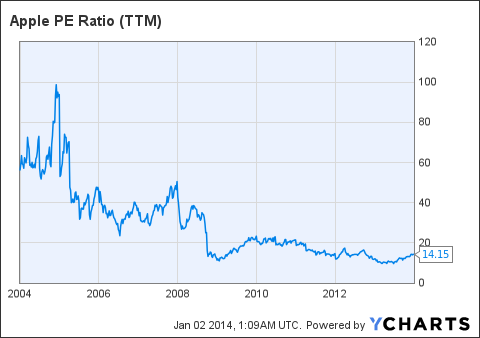 AAPL PE Ratio (TTM) data by YCharts
Next year's earnings growth is conservatively likely to be between 9% - 10%. This would be based on meeting its earnings estimates. Based on this growth, I conservatively project that the stock price will rise to between $610 and $620 within a year. However, if Apple's sales and earnings estimates are exceeded in most quarters, then I think the stock can run higher. The stock price can exceed $650 within a year if sales/earnings targets are exceeded. I think that having China Mobile as a carrier could allow Apple to exceed its earnings expectations if sales from the carrier are higher than expected. For example, if sales from China Mobile were to reach 4% of total customers, I see the stock exceeding $650 within a year. With that in mind, 2014 should be an interesting year for Apple.
Disclosure: I am long AAPL. I wrote this article myself, and it expresses my own opinions. I am not receiving compensation for it (other than from Seeking Alpha). I have no business relationship with any company whose stock is mentioned in this article.