RBN Energy has established itself as a top firm when it comes to analyzing energy commodities and managing risk. The company regularly publishes relevant blogs and provides consulting services. Rusty Braziel, RBN President, recently released the firm's Top 10 Energy Predictions for 2014. Considering the company's excellent track record with respect to its 2013 market calls, energy investors should give it a close read and take notes. The overall theme of RBN's research outlook for 2014 is demand: what will be done with all of the hydrocarbons being produced in the US? I will touch on a few of RBN's top 2014 prognostications and link them to companies that could be affected.
#1: Gulf Coast and International oil markets will decouple and get "weirder."
RBN agrees with the general conclusions I reached in Crude Oil Export Ban Pits Shale Producers Vs. Refiners: there is downside risk to WTI prices. RBN believes that Gulf Coast light-sweet will likely trade at a discount to imported heavy in 2014. I think this has already happened on occasion. What is the price of Bakken at the rail terminals or at Clearbrook? What is WCS trading at with respect to WTI? These typically trade at substantial discounts to WTI, yet are not widely reported. When will Bloomberg or Reuters start publicly reporting these benchmarks on dedicated webpages as they do Brent and WTI? I mean WTI is almost irrelevant to me these days. But I digress. The point is RBN's call could mean pain for refiners running heavy crude slates having to compete with those running advantaged crude slates. This means margins could come under pressure at refineries such as Motiva's Port Arthur refinery - the largest refinery in the US at 600,000 bbl/day. Motiva is a 50/50 joint venture between Saudi Aramco and Royal Dutch Shell (NYSE:RDS.A) (NYSE:RDS.B) and primarily processes imported Saudi heavy.
#2: US and International LPG markets link as the US ramps up exports.
RBN reports that if all the current projects are built export capacity of liquid petroleum gases such as propane and butane could exceed 1.4 million boe/day. As a result, domestic LPG prices will rise closer to international prices. Great for producers, not so much for domestic consumers. Enterprise Products (NYSE:EPD), Targa (NYSE:NGLS) and ETP Sonoco (NYSE:ETP) have all expanded export facilities. Phillips 66 (NYSE:PSX) has announced plans to build an LPG export terminal in Freeport, TX, with an export capacity of 4.4 million boe/month.
#4: NGLers will get serious about ethane exports.
The US can produce more natural gas liquids than it can consume and ethane makes up over half that NGL volume. This is very bullish for domestic chemical companies like Dow Chemical (NYSE:DOW), DuPont (NYSE:DD) and Air Products & Chemicals (NYSE:APD). CPChem, the 50-50 joint venture between Chevron (NYSE:CVX) and Phillips 66 also has significant Gulf Coast chemical operations and are expanding capacity.
#6: Natural gas prices will remain low in 2014.
Despite the recent rise in natural gas prices due to a particularly harsh winter, natural gas prices will come back to reality when spring arrives. LNG exports and most new industrial demand are still years off. Meantime, the Northeast (i.e. the Marcellus shale) added more than 4.0 Bcf/d during the year. Bottom line: there is still more production than the market can absorb. Again, this is long-term bullish for the chemical producers listed above.
#8: Permian crude oil production will take off.
Of all of RBN's predictions, this is one I might disagree with. Despite much unbridled enthusiasm in the media about the Permian Basin's outlook, I have been taking my queue from less bullish comments made by shale experts like EOG Resources (NYSE:EOG) and ConocoPhillips (NYSE:COP). While both CEOs agree there is a massive amount of oil in place in the Permian Basin, they have tempered outlooks. At a recent BofA Global Energy conference presentation, EOG's CEO Bill Thomas said:
Permian has got a huge amount of reserve potential, but the quality of the Permian oil is not ever not going to be the quality especially of an Eagle Ford well and you're not going to see the Permian in our view ramp up like we've seen this rapid ramp up in the Eagle Ford.
At the same conference these comments were echoed by COP's Executive VP Alan Hirshberg (SA transcript):
So we have early wells that we've drilled here that have been very successful in these areas, where we're continuing to do pilot work and really trying to make sure we understand these reservoirs before we move into a more extensive kind of investment mode. ....We're still making sure we understand it before we get into manufacturing mode in the Permian Basin.
In addition, if RBN's prediction that WTI prices will come under pressure in 2014, it seems to me that new Permian production might be the first place companies cut back on activity as Eagle Ford and Bakken wells have better economics. Regardless, if RBN's prediction turns out to be correct, a company like Pioneer Natural Resources (NYSE:PXD) may be a primary beneficiary due to its large acreage in the Spraberry and Wolfcamp plays.
Summary And Conclusions
RBN Energy's 2013 top 10 energy predictions were pretty much on target. If history is any indication, investors would be wise to heed the firms 2014 prognostications. The major theme in 2014 is excess supply of domestic hydrocarbons - light-sweet crude, natural gas and NGLs. This is long-term bullish for petroleum transport companies (pipelines), the chemical companies and advantaged crude refiners and exporters. My followers may get tired of hearing me say this, but one company that benefits from all these trends is Phillips 66: perhaps The Best Investment in Shale "USA" Ironically, at RBN's 2014 School of Energy (March 3-7 in Houston), March 5th will cover international LPGs and conduct a tour of the massive Mont Belvieu, TX, complex. Mont Belvieu is the hub of Phillips 66's Gulf Coast operations, where it has significant chemical and refinery operations. It is also the destination for its two new Sand Hills and Southern Hills NGL pipelines. These pipelines have a current combined capacity of 350,000 boe/day and can be expanded to 525,000 boe/day. Despite hitting new highs nearly every day, and returning over 40% in 2013, the RBN report reinforces my view that Phillips 66 is still a BUY. The long-term earnings and dividend growth prospects for PSX are excellent. Technically, the company appears to have broken out from a cup-n-handle formation - strongly and bullishly breaking through prior resistance at $70.
P/E ((ttm)) = 13.3
EPS ((ttm)) = $5.75
Div (Yield) = $1.56 (2.1%)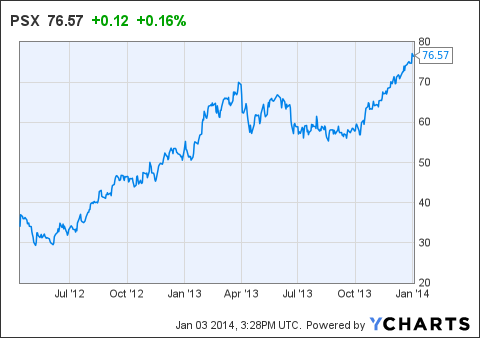 Disclosure: I am long PSX, CVX. I wrote this article myself, and it expresses my own opinions. I am not receiving compensation for it (other than from Seeking Alpha). I have no business relationship with any company whose stock is mentioned in this article.
Additional disclosure: I am an engineer, not a CFA. The information and data presented in this article was obtained from company documents and/or sources believed to be reliable, but has not been independently verified. Therefore, the author cannot guarantee its accuracy. Please do your own research and contact a qualified investment advisor. I am not responsible for investment decisions you make. Thanks for reading and good luck!