Looking to profit from an industry with a strong positive trend, but still collect dividend income along the way?
Biotech stocks had major gains in 2013. For example, the iShares Biotech ETF (NASDAQ:IBB) gained around 60%. But what about dividends? A screen for biotech dividend paying stocks turned up 6 dividend paying stocks in this industry, 5 of which have low dividend yields.*
Occasionally, our articles cover stocks with multiple dividend payouts and that's the case with this week's focus stock. It offers 3 dividend yields - a common, yielding over 4%, and 2 preferreds, yielding over 7%.
Founded in 1994, Alexandria Real Estate Equities (NYSE:ARE) is the largest and leading investment-grade REIT focused principally on owning, operating, developing, redeveloping and acquiring high-quality, sustainable real estate for the broad and diverse life science industry.
We called ARE a "back door biotech/healthcare" high dividend stock because it's the largest US landlord to biotech firms, and offers you a way to collect attractive income from the booming biotech industry.
In addition to biotech firms, ARE's client base is a mix of various types of Healthcare companies:

Although ARE has expanded to Asia and India, its properties are primarily located in life science "brain trust" cluster communities in the US: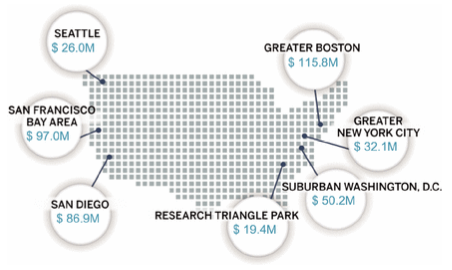 ARE's top 20 client list is quite impressive. This list is based on rents as of 9/30/13: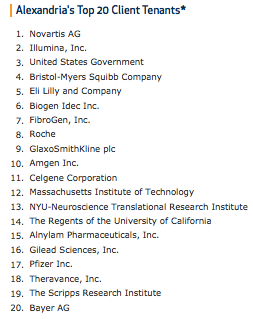 Dividends: ARE'S 6.45% Series E Cumulative Redeemable Preferred Stock, (ARE-PRE), is selling at a 14.6% discount to its $25 liquidation price, and is yielding 7.45%. Ticker symbols for preferred stocks vary on different websites - Yahoo Finance lists this issue as (ARE-PE), while Schwab lists it as (ARE/PRE). ARE had preferred dividend coverage of 4.95x for the 1st 9 months of 2013, vs. 3.73x for the 1st 9 months of 2012.

Click to enlarge
ARE also has a Series D Preferred stock, (AREEP), which is yielding around 7%, but it has been callable at $25 since 4/20/13, and it's currently trading above $25.
Tips on buying preferred stocks:
1. Buy cumulative issues - The issuer has to pay you for any missed dividend payments when they call in your shares.
2. Buy at a price below the liquidation preference/call value. For example, even though Alexandria currently has 2 preferred stocks available, the ARE-PRE E series has a much better margin of safety since it's trading at over 14% below its liquidation price of $25.
3. Find preferreds with a call date that's far enough into the future, so that you can collect enough dividends to make the investment worthwhile. ARE-PRE isn't callable until 2017, which gives you at least 12 quarterly dividends before it can be called at $25.
Common Dividend: ARE also pays a quarterly dividend on its common shares. After cutting its dividend in 2009 from $.80 to $.35, ARE has steadily raised it each year since 2010, to its present $.68/quarter, nearly double what it was in 2009. We've added ARE to the healthcare section of our High Dividend Stocks By Sector Tables.

Options: This July 2014 trade for ARE has a $65 strike price, which pays $2.90, over 2 times the $1.36 paid by ARE's next 2 dividends. You can see more details for this and over 30 other call trades in our free Covered Calls Table.

Click to enlarge
We've listed the 3 main income scenarios for this trade below:

Click to enlarge
We haven't added ARE to our Cash Secured Puts Table yet, as it's below share-price put yields andaren't that attractive at present.
Quarterly Growth Figures: With the exception of Q4 2012 Alexandria has grown its EPS, Revenue and Net Operating Income over the past 4 quarters. Its AFFO growth has been weaker, but its Q3 2013 AFFO of $.99/share covered its common dividend by 1.46x.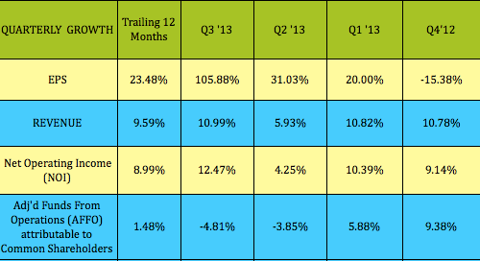 Click to enlarge
Alexandria benefits generously from rent increases, which in turn supports its earnings and revenue growth. This chart compares 2008 1st quarter base rents vs. 2012 4th quarter:

Click to enlarge
Performance: At $21.63, ARE-PRE is only 2.21% above its 52-week low of $21.15, and is 21.12% below its 52-week high of $27.42.
*The exception to the low dividend yields in the biotech screen was the controversial company PDL BioPharma, (NASDAQ:PDLI), which has many articles, pro and con, covering it on Seeking Alpha.
Disclosure: Author was long ARE-PRE at the time of this writing.
Disclaimer: This article was written for informational purposes only.
Disclosure: I am long ARE. I wrote this article myself, and it expresses my own opinions. I am not receiving compensation for it (other than from Seeking Alpha). I have no business relationship with any company whose stock is mentioned in this article.
Additional disclosure: I'm long ARE-PRE preferred shares, not ARE common shares.