BP (NYSE:BP) currently has a Zack's Investment Research 'hold' rating, however a great deal of investors are rather bullish on this stock, as seen in social media activity collected through stocktwits.com. So, is BP a good buy as we look forward to 2014? Or, is BP simply a hold as Zack's seems to suggest? To answer this question I will consider three different factors - the P/E Ratio, the P/B Ratio, and Qualitative factors that might show signs of the emergence of a sustainable competitive advantage.
1. P/E Ratio - The P/E Ratio, with respect to 12-month trailing earnings, for BP is 6.268. Conventional wisdom would dictate that this is a strong indicator of a heavily discounted stock.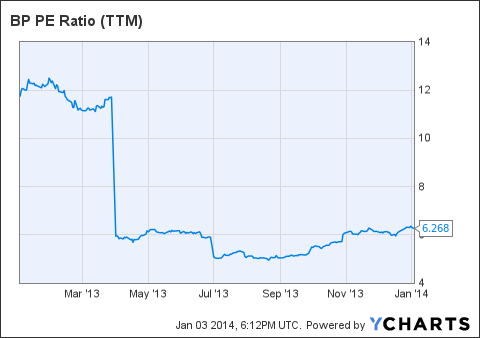 BP PE Ratio (TTM) data by YCharts
However, I generally also look at the P/E 10, or the P/E ratio with respect to the previous ten years of earnings. I do this because sometimes only the last 12 months of earnings can be a rather poor indicator for the value of a stock. I do this by taking the Cyclically Adjusted P/E Ratio or CAPE. CAPE consists of the weighted average of the previous ten years of earnings per share data as adjusted for inflation in order to create the denominator portion of the ratio. Price remains as the numerator. If we do this for BP we find that the CAPE Ratio currently stands at 8.83. This is also very strong and should be a strong indicator of value for those purchasing BP.
Since it is not every day that the CAPE Ratio is used in analysis I want to give you some context for usage of this metric. I went back through 25 years of quarterly data for EPS and then I adjusted these for inflation in order to generate the daily values of CAPE for the last 15 years. Please see the chart below for the daily values of CAPE alongside the daily values of Price for the last 15 years.

In the hopes of giving you some measure of central tendency for CAPE - the average of the daily values for CAPE during the last 15 years comes to 19.69. This is considerably larger than the 8.83 value that BP currently stands at. Additionally, the standard deviation for CAPE with respect to BP during the last 15 years would be 10.23. Therefore, we can see that BP is currently trading at a value lower than the 20th percentile assuming a normal distribution (which may or may not be a proper assumption). All of this, whether it be the P/E Ratio or the Cyclically Adjusted P/E Ratio, would seem to indicate that BP is a strong buy for the investor at the current point in time.
2. P/B Ratio - The P/B Ratio for BP currently stands at 1.157. Please see the chart below for the progression of this metric over the last 5 years.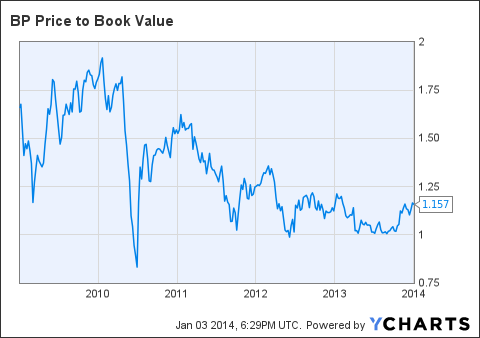 BP Price to Book Value data by YCharts
Once this ratio is over 1.00 I generally avoid the stock. However this simply means that the stock is not severely discounted. At 1.154, if BP were to go bankrupt tomorrow, you would receive roughly $0.85 for every dollar invested (obviously this is a theoretical exercise and expression of value that does not include lawyer fees). 1.154 is actually rather low for the greater majority of stocks, and certainly better than some earlier years for BP which you can see in the chart.
Once P/B is over 1.00 you are purchasing the stock more for future earnings than for the current balance sheet value. Can BP do better in the future? Is it worth more than simply its current statement of assets? Probably, but this is the subject of our next conversation.
3. Qualitative Factors - BP has suffered greatly since the oil rig disaster in the Gulf several years in the past. One only needs to look above at the P/B Ratio chart to see the extreme impact on price that this oil spill had on the stock. However they have made great strides towards paying off the liability from the spill in addition to winning some court cases that lowered the initial 34 billion dollars assessed against them for the oil spill.
In addition to the recent reduction of certain payments required of BP, we can also find that they are now looking at some positive finds which might improve the 2014 outlook for the company. In partnership with ConocoPhillips (NYSE:COP), BP has had a major oil find in the Gulf of Mexico. As announced on December 18th by BP, this oil find should greatly improve the stock price for 2014.
Conclusion:
Overall, at roughly $48.00 BP may be trading rather high compared with its entire 2013 yearly stock price performance, however it still represents a strong buying opportunity from the value investor's perspective. The strongest indicators of value for BP are with respect to the P/E Ratio and the CAPE Ratio, which both seem to show it as a heavily discounted stock with respect to earnings. The Price-to-Book does not reflect as favorably upon the stock however the P/B ratio also does not take into account the recent oil find for BP. There are strong qualitative factors showing that future performance of BP might be good for 2014. The payments required for the Deepwater Horizon Oil Spill have been lowered, and a strong oil find has occurred in partnership with ConocoPhillips. Both of these qualitative factors should contribute to a strong 2014. Our valuation metrics seem to indicate that BP is a strong buy (P/E & CAPE) or at best a decent buy (P/B), and our qualitative factors also seem to indicate a strong probability for good future results. In conclusion therefore, I would mark BP as a 'Buy.'
Disclosure: I have no positions in any stocks mentioned, but may initiate a long position in BP, COP, over the next 72 hours. I wrote this article myself, and it expresses my own opinions. I am not receiving compensation for it (other than from Seeking Alpha). I have no business relationship with any company whose stock is mentioned in this article.