Time flies. Over 4 years have already passed since Berkshire Hathaway (NYSE:BRK.B) acquired the Burlington Northern Santa Fe Railroad. So far, so good. Very good.
Using $22 billion in cash (which was quickly replenished) and increasing Berkshire's outstanding share count by only 6%, immediately in 2010 the railroad was already adding over 30% to Berkshire's earnings. Looking at some key figures since then demonstrates BNSF's growth:
| | | | | |
| --- | --- | --- | --- | --- |
| (in millions) | 2012 | 2011 | 2010 | 2009 |
| Revenues | $20,835 | $19,548 | $16,850 | $14,016 |
| Operating Earnings | $6,000 | $5,301 | $4,495 | $3,254 |
| Net Income | $3,372 | $2,972 | $2,459 | $1,721 |
It wasn't that long ago when investing in railroads would have been a terrible decision. Competition was fierce both between different railroad companies and trucking. But things have fundamentally changed. Territories between the railroads have essentially solidified, eliminating vicious price-cutting, and truckers have been left in the dust altogether. Navigating American roads has become a lot tougher and truck's fuel efficiency is pitiful when compared to the railroads. Buffett has given praise to BNSF being a full 3 times more fuel efficient than trucks.
Except through Berkshire Hathaway, investors can no longer take part in the BNSF story. While holding Berkshire shares is certainly not a bad proposition, those looking for a more pure play on the U.S. railroads fortunately have other options open to them.
Union Pacific (NYSE:UNP), CSX (NYSE:CSX) and Norfolk Southern (NYSE:NSC) are all solid companies. But there are two specific areas(although both tied together) that make Union Pacific my favorite of the bunch.
Geography
Business Mix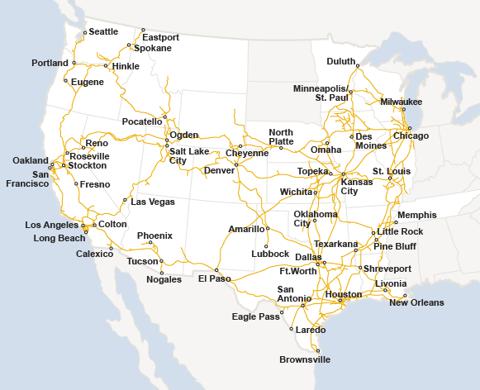 Operating in the western 2/3rds of country, outside of the range of Norfolk and CSX, UP is in the same geographic region as BNSF. But it has something which the other can't boast, a connection to all six major gateways to Mexico.
Key Facts
U.S-Mexico trade is strong, and growing. It accounted for 13% of U.S. trade last year
Union Pacific pulls in 10% of its freight revenues from Mexico
Mexican freight revenues averaged double-digit growth over the last 2 years for UP
UP controls nearly 2/3rds of traffic in and out of Mexico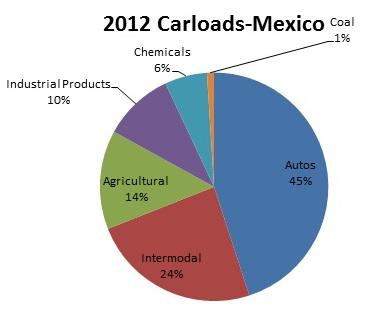 As you can see, automobiles make up a large portion of their Mexico business.
Key Facts
About 90% of U.S-Mexico rail traffic dealing with automobile shipments is controlled by UP
5 year Mexican automobile production growth is anticipated to be 75%
The average U.S light vehicle is the oldest in recorded history
Annual U.S. auto sales are projected to grow at > 5% in upcoming years
58% of shipments to and from Mexico involve being interchanged with Kansas City Southern De Mexico while 42% is with Ferrocarril Mexicano, which Union Pacific has a minority ownership interest in. The North American Free Trade Agreement (NAFTA) has played a key part in enabling UP to capture the opportunities present in Mexico. Mexican railroad infrastructure is wisely invested in, and $11 billion of direct foreign investment went into it during 2012. I expect this to be a key area of growth for the company in coming years.
Union Pacific Segmental Issues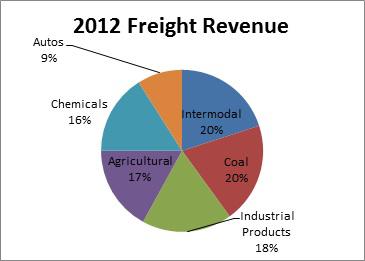 Autos, chemicals, industrial products and intermodal have all been seeing annual freight revenue gains over 10% in recent years, led in 2012 by autos, which saw a gain of 20% (with two-thirds of the volume being U.S.-Mexico traffic related). Two segments have been struggling somewhat, however.
Agricultural revenue declined 1% after volumes shrank 4% in 2012, but this was mostly due to drought related issues. In general, this is a fairly predictable segment, as it is mostly tied into food consumption and population growth. UP has had some residual issues early in 2013 from the drought, but has recently stated these concerns have mostly been mitigated moving forward. I'd expect a return to moderate growth in 2014.
Coal volumes are down 9% so far in 2013, after dropping 14% in 2012. There are a few reasons for this. Unseasonably warm weather hurts coal shipments. Low natural gas prices put further pressure. Third, emission regulations cause challenges. Natural gas prices are showing signs of reversing course, but I would anticipate some continual problems with the other two issues moving forward.
Fortunately, thanks to the railroads well diversified business mix, revenue growth can continue despite the problems with coal. While coal's freight revenue for the company was down 4% in 2012, overall freight revenue was up 6% for the company.
Financial Metrics
UP maintained a Current Ratio over 1 all throughout the recession. It currently sits at about 1.3, adequate for a company of its nature. Debt-To-Capital sits at 33%, and their Adjusted-Debt-To-Capital sits at 40%. The company defines ADTC as "total debt plus net present value of operating leases plus after-tax unfunded pension and OPEB obligation divided by total debt plus net present value of operating leases plus after-tax unfunded pension and OPEB obligation plus equity."
With a ROE just over 20%, a ROA just over 8% and a ROIC of 14%, UP finds itself better than 90% of the companies in its industry in all three categories.
Their Operating Ratio has been reduced about 10% in just the last 5 full years to an all time low of 67.8% in 2012.
Earnings stability and growth has been outstanding.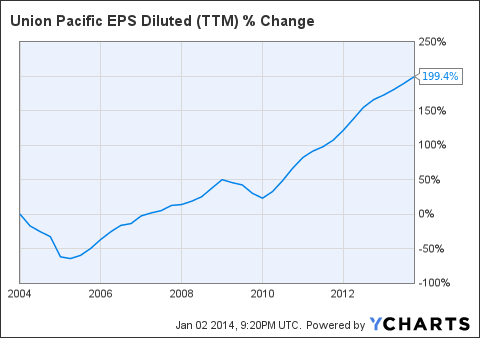 UNP EPS Diluted (TTM) data by YCharts
Dividends have been growing at an extremely rapid pace since 2006.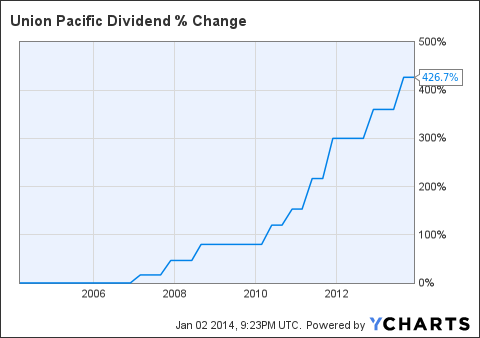 UNP Dividend data by YCharts
The stock is not cheap, however, as it is currently sporting a P/E of 19 and PEG well north of 1. Using the popular cookie-cutter valuation metrics are not going to show Union Pacific as a screaming buy. However, I subscribe to Buffett's statement that "It's far better to buy a wonderful company at a fair price than a fair company at a wonderful price." There are just certain attributes which aren't captured by quantitative analysis, and when you look at things qualitatively, there is a substantial addition to the attractiveness of Union Pacific.
Consider the fairly recent case of the Keystone Pipeline. No matter what took place, Union Pacific stood to benefit. If it gets built UP is involved in transporting much of the construction material, if not they have more crude oil to move by train. This is a controversial, multi-billion and multi-year operation, and Union Pacific anticipated an increase in rail traffic no matter what. They have a moat which is about as unbreachable as they come. When you add in how fast they are able to grow their EPS numbers, it is a nearly unheard of combination. Usually companies with anywhere near such built in defenses offer meager returns, but that isn't the case with Union Pacific.
Disclosure: I am long UNP, BRK.B. I wrote this article myself, and it expresses my own opinions. I am not receiving compensation for it (other than from Seeking Alpha). I have no business relationship with any company whose stock is mentioned in this article.