Chicago Bridge & Iron (NYSE:CBI) has had a 22% rise since I first recommended buying the stock in December of 2009. The company recently reported results for the full year 2009. For 2009, total revenue was $4.6 billion dollars. Net income came in at $174.3 million dollars and earnings per share were $1.79. Chicago Bridge & Iron picked up over $3.4 billion in contracts in the fourth quarter and $6.1 billion dollars in new contracts for the full year. According to CEO Phillip Asherman, CB&I has over $300 million in cash and a backlog of $7.2 billion in orders.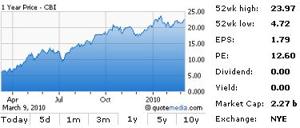 The stock still looks like it has upside. The balance sheet is solid and shares still look cheap, selling at just 13 times this years earnings. CB&I is selling at a .41 price to sales ratio. To be fair, Chicago Bridge & Iron's price to book ratio is definitely not cheap, with a value of 2.7. Management appears to be doing a solid job managing a 24.4% return on equity for 2009. The company tempered investor expectations for 2010 by guiding earnings downward. Any upside surprise in earnings for the current year and shares should rise. The real earnings story for CB&I is in 2011, when the average EPS is $2.15, meaning that the stock is trading at just over 10 times next year's earnings.
I have been long Chicago Bridge & Iron since last year and will continue to buy shares as long as the stock stays south of $24.
Disclosure: Author long CBI