The more I research on Intel (NASDAQ:INTC), the more positive things I find. Intel is old, rich, unpopular, but it is a cunning player that I wouldn't want to go heads-up in a poker game. The company's versatility and multi-tabling ability is far superior than all of us can ever appreciate. Intel is the Phil Ivey of the tech industry.
Mighty Apple (NASDAQ:AAPL) is the billionaire Andy Beal, very rich, very smart, and master of its own closed-system kingdom with millions of "loyal users." Don't misunderstand me, Apple is a great company to invest in, despite the downgrade from Wells Fargo. However, I feel that Intel is the better bet because it is quickly adapting to market forces. I'm betting big on INTC and not AAPL this year. Both companies are fundamentally strong and I envy those people who have enough money to simultaneously bet on these two blue chip companies.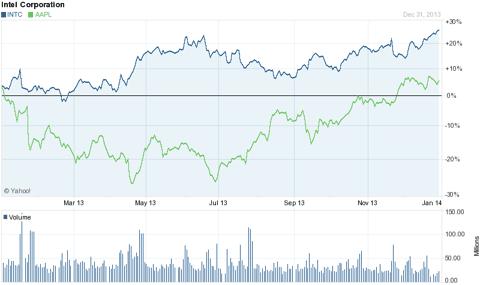 This article is not to disparage Apple or its investors. If I have the money, I also wish to buy a few AAPL. Intel did a better 2013 stock market performance despite the serious headwinds it had to go through. I'm confident that Intel's recent moves will help it achieve another 25% or higher YTD increase this 2014. Apple did a great financial performance in 2013 too but the bulls aren't in love with it as much as they used to.
I don't dispute that Apple has the better balance sheet and bigger revenue/income stream. Its TTM revenue is $170.91 billion and its TTM net income is $37.04 billion. Intel has less than one-third of Apple's income and revenue and yet I find INTC safer this 2014.
Apple's Income Statement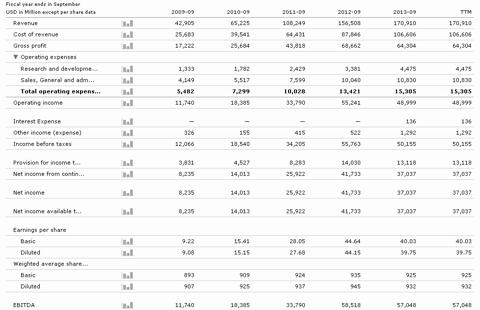 Intel's Income Statement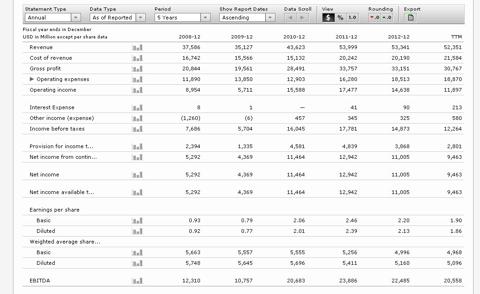 Why Apple Should Care About Intel's Tablet Ambition
Aside from its aggressive push towards the Internet of Things, tablets, and 4G LTE, Intel has a Plan B for its mobile devices ambition. The company is on a great mission to carve out a greater share of the tablet market this year. Its Bay Trail-T processors are inside existing and upcoming Windows 8.1 and Android OS-powered tablets and 2-n-1 notebooks.
Intel wants 40 million tablets with Intel inside this 2014 and the Plan A is to supply cheaper, more powerful, and affordable Bay Trail-T processors to Microsoft and OEM tablet manufacturers. My logic is not flawed: Apple will suffer from Intel's aggressive assault of the tablet market this year. Apple is already feeling the pinch from cheaper iPad alternatives in 2013. iPad sales account for 17% of Apple's revenue.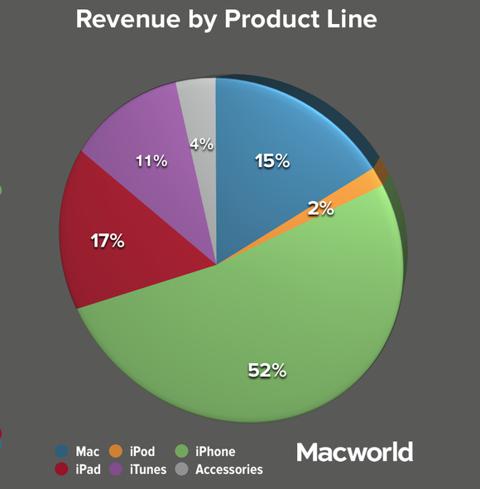 In the U.S., non-iOS tablets gained ground last year.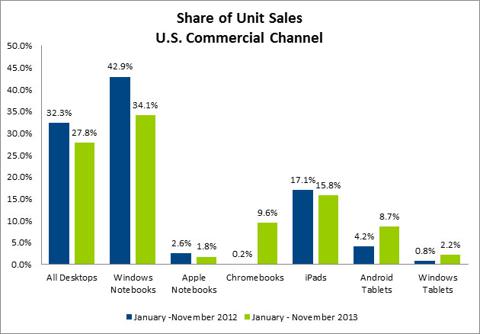 With Intel giving marketing subsidies and rebates, both Android and Windows 8 tablets have high chances of increasing their market share in 2014.
In the global arena, Apple's iPad also still leads but Android tablet companies are quickly catching up. These charts are from IDC.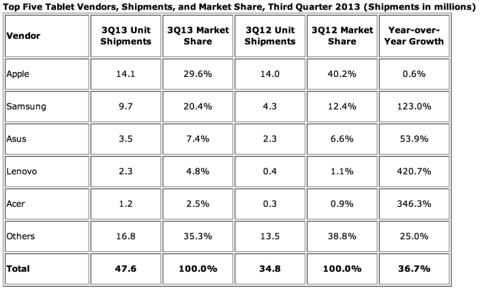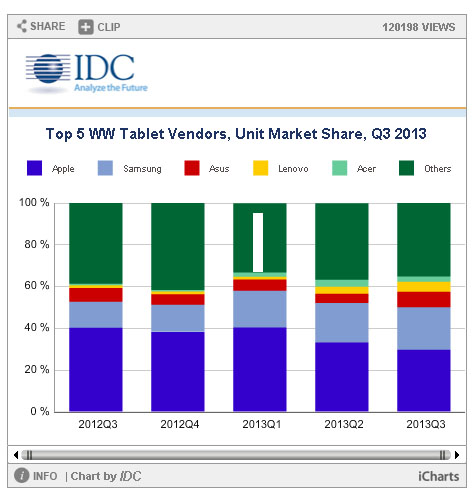 Nokia Lumia smartphones also made notable inroads in the smartphone market last year. Google (NASDAQ:GOOG) Android phones are the clear winner in the chart below. BlackBerry (NASDAQ:BBRY), or should I say, RedBerry's current pathetic state is well portrayed by its miniscule sales in 2013. The iPhone still owns a healthy market share but I seriously doubt it will stay this way after five years.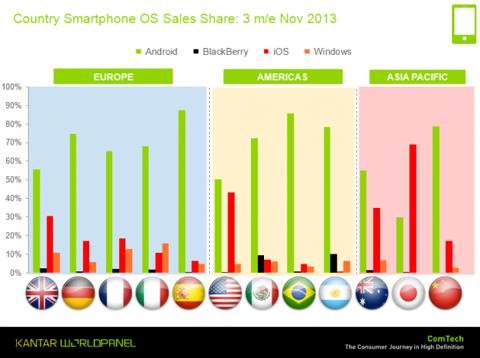 In 1997, Apple was almost bankrupt because its computers weren't selling as well as cheaper Wintel PCs. Microsoft (NASDAQ:MSFT) pumped in $150 million in non-voting Apple stocks to keep Steve Jobs' company alive. I don't see this thing happening again but Apple has to prepare for this eventuality when cheaper, but high-quality, competing products erodes its iPhone and iPad's market share. BlackBerry is the best example of this leader-gone-loser syndrome. Apple should not be complacent.
Tizen is Intel's Plan B
Intel is working closely with Samsung (OTC:SSNLF) on the new open source Tizen Operating System. Apple has to take this new challenge seriously. I believe that Intel's 2014 tablet ambition hurts Apple's iPad business, but Intel supplying cheap components, 4G modems, and integrated circuits to Samsung and other Tizen OS phone manufacturers, will prove to be more damaging. This won't happen this year but in three years time, Tizen may become more successful than MeeGo and Bada OS.
Tizen is predicted to become the better version of Android. I am not able to verify the said claim but I do know Samsung had great success in outselling iPhones with its Android Galaxy smartphones. Intel and Samsung have also signed up 36 new companies to support their Tizen OS project. The members include industry heavyweights like Nokia (NYSE:NOK), Fujitsu (OTC:FJTSF), Huawei, LG Electronics, and tier-1 service providers like Vodafone (NASDAQ:VOD), NTT DoCoMo (NYSE:DCM), and SK Telecom (NYSE:SKM).
Intel's motive is not only to sell lots of its products for Tizen OS devices but also to propagate its own River Trail Parallel JavaScript Engine. Web-based HTML5/JavaScript apps are the core strengths of the Tizen OS.
Unlike the Android OS and iOS, the Tizen project is focusing on web-based, not native, apps programming. Intel owns 95% of the server market and cloud-based apps will increase demand for server-grade processors. Intel also benefits further when Tizen users are under service providers using Intel's 4G LTE solutions.
Tizen was also designed to work with x86 and ARM architecture. Intel stands to benefit from this new operating system's flexibility. In 2015, Intel's SoFIA SoC for phones may find a warm welcome in Tizen smartphones. If Plan A (Android and Windows Phones) doesn't work, Plan B (Tizen) is the backup plan.
Tizen is Samsung's Bid To Build Its Own Ecosystem
A Tizen OS-powered Samsung demo unit, the I8800 "Redwood," did a remarkable benchmark score of 2,828. It is near the new Android OS -powered Galaxy Note 3's score of 3,013. The Redwood is equipped with a much older Exynos 4412 processor that was used in the Galaxy S3. The Note 3 was equipped with Snapdragon 800.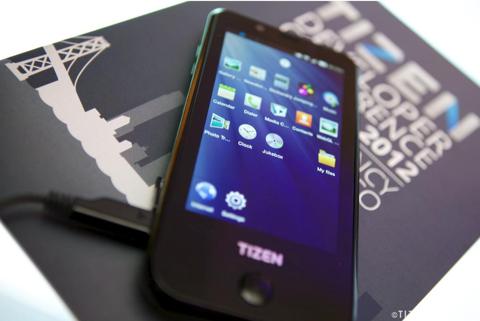 The Tizen-powered Samsung NX300 camera is already available in the market. The Samsung Tizen smartphone will get its official debut this upcoming Mobile World Congress in February. Tizen OS also supports Application Compatibility Layer (ACL) which means Android apps and games will run on Tizen devices. There's also a $4 million incentive for developers to create Tizen OS apps.
Samsung made good money selling Android phones but management is not stupid. Google makes billions of dollars feeding ads to captured phone users- usually Samsung branded. Samsung does all the hard work providing new Android phone users as advertising vehicles for Google. Google and Apple rakes in big money from apps and games download too.
Samsung, all too often, endures low profit margins from selling Android phones. Tizen is its second attempt (Bada OS was a failure, LiMo never got a start so it doesn't count) to build its own App Store and mobile advertising ecosystem. Intel's support may be crucial to the success of Tizen but detrimental to Apple's iPhone business. Apple might be the bigger loser, not Google, when Tizen phones become popular.
Dismissing Tizen as mere vaporware is too risky. Intel has the engineering talent to create low-cost components and Samsung has the global distribution channel to quickly disseminate low-cost Tizen phones and tablets. Huawei and LG are also competent phone sellers with global distribution systems.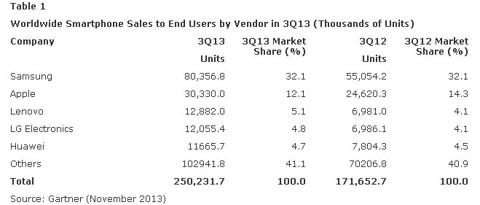 Android is the dominant mobile operating system. Entry-level smartphones made by Samsung, LG, and Huawei made it possible for Google's Android OS to reduce the shares of BlackBerry and Apple. Intel's BFF, Microsoft is also gaining ground. If Huawei, LG, and Samsung start selling lower-priced Tizen phones, more affordable than their current Android products, Tizen has a big chance to cannibalize sales from Apple and Android.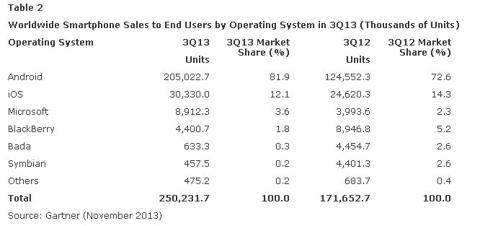 Conclusion
My "technical analysis" calls for Apple to start using some of its gazillion cash reserves to source out new multibillion-dollar revenue streams. The new King, Tim Cook, already said his company is not interested in making cheap iPhones or iPads. In my opinion, Apple version 3.0 should be more pragmatic in dealing with the new market requirements. This is common knowledge already but I'm still putting it on ink. Intel is a threat to the overall health of Apple.
Intel's willingness to provide subsidies and rebates will help its OEM partners sell more non-iOS tablets and phones in the next five years. Complacency on Apple's part may prelude another replay of history.
AAPL shares will inevitably fall but it will still survive the next decade. Its $146.8 billion in cash reserves makes Apple almost immune to bankruptcy.
Intel has a Plan A and a backup Plan B. What's Apple's Plan B when iPhones and iPads aren't selling as well as they used to? The iTunes Store cash cow will also get diminished as more non-iOS devices are sold in the future. I used to own an iPhone 3GS, iPad 1, and iPhone 4.
People's loyalty to a brand is not for keeps. I still have a PowerBook, iMac and a Mac Mini…but I now use a Samsung Galaxy S3. My brothers also own a Samsung Galaxy S4 and a Galaxy Note. I look forward to buying a Samsung Tizen phone.
INTC is a strong BUY. AAPL is a strong HOLD, great buy on the dip. Samsung is a strong BUY too.
Disclosure: I am long INTC, . I wrote this article myself, and it expresses my own opinions. I am not receiving compensation for it (other than from Seeking Alpha). I have no business relationship with any company whose stock is mentioned in this article.