Penn West Petroleum (NYSE:PWE) produces about 300 MMcf a day of natural gas. That has been a headwind for the company for quite a while since natural gas prices have dropped sharply from their double digit heydays in 2006 to a low of under $2.00 per Mcf only a few years later as "fracking" turned up massive new supplies and production of natural gas in the United States and Canada.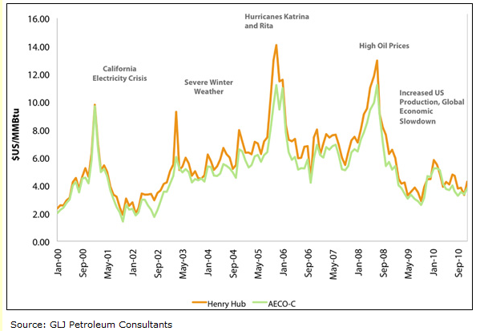 Prices recovered and by April 2013 were up over 50% from their sub-$2.00 per Mcf trough.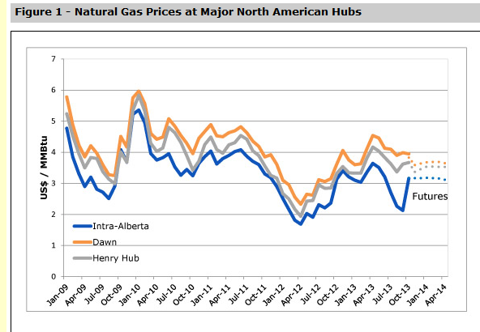 For the 9 months ended September 30, 2013 Penn West reported 309 mm cf/day of production at an average sales price of $3.24 an Mcf for a net back of $0.52 per Mcf compared to a loss of $0.01 per Mcf in the same period in 2012.
| | | | | | | |
| --- | --- | --- | --- | --- | --- | --- |
| Production | Penn West |   | 3-months | Sep 30 | 9-months | Sep 30 |
|   |   |   | 2013 | 2012 | 2013 | 2012 |

By early December 2013, Alberta's AECO natural gas price had risen to over $4.00 (a two and one half year high) and further strength seems likely with a bitter cold winter underway.
Penn West will benefit from the stronger natural gas prices. Another tailwind for the company is the decreasing Canadian dollar exchange rate. Penn West receives prices tied to world prices in U.S. dollars but experiences its costs in Canadian dollars. A $0.01 decline in the exchange rate adds $18 million to Penn West cash flow and a $0.10 increase in natural gas price adds $3 million, according to the sensitivity analysis section of its Management Discussion and Analysis report last quarter.

With natural gas prices $1.80 per Mcf above 2012 levels and the Canadian dollar $0.05 lower, Penn West should enjoy a $144 million cash flow benefit from these two favourable trends should they persist through a full year.
In parallel to the improving economics, Penn West recently completed divestiture of non-core assets for proceeds of $485 million, which should reduce its $2.9 billion of debt as at September 30, 2013 to $2.4 billion. More asset disposals are expected in the early part of 2014 as Penn West works to repair its overextended balance sheet and bring its dividend policy to a clearly sustainable level.
Penn West's new management is taking the right steps to rebuild not only its operating performance but also investor confidence in management following a decade of pretty poor capital efficiencies and disappointment for shareholders. While it is early days and Penn West has a lot of work to do on both counts, I think they will succeed.
Standpoint Research initiated Penn West with a Buy recommendation in November 2013, following a year where analysts universally downgraded the stock. I suspect more upgrades will follow as management executes on its plans.

Source: Yahoo.com Finance
In my view Penn West share could easily climb from their current $8.60 a share to the low teens over the next few months barring a collapse in commodity prices. I am long the stock holding 15,000 shares.
Disclosure: I am long PWE. I wrote this article myself, and it expresses my own opinions. I am not receiving compensation for it (other than from Seeking Alpha). I have no business relationship with any company whose stock is mentioned in this article.