By Sumit Roy
The first week of 2014 saw a reversal of some of the trends seen in the previous year. Commodities diverged sharply this week as precious metals surged, while all other commodities fell. The S&P 500 kicked off the first week of the new year with a modest loss of less than 1 percent. The stock index is down 0.7 percent so far in 2014.
Macroeconomic Highlights
This past week encompassed the New Year's holiday; thus, it's no surprise that news flow was quite light over the period. The most notable data came on the manufacturing front.
In the U.S., the ISM reported that its manufacturing index slipped just slightly from 57.3 to 57 in December, remaining firmly in growth territory above 50. At the same time, Markit's manufacturing PMI for the eurozone climbed from 51.6 to 52.7 in December, the best level since May 2011.
On the bearish side, China's official manufacturing PMI for December fell from 51.4 to 51 in December, while the HSBC manufacturing index for China-which measures smaller firms in the country-fell from 50.8 to 50.5.
In housing news, the S&P/Case Shiller home price index for October rose by 1.05 percent, better than the 0.95 percent increase that was expected. On a year-over-year basis, prices were up by 13.61 percent.
Commodity Wrap
| | | |
| --- | --- | --- |
| Commodity | Weekly Return | YTD Return |
| Platinum | 2.80% | 3.36% |
| Palladium | 2.78% | 2.00% |
| Gold | 1.86% | 2.51% |
| Silver | 0.45% | 3.60% |
| Wheat | -1.81% | -1.16% |
| Corn | -2.34% | -0.95% |
| Natural Gas | -2.72% | 1.42% |
| Soybeans | -3.15% | -1.75% |
| Copper | -3.46% | -1.47% |
| Brent | -4.54% | -3.35% |
| WTI | -5.88% | -4.06% |
In a surprising display of strength, gold and silver prices surged higher in the first two trading sessions of the new year. The move was largely technical; unable to break the $1,180 cycle low, bears were forced to cover their short positions.

Also supporting prices were reports that the Indian government is considering easing some of its gold import restrictions.

Along with China, India is one of the top two gold markets in the world. However, in an effort to reduce the country's current account deficit, the country has raised import duties on gold multiple times over the past year. An easing of those duties could boost demand for the yellow metal.
GOLD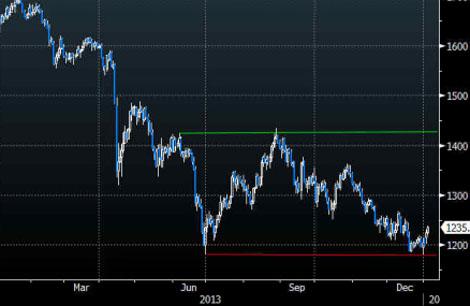 SILVER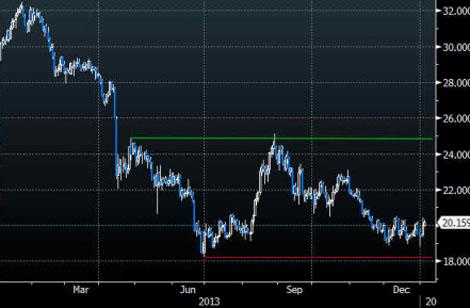 PLATINUM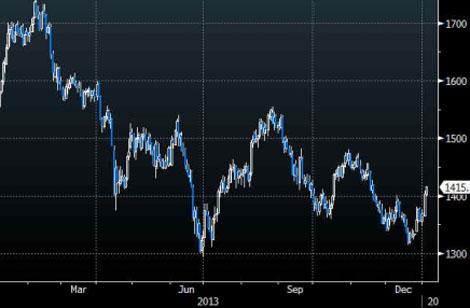 PALLADIUM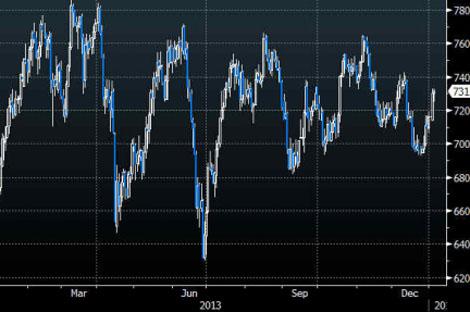 Crude oil was slammed this week on the back of the latest developments in Libya. Protestors at one of Libya's oil fields made a deal with the government to refrain from disrupting operations for at least two weeks. That could lead to a boost in output from the country, which saw its oil production plummet in 2013.

Still, the market may remain skeptical until oil exports from the country actually increase since various agreements between protestors and the government have fallen apart repeatedly over the past year.

Taking a look at the latest inventory data, the EIA reported a big withdrawal for U.S. crude stockpiles in today's report. Commercial crude inventories fell by 7 million barrels last week. At the same time, gasoline inventories increased by 0.8 million barrels and distillate inventories jumped 5 million barrels.
BRENT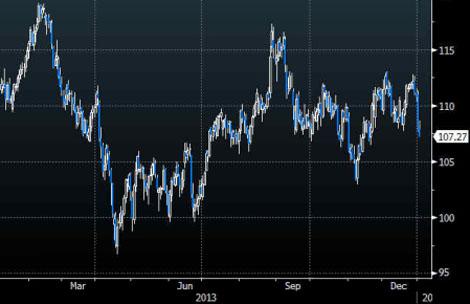 WTI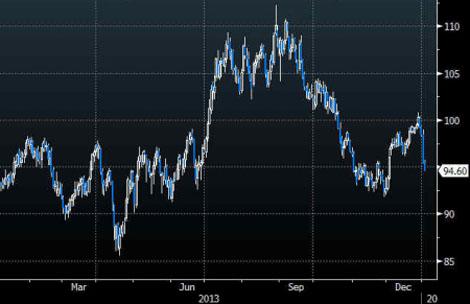 The grain complex remained in a dismal state to start 2014. Wheat notched a fresh 19-month low, while corn and soybeans hovered just above multiyear lows.
CORN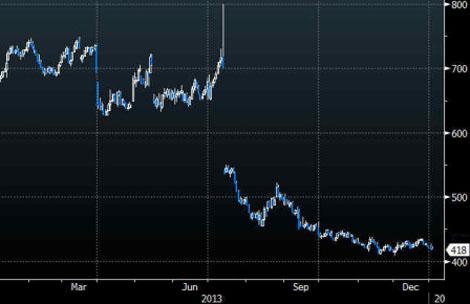 SOYBEANS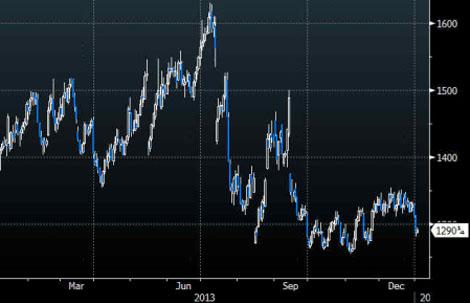 WHEAT

Copper fell, pressured by losses in other commodities and stock markets. Prices have been unable to stay above $3.40/lb, suggesting that last week's move may have been a false breakout. Next week's price action will be key.
COPPER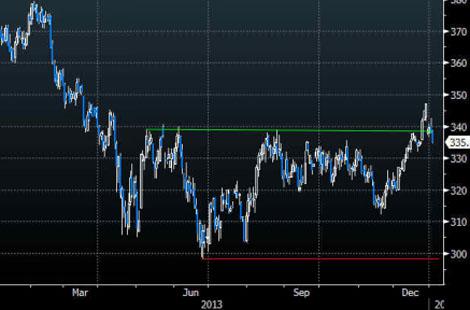 Natural gas sunk after the EIA reported that operators withdrew a relatively small 97 billion cubic feet from inventories last week, below the 115 bcf that analysts were looking for.

Still, the inventory deficit remains large and weather forecasts remain bullish, which should support prices.
NATURAL GAS