Fuel Cell industry pioneer Plug Power Inc. (NASDAQ:PLUG) announced yesterday morning before the market-open that it received orders for its GenDrive® fuel cell power system in the just completed 4Q/2013 of approximately $32 mill. This is significant news given that it reported total sales orders of less than $12 mill. for the first three quarters in 2013, and its total revenue during that period was $17.3 mill. In fact, the order rate has been accelerating, with the company reporting $1 mill. in bookings between January 1st and May 15th, $11 mill. in bookings between May 15th and October 8th, $14 mill. in bookings between October 8th and November 14th, and approximately $18 mill. between November 14th and the end-of-the-year. Furthermore, CEO Andrew Marsh indicated in the conference call yesterday morning that, "we expect the first quarter of 2014 bookings to meet or exceed the fourth quarter of 2013."
We believe that Plug Power is at the beginning of a strong ramp-up, the proverbial hockey stick in revenue growth going forward. It has a strong customer list that includes leaders in its target markets, including Wal-Mart (NYSE:WMT), Kroger (NYSE:KR), Procter & Gamble (NYSE:PG), Bridgestone (OTC:BRDCF), BMW, Ace Hardware, Sysco (NYSE:SYY), CVS (NYSE:CVS), Mercedes Benz, FedEx (NYSE:FDX), Whole Foods (NASDAQ:WFM), Lowes (NYSE:LOW) and Coca-Cola (NYSE:KO). These customers have multiple warehouses, distribution centers and manufacturing facilities, the target markets for its GenDrive® power units for forklifts. Currently Plug Power has approximately 4,500 of these units in operation at its customers facilities. However, its current customers alone have over 250,000 forklifts, leaving ample room for growth going forward. Even more significantly, the global market for forklifts is about $20 bill., with about 0.8 mill. forklifts in use in the U.S. alone.
In its December 2013 business update presentation, Plug Power outlined how a turn-key multi-site deal with just one of its current customers could generate $8 to $12 mill. per site, and using the company's stated assumption that such a deal could include three to six sites with 750 to 1,500 units deployed over a two-year period, we end up with potential annual revenues from such a deal from just one customer being in the $20 mill. to $25 mill. range. The revenues include not just product revenue from the sale of the forklift, but also recurring hydrogen and service revenue streams. Plug Power currently has 23 customers listed on its website, and some of its customers, like Kroger and Wal-Mart, for instance, have 34 and 158 distribution centers respectively. The potential revenue stream from these customers alone, as they expand their implementation to multiple sites, should lend significant upside to its revenue stream going forward, and for the foreseeable future.
Plug Power's GenDrive® fuel cell power units command a leading 85% market share for fuel cell driven forklifts in the U.S., aided by a strong product line-up and a powerful value proposition. It offers a full suite of over 30 to 40 different products under three main platforms for the material handling market, including the Series 1000 for counterbalanced trucks, Series 2000 for reach trucks, and Series 3000 for rider pallet jacks (see figure). Also, as part of its turnkey operation, it provides multi-year parts and labor service, and the hydrogen supply needed for recharging the fuel cells, that account for about 25% of the total value of the turnkey contract.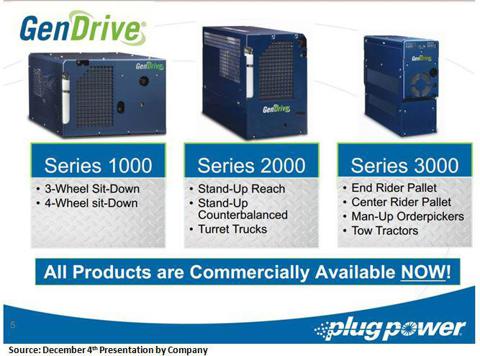 The value proposition of its GenDrive® fuel cell power system is strong. While the environmental benefits from using fuel cells are fairly obvious, it also has the added bonus of improving productivity and lowering operating costs. Unlike toxic lead acid batteries that have limited stored energy, its hydrogen fuel cells create electricity through an electrochemical process versus a traditional combustion based process, and they run continuously as long as fuel is provided, with the only byproducts being heat and water. While lead-acid batteries need changing every 8 hours or so, GenDrive® powered truck units can run up to three times as long, resulting in less worker downtime spent in replacing batteries. The GenDrive® system can be charged in as little as 90 seconds, and it has a smaller footprint so it frees up valuable commercial space. Also, the transition of a forklift from a traditional system to GenDrive® is designed to be seamless, as the GenDrive® suite units are built with comparable weight dimensions and connections. Furthermore, there are also governmental regulations that provide a monetary incentive in the form of a federal tax credit of 30% of the cost of the fuel cell units or up to $3,000 per kW, whichever is lower, that is currently set to expire at year-end in 2016.
With its environmental and cost advantages, a powerful value proposition, an accelerating trend in orders quarter-over-quarter, a large opportunity of selling to just its existing customers, and an even larger opportunity in the overall U.S. and global marketplace, it seems that the current lone analyst estimate of $60.0 mill. in FY 2014 may not be very reliable, and may be understating what may be achievable next year. Indeed, going from the trend and from the company's assertion that 1Q/2014 orders will be at least as much or higher than the level in 4Q/2012, it is possible that the company can generate revenue in the $25 mill. to $35 mill. range on average every quarter in FY 2014, or even higher. Indeed, CEO Andrew Marsh indicated in the latest conference call on December 4th, that the company would do $30 mill. to $40 mill. in revenue in the current quarter, if not more, and for the year they projected $70 mill. in revenue, at 25% gross margin. Also, its costs have already been on a downward trend in recent quarters, with SG&A and R&D costs falling to $2.75 mill. & $0.77 mill. in the latest 3Q/2013 vs. $3.05 mill. & $1.29 mill. in the year ago 3Q/2012 quarter. Furthermore, the company has stated that the company can manufacture over 10,000 units a year at its existing facility, and generate $100 mill. in annual revenue without any addition in the workforce.
We believe that Plug Power, based on current order rate acceleration and comments from management, will generate revenue in the $70 mill. to $100 mill. range in FY 2014, and possible even higher. Taking the mid-point at $85 mill., its shares are currently trading at less than three times sales, even after yesterday's strong rise, while revenue is expected to rise to more than three-fold from the current trailing-twelve-month (TTM) sales of $24.4 mill., with strong growth projected for the foreseeable future. Generally, we would expect stocks with such strong growth trajectories, especially in the technology or alternative energy space, to trade at least at five times sales. Putting a 20% discount on that to account for the uncertainty associated with that projection, despite the company's assertion, we still come up with a target price for PLUG shares in the $3.30's, about 40% above yesterday's closing price of $2.33.
Long-term, we are even more positive on Plug Power, as its protein exchange membrane (PEM) fuel cell technology has applications beyond just its current focus on the material handling market. With the costs of producing clean energy using this technology becoming more competitive with traditional methods, it will find its application in more diverse settings, including in transportation refrigeration units, ground support equipment at airports, and as range extenders for electric hybrid vehicles.
We bought Plug Power in our trade alerts portfolio, sent to subscribers of our Alpha News Edge trade alert service in the first half hour of trading on Thursday when the stock traded in the $1.90's. However, we exited the position today near $2.60, as the rapid rise is now being fueled most likely by momentum traders. At current prices in the $2.60's, given the rapid 60%-plus rise in the last two days, the stock is very vulnerable for a sharp correction to the downside in the short-term, despite the overwhelmingly positive long-term fundamentals. We are looking to re-enter the stock if it falls back to the $2 to $2.25 range.
The short-term notwithstanding, yesterday's announcement opens up a new chapter for the company. For many Plug Power investors, the announcement could not have come sooner. Its shares once traded at a split-adjusted $1,565 in February, 2000, just before the stock market crashed, and just about a year ago, in February of last year, they traded at an all-time low of $0.12, giving up 99.992% of its value from the peak (see logarithmic price chart below).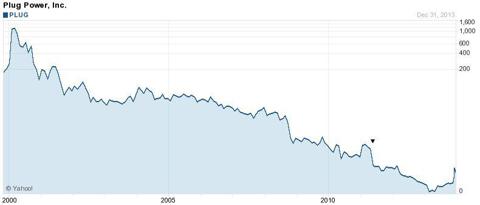 Keeping that in perspective, as sharp as the recent rise seems, at its current market-cap in the $200 mill. range, the company is still well below the $6 bill. valuation afforded to it at the peak in 2000, when revenues were only in the $10 mill. range. Even in 2005, long after the 2000 market crash, PLUG was still valued at $400 mill. market-cap when revenues were still in the $10 mill. to $15 mill. range. A large part of the current negativity about the stock, understandably, is due to the series of disappointments the company has dealt its shareholders in the past.
As one other Seeking Alpha article pointed out recently, the company has had a long practice of over-promising and under-delivering. But respectfully, we disagree with the author of that article in terms of the outlook going forward. We believe that PLUG has turned a corner here, and the outlook now is favorable. With shares trading well below levels at which most institutions can buy, it has been outside Wall Street's radar for a long time. Indeed, there is only one analyst that has a revenue estimate for the company, and none with an earnings estimate. With yesterday's news, it would not be surprising to see institutions buying on any dips in the stock.
Investors should also keep in mind the risks associated with Plug Power being a micro-cap stock. Also, it nearly went bankrupt last year, and in addition to that, it has had a history of disappointing investors. Furthermore, it currently generates negative gross margins, negative EBITDA and losses, and in the latest 3Q/2013, its losses of $15.9 mill. far exceeded the revenue of $4.6 mill.
The positive news on Plug Power also impacted shares of Ballard Power Systems (NASDAQ:BLDP) that were up 15.1% yesterday to close at $1.75. Ballard Power supplies fuel cell stacks that are used in Plug Power's GenDrive® systems, and shares got a positive boost due to expectations that Ballard's revenues from its customer Plug Power would also get a boost due to the acceleration in order flow at Plug Power.
Insider and Institutions
Insiders bought 205,088 shares in the last 12 mos., including 32,218 shares in the last six months, all shares being bought by CEO Andrew Marsh. There were no insider sales in the past year.
Among leading funds, that are part of our 300+ leading Wall St. fund managers, the world's largest or mega funds bought shares in the latest available 3Q/2013 (see Table).
The largest mega fund holder of Plug Power shares is BlackRock (click link for latest summarized 13-F), the world's largest asset manager with over $3.6 Trill. in AUM, that holds 0.56 mill. shares, and the largest mega fund buyer is Bank of New York Mellon Corp., that bought 0.16 mill. shares in 3Q/2013.
We have been following the activities of leading fund managers via numerous articles on Seeking Alpha, and on our website GuruFundPicks.com, and have observed a strong correlation between the activities of leading fund managers and the price performance of stocks in the succeeding quarters. Hence, we view the small accumulation of Plug Power shares by mega fund managers in the latest 3Q/2013 as a positive, and will be looking forward to their buying and selling in the current quarter, which will be available shortly after the filing deadline for 4Q/2013 on February 14th, 2014.
Other institutional investors with large stakes in Plug Power include Boston-based money management firm Interinvest Corp. that holds 3.73 mill. shares per their latest SEC SC 13D/A filing on October 2nd, 2013, a decrease from the 4.75 mill. shares it reported holding earlier on Sept. 13th, 2013. Also, Moscow, Russia-based diversified energy holding company Joint Stock Company Inter RAO UES reported holding 4.46 mill. shares in its latest SC 13D filing on December 5th, 2013.
Disclosure: I have no positions in any stocks mentioned, but may initiate a long position in PLUG, BLDP, over the next 72 hours. Use of GuruFundPicks' research is at your own risk. You should do your own research and due diligence before making any investment decision with respect to securities covered herein. You should assume that as of the publication date of any report or letter, GuruFundPicks, LLC, has a position in all stocks (and/or options of the stock) covered herein that is consistent with the position set forth in our research report. Following publication of any report or letter, GuruFundPicks intends to continue transacting in the securities covered herein, and we may be long, short, or neutral at any time hereafter regardless of our initial recommendation. To the best of our knowledge and belief, all information contained herein is accurate and reliable, and has been obtained from public sources we believe to be accurate and reliable, and not from company or persons who have a relationship with company insiders.
Business relationship disclosure: Business Relationship Disclosure: The article has been written by the Hedge and Mutual Fund Analyst at GuruFundPicks.com. GuruFundPicks.com is not receiving compensation for it (other than from Seeking Alpha). GuruFundPicks.com has no business relationship with any company whose stock is mentioned in this article.