Longtime option and sentiment trader Don Fishback passed these charts on to us. What they show is various long-term investor/advisor sentiment surveys from Investor's Intelligence, AAII, Hulbert and Consensus. The combined Bullish Sentiment by his measure is at the highest level since August 1987 (the market dropped 22% on 'Black Monday' in October 1987). See the charts below: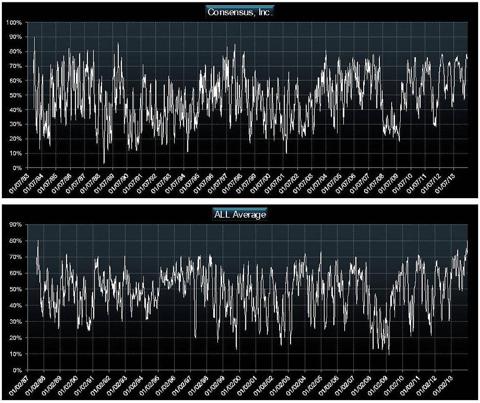 (all via Don Fishback ODDS)
The "All Average" chart at the bottom shows the highest overall level of bullishness since 1987 by this combined measure - an 'upside breakout of bullish sentiment', if you will. (In which a lack of bears is a factor, and could contribute to a potentially dangerous complacency).
Does this mean that the market is due for an imminent crash? Of course not. But it is something to keep in mind given the 20%+ gains seen in the market (NYSEARCA:DIA) (NYSEARCA:SPY) (NASDAQ:QQQ) (NYSEARCA:IWM) in 2012 and 2013 without much in the way of 10%+ pullbacks.
You will note that high levels of bullish sentiment were hit many times in the past without being a pre-cursor to a major broad market correction or crash - many examples on that last chart above - but it wasn't quite this high level of overall sentiment.
Disclosure: I have no positions in any stocks mentioned, and no plans to initiate any positions within the next 72 hours. I wrote this article myself, and it expresses my own opinions. I am not receiving compensation for it. I have no business relationship with any company whose stock is mentioned in this article.