ARMOUR Residential REIT (NYSE:ARR) has to be just about every income investor's worst nightmare. The company has repeatedly and consistently lowered its monthly dividend while also seeing sharp book value declines. Armour's stock was extremely volatile for all of 2013, ending the year only a few percentage points off its 52-week low. However, the company seems to be trying to regain its foothold as an income stock, preemptively announcing all of its expected monthly dividends throughout all of 2014. This is a very odd move especially as Armour's dividend track record has been anything but stable.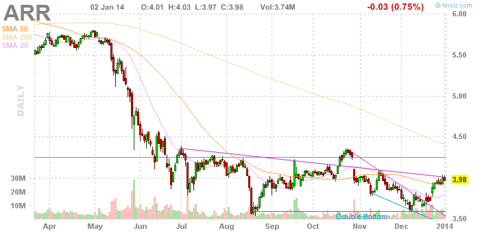 2014 Expected Dividends Announcement
On December 18, Armour announced its fiscal year 2014 expected monthly cash dividend rate. As can be seen below, the company expects its 2014 monthly dividends to hold steady at $0.05 per share, unchanged from Q4 2013 levels.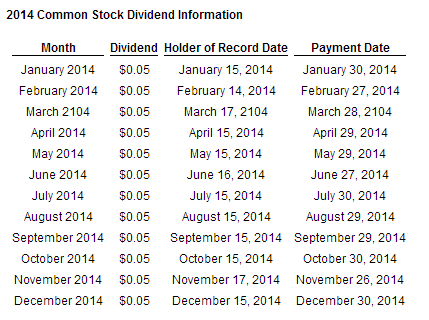 However, this announcement should be taken with a massive grain of salt. First of all, do note that these are the expected monthly dividends, not declared. Armour's actual results may vary significantly with its internal projections. In essence, the company has no obligation to pay the dividends at this rate.
Furthermore, due to the volatile nature of mREIT earnings, any projections out further than a few months are suspect at best. Unlike some other companies that have reliable fee-based income, such as many midstream MLPs and some REITs, Armour's income is not at all stable and can fluctuate greatly quarter to quarter.
Armour's dividend track record leaves much to be desired
The unstable nature of Armour's dividend can be clearly seen on the chart below. Since initiating monthly dividends in 2011, Armour has consistently lower its payout. In fact, Armour has reduced its dividend 6 times out of the past 9 quarters. Also note the high correlation between Armour's share price and its monthly dividend. By far, the biggest risk factor for Armour would be another dividend reduction as they are typically coupled with further share price weakness.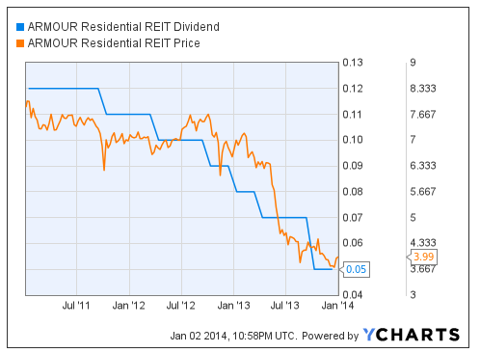 Book value and NIM update
In addition to its dividend and share price, Armour has also seen its book value per share come under pressure. YTD, Armour's book value has declined nearly 28% with another decline likely to be posted once Q4 results are in.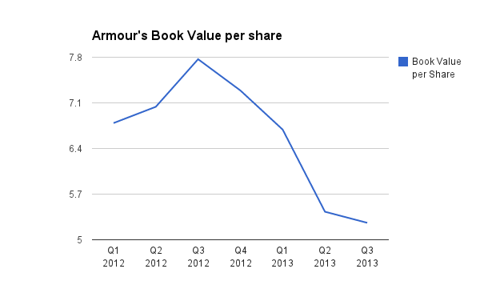 It is also noteworthy to see the trend in Armour's net interest margin, or NIM. This is basically between the interest income generated from its portfolio minus expenses. As shown, Armour's NIM declined in Q3 to about 1.24%, a 11% decline from 1.38% last quarter. This is an unfortunate trend as Armour's NIM appeared to had bottomed in Q1. I expect the company to report a further decline in its NIM during Q4 due to the Fed's tapering program and weaker MBS prices.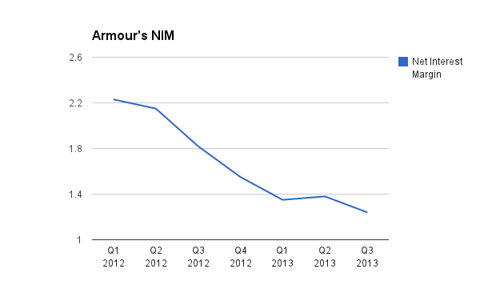 Armour reduced leverage may signal lower risk but also lower interest income
In September 2013, Armour noted in an 8-K filing that it had greatly reduced its leverage position. The company sold roughly $6.0B worth of agency MBS and realized a net loss of $301M. As a result, Armour's leverage ratio during Q3 dropped to 6.93x from the previous quarter's 9.77x.
This reduced leverage should be seen as a net positive as it greatly reduces Armour's interest rate risk. In addition, it should slow down the quarter to quarter swings seen in its book value. The only concern I see would be with Armour's future net interest income. Armour will need to generate $0.15 per quarter in interest income to maintain its current dividend level. However, with the NIM hovering around 1.25%, a 7x leverage ratio may not be enough. Armour will need to see its NIM increase substantially from Q3 levels to support the current payout.
Armour's preferred stock may be a better bet
For those seeking income, Armour does offer its Series A Cumulative Preferred Stock. Currently trading at a 13% discount to par and with a yield well over 9.3%, this preferred stock does offer a safer alternative to the common. Basically, Armour must pay dividends on its preferred stock before paying any dividends on the common. Do note that preferred stocks do carry other risk factors such as limited upside, limited liquidity, low trading volumes, "bond-like" behavior, and a potential to be called away and redeemed.
Final Thoughts and Conclusion
It would be foolish to consider Armour's announced 2014 monthly dividends to be anything but wishful thinking. These are the dividends Armour expects and hopes to declare, not what it will actually be capable of paying. Armour's stock is cheap compared to its book value, trading at a 30% discount. However, given its past performance, can you really bank on it not further deteriorating?
Disclaimer: The opinions in this article are for informational purposes only and should not be construed as a recommendation to buy or sell the stocks mentioned. Please do your own due diligence before making any investment decision.
Disclosure: I have no positions in any stocks mentioned, and no plans to initiate any positions within the next 72 hours. I wrote this article myself, and it expresses my own opinions. I am not receiving compensation for it (other than from Seeking Alpha). I have no business relationship with any company whose stock is mentioned in this article.