Well that didn't take very long. Vringo, (VRNG) kicked off the New Year with news that its mobile technology business was being acquired by Infomedia, a company based out of the United Kingdom.
Under terms of the agreement, Infomedia will acquire Vringo's mobile technology business, its partnerships and patents related to those technologies.
In exchange, Vringo receives an 8% stake in the Company and will license certain intellectual property assets to Infomedia to support, identify and protect new intellectual property. If certain conditions are met, the transaction is expected to be completed by March 31, 2014.
"The team at Infomedia is excited to add Vringo's technology, product offering and research and development knowledge base to our business. This acquisition will accelerate our growth by providing Infomedia with a global distribution network for our expanded product portfolio. Our partnership with Vringo will enrich our ability to cultivate and protect new technology by leveraging Vringo`s intellectual property rights expertise." - Michael Tomlins, CEO of Infomedia
The Transformation of Vringo
For those of you that are new to the story, Vringo is a very young company with astronomical potential. The Company went public three years ago and continues to look for ways to maximize company and shareholder value. The recent agreement between Vringo and Infomedia is proof of that. I'll explain more about it later on.
Over the last three years Vringo, has transitioned itself from a tiny company that frankly nobody heard of before, to a company that is now known worldwide (as evident by the recent acquisition). So how did this all come about?
On March 14, 2012, Vringo announced its merger with Innovate/Protect. The merger of these companies substantially increased intellectual property, added technological innovation, and positioned the newly formed company with the ability to generate a large amount of revenues.
"The transaction with Innovate/Protect is a significant milestone as we continue to fulfill our stated strategic objectives, and serves as an important catalyst for Vringo's future growth. Combining with Innovate/Protect significantly enhances our creative and innovative capabilities." -Andrew Perlman, CEO of Vringo
Since starting out as a mobile business, Vringo strategic objectives have since changed over the years as the Company focuses more on monetizing their intellectual property now.
Investors who did their due diligence knew they were not buying shares of the Company because of its "lucrative" ringtone business. They were buying shares because of the Company's huge potential to monetize its intellectual property.
When it was announced that Vringo had sold off the remaining assets of its mobile business, I was ecstatic. Why? The mobile business wasn't bringing much in revenues anyways and was becoming more of a hindrance then a benefit to the company.
So was this a great move made by Vringo, or was this just another move that won't amount to much?
The Good, Bad & The Unknown
The market didn't seem to think much of it as the stock price dropped to the lows of the day on Thursday. I believe investors misunderstood the news as I feel that Vringo is better off without its mobile business. Let's look at some of the reasons why.
Vringo's future clearly wasn't with its mobile business. I don't even remember the last time that side of the business was brought up by management. Looking over the earning reports you will see that nothing is mentioned about its mobile business. The quarterly reports clearly talk about the litigation updates and nothing else.
That's why I believe selling that part of business was a good investment for Vringo. The Company was able to unload the last remaining assets (which it wasn't really using) from the merger, and received an 8% stake in a fast growing company.
According to the press release, Infomedia generated revenues of approximately US $20 million in 2013. With partnerships with Gameloft, EA Games, T-Mobile, Virgin Mobile and Samsung just to name a few, Infomedia looks primed to continue growing at a great pace.
While nobody knows exactly how much the stake is currently worth, we do know Infomedia generated approximately $20M in revenue in 2013. As the company continues to grow and with the new assets they've received from Vringo, revenues will continue to grow at a great pace. Looking down the line, Vringo could come out with tens of millions of dollars in the future. Not a bad investment considering they weren't putting those assets to much us use anyway.
While I can't predict the future of what exactly will happen, both parties seem to be in a win-win situation. Vringo will let Infomedia take care of the mobile business and all of its newly acquired assets, and Vringo is able to focus more on monetizing its intellectual property. Not only that, but it gives investors a better idea of what is taking place with Vringo and where things are headed in the near future.
Conclusion
Now with the mobile business out of the way, Vringo can focus on its existing lawsuits that it has throughout the world. After being awarded two injunctions against ZTE over the last two months, Vringo is now in great position to get ZTE to come to a global licensing agreement.
Things are also turning around for Vringo in its case against Google et al. The Eastern court of Virginia on Friday awarded the Company supplemental damages and prejudgment interest related to a jury verdict on November 6, 2012.
The court agreed with the percentages (20.9% & 3.5%) that Vringo (I/P Engine) submitted to the court. The total amount awarded to Vringo was close to $17M in supplemental damages. Prejudgment interest was a lot less coming in around $540K. Below is a picture of what the court ordered Google (NASDAQ:GOOG) on Friday.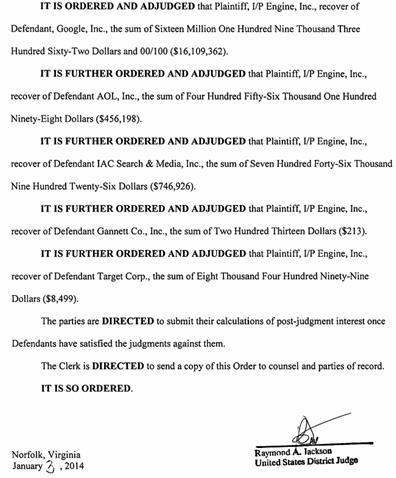 This was big news for Vringo as shares surged (+10%) after the announcement was made. This bodes well for Vringo going forward and now puts even more pressure on Google. With a settlement conference scheduled on January 22, things will get very interesting now as the parties might actually come to an agreement.
As always, I'm providing you with my track record and other particular stocks that I like. The link provided will show you all of my picks, how they have fared, and where I think they will be going in the near future. I think you will find my track record to be very impressive and useful.
Disclaimer: Investors are always reminded that before making any investment, you should do your own proper diligence on any stock mentioned in this article. Have a great day and as always, I look forward to hearing your thoughts or questions that you might have.
Disclosure: I am long VRNG, . I wrote this article myself, and it expresses my own opinions. I am not receiving compensation for it (other than from Seeking Alpha). I have no business relationship with any company whose stock is mentioned in this article.