By Sumit Roy
Natural gas inventories fell less than expected, but fundamentals and weather should buoy prices.
Natural gas was last trading down by half a percent to $4.29/mmbtu after the Energy Information Administration reported that operators withdrew 97 billion cubic feet from storage last week, below analyst estimates that ranged from 99 to 135 billion cubic feet.
The withdrawal was also below last year's drawdown of 135 bcf, and the five-year average drawdown of 123 bcf.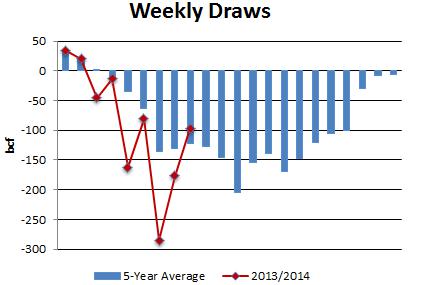 In turn, inventories now stand at 2,974 bcf, which is 543 bcf below the year-ago level and 301 bcf below the five-year average (calculated using a slightly different methodology than the EIA).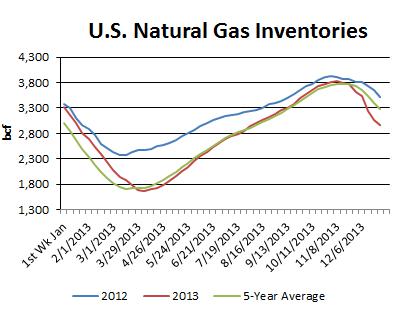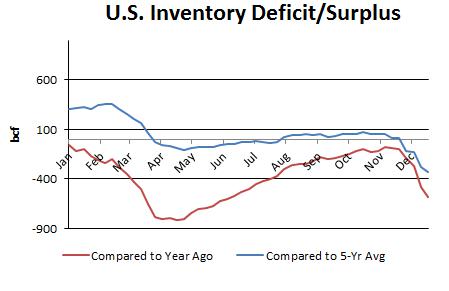 The weather last week was warmer than seasonal norms.
According to the Edison Electric Institute, utilities generated 75,118 GWh in the week ending Dec. 28, which was 0.54 percent below the same week a year ago.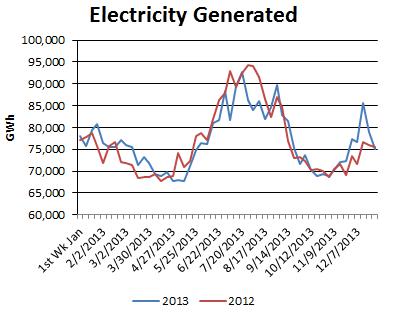 Looking forward, the NOAA's 6- to 10-day outlook calls for colder-than-normal temperatures over the Northeast and warmer-than-normal temperatures across the West Coast and Florida.
NOAA 6- TO 10-DAY OUTLOOK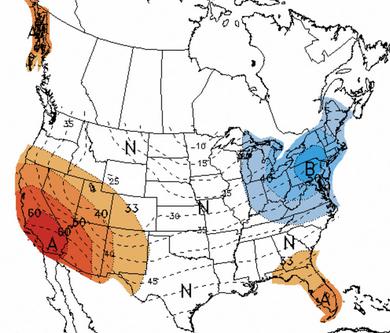 Meanwhile, the number of rigs drilling for natural gas in the U.S. fell by two to 372 last week.
Natural Gas Rig Count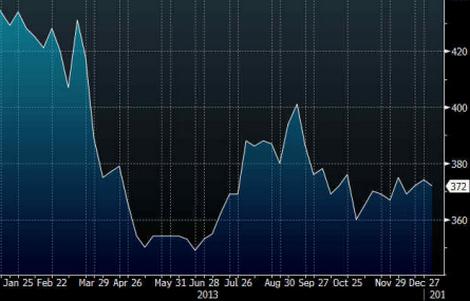 NATURAL GAS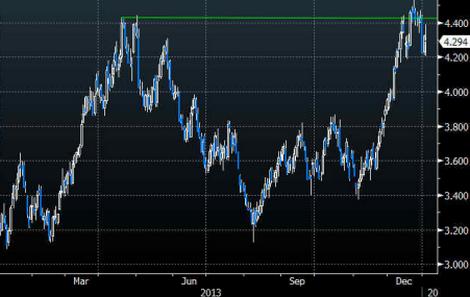 Bottom line: The latest inventory data from the EIA were bearish. The inventory deficit against the five-year average fell from 327 to 301 bcf.
The streak of outsized inventory withdrawals was broken last week due to mild temperatures. The current week has been colder and thus the pace of withdrawals should pick up in next week's report. We expect a renewed widening of the inventory deficit from its current levels near 300 bcf, which should limit downside in natural gas prices.
On the upside, levels above $4.40/mmbtu have acted as formidable resistance. However, in our view, it is only a matter of time before prices break out toward $5, assuming the inventory deficit remains at 300 bcf or more.