QTR's Recommendation : Take Some Profits, Then Hold
I know it isn't the most exciting thing to hear the advice to take some profits, and let some ride, but in this case it's a plan that is both conservative, as well as aggressive, and one that seems to make the most sense. I'll get into that a bit more at length later in this write up.
I don't have a lot of history with Sirius in terms of writing, but it is a stock that I have followed semi-closely since the late 2000s. In the only article I've ever penned on Sirius XM Radio (NASDAQ:SIRI) earlier in 2013, I stated my claim for a continued long position in the company while it was trading around $3.16/share.

Since early 2013, the company's stock has appreciated nearly 20% on the heels of continued revenue and subscriber growth during 2013 - even in the face of booming competition from new angles, like iTunes Radio. I said the following in my article on January 22, 2013 - almost a year ago to the day:
This investor's short term play for Sirius is to let the price coil and correct a bit on the technical indicators before earnings and then scoop up the equity before earnings, hoping to ride the momentum of earnings and the buyback to the 3.50 area before mid-2013.

No surprise, this investor's long-term Sirius strategy buy and accumulate the equity. If you want to take a long-term position in Sirius, why not make half your investment in a few days, hoping for a pullback before earnings. Then, make the other half of your investment after earnings to either average down or up. If you're bullish mid to long term, scoop up $3.00 calls, too.

With Sirius' increasing cash-flow position and profitability (after 11 years of not being profitable), it's important to point out that the fundamentals of the company have never been more sound. Sirius appears to be a train chugging along to top-speed in the right direction.
It was announced on Friday after market hours that Liberty has put an offer in to take full ownership of Sirius. Seeking Alpha promptly provided the details of the proposed deal.
Liberty Media (NASDAQ:LMCA), which already owns a majority stake in Sirius XM, is proposing to make Sirius a 100%-owned subsidiary through an all-stock deal. (PR)
Liberty proposes to have each Sirius converted into a 0.076 new Liberty Series C shares, and then distribute, on a 2:1 basis, Series C shares to all holders of Liberty's Series A and B shares.
The exchange ratio values Sirius at $3.68/share based on Liberty's Friday close; that's an $0.11, or 3%, premium to Sirius' closing price of $3.57.
Sirius' public shareholders would own 39% of the new company, which (based on current prices) stands to have a market cap of $27B.
President and CEO of Liberty Media made the following comment, via the company's PR:
"Our proposal will allow Sirius public shareholders to convert from a non-controlling stake in a subsidiary into a direct equity position in Liberty, the parent company, said Greg Maffei, Liberty's President & CEO. Sirius shareholders will continue to participate in Sirius future prospects along with Liberty's broader portfolio of businesses and opportunities. We believe the combined company will have better access to capital and all of Liberty's shareholders both its current shareholders and the Sirius shareholders who become Liberty shareholders as a result of the proposed transaction will enjoy enhanced liquidity as shareholders of a $27 billion market capitalization company.
When trading resumed after market on Friday, Sirius shares were trading above the offer price by about 5% on this reasoning. The chart below shows what Liberty has been able to do with Sirius since investing its original stake of close to $1 billion. That stake is now worth closer to $10 billion.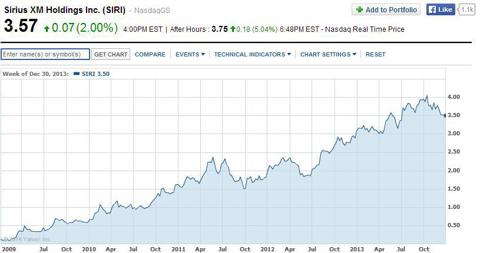 You've got to remember that in essence, this isn't really a change of control - Liberty already had a majority stake in the company. Unless you bought during mid 2013, chances are you're at a profit with Sirius. My recommendation on the heels of the deal are to sell off a bit, taking some profits, but also to let some ride - and here's the bullish and bearish situations that lead me to believe profit taking then "letting some ride" might be a good idea.
The Bullish
Liberty Continues its Run of Success with SIRI
The most likely scenario here is one where Liberty continues down the same path that they have been going down for the last two years. Again, this isn't a change in the control of the company, so if this buyout goes as planned, we are not likely to see any adverse effects in terms of the fundamentals of the business. There is a significant chance that newfound Liberty shareholders could continue to find success.
A Larger Buyout Offer Takes Place
Another bullish scenario is one where either another company or Liberty themselves somehow manufacture a larger buyout offer. This seems to be an option that the market is considering due to the way that Sirius is trading after hours.
Liberty's Track Record
The third bullish thing to remember is that Liberty is the company that has gotten things to the point where they are today. Additionally, there is a track record of success with Liberty and its CEO, which would lead bulls to believe that Liberty still wants to make a significant amount of money from the stock. There will be a major argument for riding their coattails.
The Bearish
Already at a Premium to Buyout Offer Price
Conversely, there is a small argument for taking some money off the table while the current price remains at a premium to the buyout offer price. Someone that is selling in after-hours right now is making a 3% premium to what the buyout offer price is. It's a smash-and-grab style way to grab some quick profit.
The Offer Isn't Enough
The market seems to think that the buyout offer isn't enough. While it doesn't present a major bearish point, there is a small chance that the stock could rescind under the levels it is currently trading at now after hours.
Liberty's First Foray Into Owning a Major Media Company
Additionally, there is a small commentary that offers concern about liberty taking its first major stake in a media company of the size of Sirius. While I don't think they're going to drive the company into the ground, there's a possibility of encountering some speed bumps that may negatively affect the stock price going forward.
Conclusion
As stated in the beginning of this article, my recommendation is to take some of your cost basis on the table and then to let the rest ride on a relatively conservative bet going forward. The bullish arguments are of significantly more potency than the bearish, in my opinion. However, in the interest of taking profits and with the stock at a premium right now, taking some off the table is a way to reduce risk and hedge. Best of luck to all investors.
Disclosure: I have no positions in any stocks mentioned, and no plans to initiate any positions within the next 72 hours. I wrote this article myself, and it expresses my own opinions. I am not receiving compensation for it (other than from Seeking Alpha). I have no business relationship with any company whose stock is mentioned in this article.