The SPY ETF is overbought. See the 3 month chart below.
A variety of indicators show that the SPY is currently overbought. They do not definitively say it will go down, but they do indicate that that is a likely happenstance. This is especially true in a the troubled and choppy market that we have seen for the last several months. There are support points at approx. $110 and $106. I tend to think the $106 value is a likely goal, but one should not ignore any good support point. Naturally these are not the only two possibilities.
The VIX is at or near a 2 year low. This likely means it will rise soon. This is more true in these difficult times, where confidence in the market is an extremely fleeting thing. The 2 year chart of the VIX is below.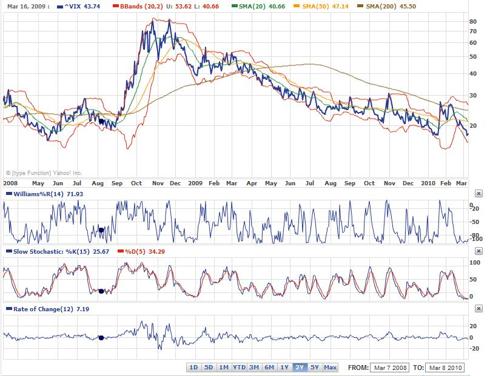 The same variety of indicators used on the SPY chart indicate that the VIX is over extended to the down side. It is very close to its 2 year low. It seems most likely that it will rise soon. Normally the VIX has an inverse relationship to the SPY. When it goes up, the SPY goes down. One might expect it to rise to the top of its Bollinger Band range soon (about 28).
Let's not just depend on technical indicators though. A look at some of the fundamentals, as indicated by recent news, shows that a bias may be developing to the down side.
Obama's hard sell on bank reform has the markets on edge. Investors do not know if the financial industry is suddenly going to get hurt by a drastic change in their governing rules. This makes investors more conservative than normal. It makes them not want to buy financials at this time (or at least to buy conservatively). This tends to pressure equities downward.
Obama is making a hard push to get a major health care bill through Congress by Easter. This is making investors very nervous. They are worried first about what effects it may have on the health care industry. Investors may be shying away from health care stocks because they are afraid they may suddenly lose value. There does not seem to be an upside to this. Investors do not seem to have identified specific stocks yet that will do well if the health care bill is approved. This may possibly be because no one is actually sure yet what will be in it. Still others, myself included, think that a huge federally run change to the health care system will be an extremely expensive fiasco. The mass changes, not always for the better, will result in greater expense, not less. Just the act of changing will be hugely expensive in itself. My personal belief is that small phased changes are the only logical approach to this problem. The most obvious place to start is with malpractice reform. If malpractice costs cannot be contained, health care costs cannot be contained. Doctors, hospitals, insurance companies, etc. all charge more because their businesses could be ruined or hugely negatively impacted by one or more large malpractice losses. The mere threat of this happenstance increases prices. Apparently President Obama does not agree with my logic; neither do others such as John McCain who has a still different proposal. Senator Scott Brown of Massachusetts seems closer to agreeing with me. Of course, Massachusetts has already tried a system similar to the one being proposed by Obama. Perhaps those voters in Massachusetts do know what they're doing.
RealtyTrac estimates the US will have 3M to 3.5M residential real estate foreclosures in 2010. Others estimate there are currently 2M to 5M homes in shadow inventory. Pace of home buying has been slowing in recent months, even with government stimulus programs. The Fed has said it plans to end MBS buying at the end of March. That is likely to push the cost of mortgages up. This will make it harder to afford homes, even at lower prices. Home loans are harder to qualify for. Rep. Barney Frank says we must move past temporary modifications in interest rates or terms and focus on permanent principal reductions. This all likely means we have more deflation in store for home prices. It means the banks are in for more troubling times. Banks are resistant to this idea because they don't want to have to record losses. Experts say that if banks really accounted for all the losses in the home loan market, they'd all be insolvent (CNBC).
Since late November, the Euro (FXE) has gone from 152.26 to today's close of 136.00 (or 136 US cents to the Euro), and the UK pound (FXB) has gone from 167.94 to today's close of 150.12. This is good for European exports, but it is bad for US exports. Plus the US trade deficit has gone up the last few months (probably more to do with Asian trade).
The US budget deficit is running at extraordinarily high levels that I won't try to extemporize about. The fact that it has been so huge recently bodes ill for the market at any time the markets deem to dwell on the issue. California fiscal status is a troubling problem. CDS's negotiated by municipalities are a problem coming to the forefront (hurting municipalities' fiscal health).
The Initial Claims numbers have seemingly stopped going down. They have been relatively steady for the last 2+ months. This means we are still losing too many jobs. See chart below:


The actual is in green, and the forecast is in blue above.

The Federal government will hire 1.15M people for the 2010 census through June. They hired 15,000 in Feb. The government may average nearly 300,000 per month for the next 4 months. Not long afterward, the government will begin laying them off. Although these jobs will be a boon to the economy, these people will not buy houses on their salaries. Plus they will soon rejoin the ranks of the unemployed. A better indicator of the state of "real jobs" is the Initial Claims number, which has continued to be too high. The census jobs, although a temporary boon, are not real longer term.

The Congress recently approved a $15B jobs bill. This is more "free" money that should perk up the market. This is a stimulus, but it is limited.

I am sure I have left out lots of important US economic news. I hope I have not offended many. Please feel free to add your important points.

In China a lot of news is coming out surrounding the current National Party Congress and otherwise. The government itself is now saying that there is too much production. This means a slow down is coming. There has been too much commercial building in recent past. Approximately one fourth is currently empty. Chanos estimates that figure may go to 50% vacancy in a downturn/slow down. Residential real estate is seriously inflated in many cities. It is ripe for deflation in a downturn/slow down. China has already begun to make tightening measures to specifically combat this problem. They may help to partially avert problems, but it is clear by now that there will be serious problems.

Iron ore prices are rising. The major miners are now negotiating for a 40% - 80% rise in the 2010-2011 price. The new price will put further pressure on the steel industry. Further the Chinese steel industry is over producing. This is putting downward pressure on the finished product prices world wide. Both of these elements will hurt steel makers margins. Since some of China's steel makers are already unprofitable, these factors may really pinch one of China's most important industries. They will certainly pinch the US steel industry. China manufactures approximately 50% of the steel used world wide.

Pundits estimate that China may have to write off as much as $3.5T in bad loans. We have all seen what this level of write offs did to the US and Europe. There's no need to say more. Recent National Party Congress news is that municipalities have used esoteric investment vehicles to circumvent the national regulations against municipal borrowing. Many municipalities have no good hope of repaying these loans. Their debt ratios (debt to disposable annual income) are over 400% (and I thought Europe was in bad shape). The national government is considering nullifying many or all of these loans. This will leave many construction projects without the money to make it to completion. It will hurt many banks. Future jobs will be lost. Additionally China's central bank is expected to raise its main lending rate in Mar. Each round of tightening has had a negative effect on Chinese stocks and on commodities. A negative Chinese market tends to have a negative effect on the US markets. A raise of the Yuan against the USD would have much the same effect. This is being talked about. It is unclear exactly when it will happen.

In other areas, Brazil's central bank is expected to raise its rate next week. It is currently at 8.75%. Pundits believe it will go to 11.25% by the end of 2010. This may check Brazil's equities growth to some extent. This may be especially true for the next week. A week from Wed. is the central bank announcement day. A negative Brazilian market will tend to have a negative effect on the US markets.

India tightened, and it indicated a tightening bias when its finance minister recently presented its federal budget. Additionally Money has been flowing out of Indian Mutual Funds for the last 6 months. This is partially due to tax reasons, but it is still a negative.

Europe is growing slowly, if at all. The German and UK GDP's are hardly growing at all. The PIIGS are in much worse shape. Greece has been in the spotlight. However, the others have serious problems too. For example, Spain is running a huge deficit. It has 19.4% unemployment. It has a housing problem worse than that in the US. Its GDP is the largest GDP world wide that is still shrinking ($1.3T). If it enacts austerity measures to combat its deficit numbers, its housing and unemployment crises will only worsen. Talk about a Catch-22.

I have left out much, but the above may give you an idea that everything is not right with the world. The US equities markets are not likely to go straight up for a second year in a row. The US will keep struggling with recovery for some time. I am hoping that struggle is successful, but there are unarguable headwinds. Finally history tells us that the year after a big recovery year (such as last year) is usually flat. It is choppy all year. This would tend to argue for a move downward in our current choppy channel. The news overall doesn't seem to indicate huge gains will be had in the near term.

Good luck trading.

Disclosure: I have a small short position on the SPY