The volume of share trading for key index funds is going down while the price is going up. Should we say the smart money is quietly accumulating shares, or should we say that the smart money is on the sidelines while the dumb money pushes prices higher?
TrimTabs reported that mutual fund cash positions are very low at about 3.6% after an unusual reduction in cash positions in the past month. When mutual fund managers unload cash, markets generally go up.
A downside to the data is that if managers re-risk simultaneously, they eventually reach minimum cash levels necessary for normal operations — as a group, they can't run on zero cash due to the need to maintain some liquidity for daily redemptions.
When the minimum cash level is reached, funds cease to be an engine to support rising prices, unless they receive net inflows to the funds from their investors. Are mutual funds out of bullets?
If not fund managers, are the pensions, endowments and individuals currently ready and able to continue supplying demand?
While some markets or segments (particularly mid-cap and small-cap US stocks) have clearly gone above recent prior peaks in a bullish pattern, the lack of confirmation from volume creates some doubt.
Most of these charts show the diverging pattern of price and volume for several key index funds (SPY, MDY, IWM, VGK, EWJ, EWA, EWC, VWO, FXI, EWZ): (Click charts to enlarge)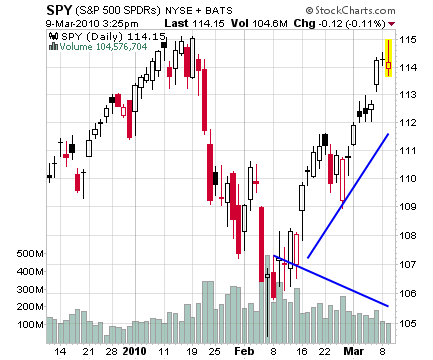 Holdings Disclosure:
As of March 9, 2010, we hold SPY, MDY, and IWM in some, but not all managed accounts, We do not have current positions in any other securities discussed in this document in any managed account.
Disclaimer:
Opinions expressed in this material and our disclosed positions are as of March 9, 2010. Our opinions and positions may change as subsequent conditions vary. We are a fee-only investment advisor, and are compensated only by our clients. We do not sell securities, and do not receive any form of revenue or incentive from any source other than directly from clients. We are not affiliated with any securities dealer, any fund, any fund sponsor or any company issuer of any security. All of our published material is for informational purposes only, and is not personal investment advice to any specific person for any particular purpose. We utilize information sources that we believe to be reliable, but do not warrant the accuracy of those sources or our analysis. Past performance is no guarantee of future performance, and there is no guarantee that any forecast will come to pass. Do not rely solely on this material when making an investment decision. Other factors may be important too. Investment involves risks of loss of capital. Consider seeking professional advice before implementing your portfolio ideas.