AT&T (NYSE:T) is leaving no stones unturned to expand its LTE coverage and match its competitors in the U.S. wireless market. The company has stepped up its investment in Project VIP, which aims to cover 300 million people by the end of 2014 and 99% of all its locations by 4G LTE. Last month it agreed to sell its Connecticut wireline operations to regional telecom provider Frontier Communications (NYSE:FTR) for $2 billion in cash to partly fund this project.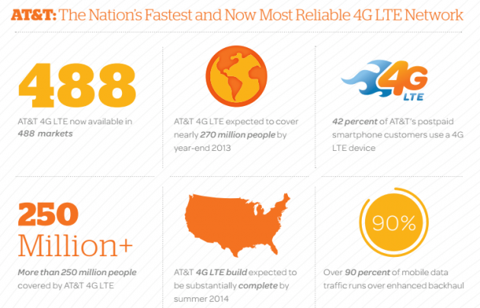 (Source: technobuffalo)
Though AT&T will continue to have presence in Connecticut, but it will focus mainly on its wireless operations in the state. The deal is subject to approval from the U.S. Department of Justice, the FCC, and other regulatory bodies, and expects to close in the second half of 2014. Through this agreement Frontier will get access to 900,000 phone lines, around 415,000 broadband connections, and about 180,000 of AT&T's U-verse subscribers. Connecticut operations had annual revenue of $1.2 billion last year, representing around 1% of AT&T's total revenue, and the deal is expected to bring Frontier a near-term cash-flow opportunity. The company could leverage its technology and engineering to achieve cost synergies and savings of $200 million after the integration is complete. Frontier expects its dividend payout to increase by more than 5% because of this transaction.
Last month AT&T also closed its deal to lease 9,000 wireless towers and sell approximately 600 towers to Crown Castle International in a transaction worth $4.83 billion. This deal along with the sale of the wireless towers to Crown Castle is another step in building up its LTE coverage, but it will also support its goal of expanding into Europe. Apart from investment in Project VIP, AT&T sees Europe as a huge opportunity to profit from high-speed wireless services. There are speculations about a potential takeover of Vodafone Group (NASDAQ:VOD) for more than $100 billion in 2014. However, this acquisition has its own challenges due to lack of synergies between the two companies, the regulatory environment, and a possible credit rating downgrade if it uses more than 50% debt for acquisition. Currently European telecom providers face weak macroeconomics, intense competition, and slow deployment of 4G, which may present a headwind for AT&T's plans in Europe. That European acquisition could be a distraction, when the company is trying to focus towards VIP to build its network and eventually increase market share.
Taking on competition with new pricing plans
To address rising competition, AT&T has introduced in December a new pricing plan, Mobile Share Value, which allows users to share more data and reduce their mobile expenses. Through this new plan, AT&T will offer discounts on monthly service for users having their own devices and the option to upgrade phones more frequently to avoid two-year contracts. Under the new pricing, AT&T now offers a $45 entry point for 300MBs compared to $50 for 500MBs at T-Mobile (NASDAQ:TMUS) and $55 at Sprint (NYSE:S) for 1GB.
With a $45 entry point, this could relieve some pressure for price-sensitive customers and improve churn rates of subscribers. AT&T's move confirms that it will not be sitting idle in an environment of increasing competition, and with the new plans, it will erode the price advantage of its competitors.
This new pricing plan aims to address the increasing competition and reduce the pricing gap with its competitors, mainly T-Mobile, which has caused a disruption in the U.S wireless market. Last year, T-Mobile departed from regular pricing and started charging full prices for phones through down payment and installments, and also lowered fees for text data and calls, reducing user bills. In October 2013, T-Mobile announced its much-awaited Uncarrier 3.0 strategy and is now preparing to unveil Uncarrier 4.0 this month. T-Mobile initiated the Uncarrier strategy in March 2013 to win back customers. Since the launch of its Uncarrier strategy, T-mobile has effectively removed the device cost from monthly service charges. T-Mobile has combined its value-oriented plans with marketing efforts, offering broader range of devices to gain significant share over the past few quarters.
Bottom line
AT&T will continue to benefit from Project VIP, and the recent change in its pricing should appeal to a larger base of consumers. AT&T's willingness to be more aggressive on price demonstrates the challenges it faces in the wireless market. Amid such competition, AT&T delivered third-quarter results that surpassed analyst estimates, with wireless service margins a solid 42%, and had record third-quarter smartphone sales. AT&T is well-positioned with its pricing and expanding LTE coverage, though T-Mobile presents a new risk with compelling data offers.
Disclosure: I have no positions in any stocks mentioned, and no plans to initiate any positions within the next 72 hours. I wrote this article myself, and it expresses my own opinions. I am not receiving compensation for it (other than from Seeking Alpha). I have no business relationship with any company whose stock is mentioned in this article.