This is part of a series of articles on stocks that show significant volatility and/or are heading into a binary event that is likely to move the stock price significantly. The point is to be able to recognize stocks with significant volatility and benefit from it through both short-term and long-term trades.
My article of this same nature on Amarin (NASDAQ:AMRN) was the first in this series. Secondly, my recent article on Tesla (NASDAQ:TSLA) was the second piece in this series. The point of these articles is to make money from volatility. In each case, here is what I recommended and how the stock responded accordingly:

One thing is for sure: Twitter (NYSE:TWTR) has become a battleground stock - not unlike Tesla. What defines a battleground stock, aside from the volatility? The bulls think they're really right and that Twitter is severely undervalued in the long-term. The bears think, from a valuation standpoint, that the bulls are operating on another planet. To say the bulls and bears disagree would be like saying Red Sox and Yankees fans "have a slight distaste for one another."
Let's take a look at how Twitter has traded since going public - and some of the wild swings the stock has taken since rocketing upwards to the tune of over 170% from its $26 IPO price.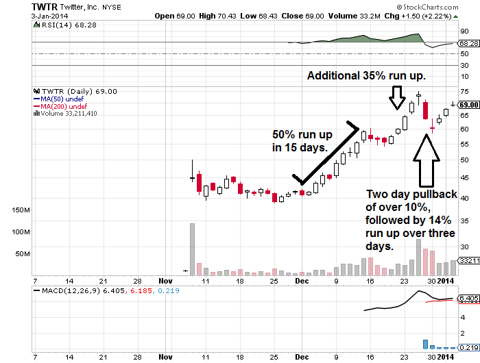 Examples like this one, from Seeking Alpha, are how we have seen Twitter news since its IPO - one day slammed, one day rocketing back upwards. These two "Market Currents" from Seeking Alpha were roughly 36 hours apart and show exactly what I mean: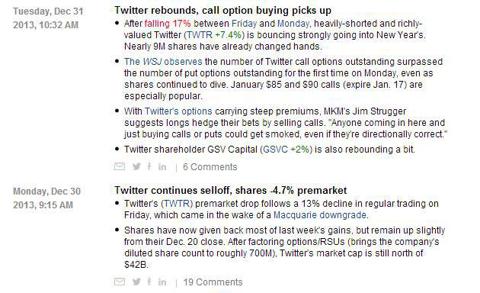 The short situation only does well to help the volatility. The shorts are piling in the stock, getting squeezed out, and vice versa. The short interest has risen significantly, meaning the bears are pressing even harder - and that in the face of a positive catalysts the squeeze is going to be that much more intense. Only one side of this argument has it right, and for the purposes of our discussion, it doesn't matter who. The important thing is the building intensity of the shorts and the bulls trying to "hold the front line" and keep the stock's momentum going upwards.
(click to enlarge - from nasdaq.com)

From Seeking Alpha:
With shorts having piled en masse into Twitter since its November IPO (29% of the float was shorted as of Dec. 13), there are many reports of investors either being unable to place new short orders, or of only being able to short a limited number of shares, typically at a high lending rate.
The main item in question remains the company's lofty valuation, which - in my opinion makes it susceptible to macro market pullbacks as well as fundamental negatives. I argued in my last article on Twitter that it would actually make a good hedge heading into 2014. When you position yourself for 2014, what you want is to short companies that are not only potentially fundamentally flawed, but are subject to macro market pullbacks.
You want to protect against a bearish market as well as potentially make money on companies that'll either correct or fail outright. It is my contention that if the markets pull back during 2014, the stocks that are likely to be hit hardest are stocks with lofty valuations like Tesla and especially social media stocks with lofty valuations like Pandora (NYSE:P), Angie's List (NASDAQ:ANGI), LinkedIn (NYSE:LNKD) and Twitter.
Most Twitter blogs read like this one from Investor Place:
Twitter fans will be quick to point out that the value of TWTR stock had nearly tripled from its IPO price, setting up the inevitable - and obviously temporary - slide that shares have just experienced. After all, the company's revenue is poised to see wildly hot growth over the next couple years, and it's only a matter of time before the rest of the market recognizes this once-in-a-lifetime opportunity.

There's just one problem with that optimistic assumption: There's no possible way Twitter could ever even justify its current price around $60, let alone last Thursday's peak of more than $74. Indeed, it would be tough for anyone to justify TWTR stock being valued at even half of its current price.
For the short term, the obvious trade is an option straddle with a strike price near the third-quarter. So, let's take a look at what the contract prices are.

To buy a June 2014 $70 straddle, it's going to cost you $29.40. While that may seem expensive, you have to realize that the prices are high because the implied volatility is through the roof, which should further validate the argument that you're going to see the wild swings in the stock's price. Your breakeven point, minus commissions, is going to be $40.60 or $99.40 - and you'll have six full months to get there. Another advantage of this trade is that you could potentially cash both sides of the straddle if the stock continues to swing wildly over the next six months. For instance, if the stock continues to run upward and you have a chance to sell your calls, you could still potentially benefit from a downward swing afterwards.
For the long-term, at this point, it would be my recommendation to not stake a position in the company with a long-term outlook. We have yet to be privy to the company's financials and we have yet to be privy to seeing how the company operates quarter over quarter and year over year. With a company this young, there is a lot to prove before becoming a vehicle for long-term investment. With the amount of high quality established technology companies on the board already, there are much better candidates for long-term growth available at the moment. That is not to say that we won't have a better look at a potential long or short trade for the long-term once we have some comps.
Best of luck to all investors.
Disclosure: I have no positions in any stocks mentioned, and no plans to initiate any positions within the next 72 hours. I wrote this article myself, and it expresses my own opinions. I am not receiving compensation for it (other than from Seeking Alpha). I have no business relationship with any company whose stock is mentioned in this article.