Herbalife (NYSE:HLF) has now been on a long bullish run, yielding over 100% in the last 12 months, and over 10% in the last three months alone. Since reaching highs above $80, the stock looks to be consolidating a bit before its next upward or downward move.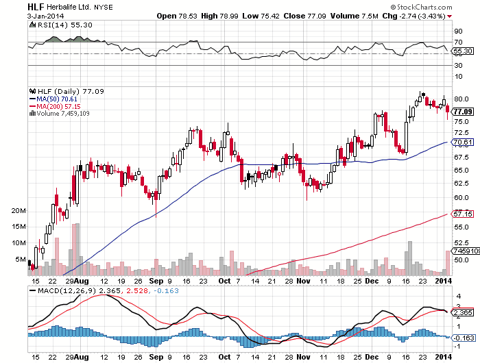 There are some Herbalife longs that truly believe they're investing in a legitimate company that is a money maker. There are a group of people that not only think that multi-level marketing is legal, but that it is a viable and respectable way to do business.
These people are called distributors.
Okay, that was a joke, keep your seats. But, there is no doubt a small sect of investors that believe in multi-level marketing, Herbalife products, and making money through recruiting.
And, there's some longs that "have their hands in the cookie jar." I'm guessing that this group represents a majority of the longs in Herbalife stock - possibly inclusive of the billionaire investors, as well. These are investors that are either invested in the stock for its momentum or to ride the coat-tails of the billionaires invested as well. These people don't care about the viability of multi-level marketing companies, the people they prey on, or possible regulatory action. These people are investing strictly because they think the stock price will continue to go up, regardless of the business.
Additionally, I think we got our first glimpse of this on Friday. By now, most Herbalife longs and shorts alike know that a large part of the short argument is that the FTC is eventually going to step in and intervene with multi-level marketing companies. When it was announced on Friday that the FTC was going to be having a press conference on an investigation into weight loss fads, Herbalife as well as many other multilevel marketers sold off to the tune of several percent.
As reported by the LA Times:
Federal regulators said Friday that they planned to crack down on misleading advertisements for weight-loss products, including dietary supplements, food additives and skin creams.

Jessica Rich, director of the Federal Trade Commission's Bureau of Consumer Protection, will hold a news conference Tuesday to announce an "initiative against deceptive claims made by national marketers of fad weight-loss products," the agency said.

No additional information was provided.

The announcement caused shares of nutritional product makers Herbalife and Nu Skin Enterprises to drop Friday.
On Tuesday, the FTC is supposed to be holding a press conference to detail a recent announcement that it would launch an initiative to crack down on deceptive claims made by providers of fad weight loss products.
The bulls will tell you, this has nothing to do with Herbalife. Look at some of the comments posted to the original Seeking Alpha report of the FTC investigation: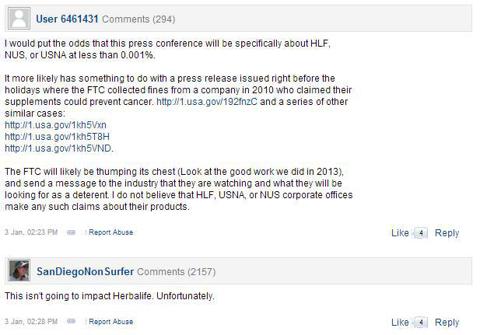 And, all of this comes just a couple of days after a "rare" downgrade, which S&P Capital IQ introduced on December 30th. Two seemingly small events, right? One would think the downgrade on Herbalife directly would be more "newsworthy" than the FTC news - but the volume that traded on the days points to another story: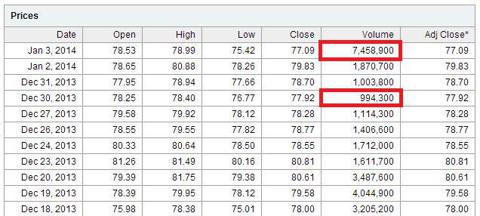 7.4 million shares changed hands on FTC day, and not even a million on the day of the downgrade. Could a little fear be sinking in here? The point of this article isn't even actually whether or not the FTC investigation does have to do with Herbalife or not. Do I hope that it does? Of course.
But, the important thing to take away from this is the fact that there was a sell off on - what the bulls call - no news, shows that the Herbalife longs are starting to show nerves.
Could it be time for a certain group of longs to worry about getting their "hand caught in the cookie jar" after yielding ridiculous gains on Herbalife over the last 12 months?
I'm reaffirming bearish on Herbalife. Best of luck to all investors.
Disclosure: I am short HLF. I wrote this article myself, and it expresses my own opinions. I am not receiving compensation for it (other than from Seeking Alpha). I have no business relationship with any company whose stock is mentioned in this article.