On Friday, as the SPDR S&P 500 (NYSEARCA:SPY) fell fractionally, Bank of America (NYSE:BAC) shares rose by 1.9%. The mover of the market was said to be Fed inspired fear, as Philly Fed President Plosser, a voting member of the Federal Open Market Committee (FOMC), indicated that the Fed had to be on the ready for swifter action against potential inflation. Richmond Fed President Jeffrey Lacker, who is not an FOMC monetary policy maker, continued with his longstanding hawkishness, further unsettling stocks. Thankfully, Chairman Bernanke settled things down with his comments about the economic recovery still being incomplete. He committed again to stick with stimulus for as long as it was needed. That perhaps saved stocks from deep decline, but why then did Bank of America rise so sharply? We think we know.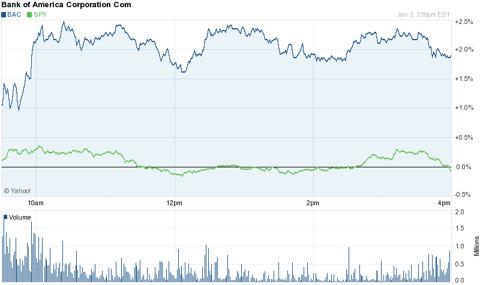 Could It Be "Just Right" Monetary Policy?
There's a Goldilocks level of Fed action, a "just right" point that is probably about along the pace and trajectory that the Fed is currently on. I say so based on my observations of the performance of the market on the day of and after the Fed asset purchase tapering announcement. On Friday though, the two hawks shifted the balance of things a bit and raised investor concern.
Bank of America is a little different of a case, versus the broader market, because it benefits from higher long rates for as long as they do not stymie economic growth. Certainly interest rate spreads have comfortable room to widen before burdening the economy. So then if some Fed members are showing an inclination for change away from stimulus, it might be celebrated by BAC investors because of the net benefits it would have on the bank's net interest margin. Also, it helped that the Fed Chairman added a calming note to the day's messages. But do BofA shareholders really owe Plosser and Lacker credit for the stock's rise? After all, the inflation they're afraid of would be problematic to the cyclical company, and the type of change they seem to prefer is not the kind that would reassure the market nor be as supportive to the economy as today's Goldilocks level of change. So perhaps there was something more than that to credit for BAC's sharp gain on the day.
Maybe it is Due to this Important Economic Barometer
In other economic news, a sector of the economy that is intimately tied to financial institutions like Bank of America and peers JPMorgan Chase (NYSE:JPM), Citigroup (NYSE:C) and others had some news to report on Friday. Motor vehicle makers Ford (NYSE:F), GM (NYSE:GM) and others reported sales data for the month of December. Now, while the monthly sales pace was short of expectations and below November's blockbuster pace, I believe it was still well-received because the trend of auto sales growth and recovery is continuing. In fact, auto sales through the 12 months ended December were their highest since 2007. Obviously, lenders benefit from auto sales since they are very often financed with bank loans.
Or it May be Recent Analyst Support
And then there was Thursday's upgrade by a Citigroup analyst, who raised his rating on the stock to a "buy" and hiked his price target to $19 from $16. That news explains why the stock jumped 3.4% the day before Friday. Or, maybe even, an article entitled Why 2014 Looks Great for Bank of America, authored by yours truly on December 31st, gave lift to BAC through the first two days of trading on the year. I prefer to reason that it was the information within that article that rings true, and that investors are perhaps agreeing with the buy argument for BAC shares today.
Conclusion
Whatever the case, BAC shares are up 5.4% already this year, while the SPDR S&P 500 is down 1.0%. It makes little sense given BAC's beta coefficient of 2.2, which implies BAC should be exaggerating the move of the broader market not defying it. And its defiant performance is despite the ample reason for tax related selling in BAC this year after its big performance through 2013 - the stock appreciated upward of 34%. Yet, it still trades at a price-to-book value discount to industry peers and stands to benefit exponentially from its greater exposure to a recovering housing market than most. Thus, I reiterate, buy BAC here.
Disclosure: I have no positions in any stocks mentioned, and no plans to initiate any positions within the next 72 hours. I wrote this article myself, and it expresses my own opinions. I am not receiving compensation for it (other than from Seeking Alpha). I have no business relationship with any company whose stock is mentioned in this article.