Did the market miss that a $10+ million prepayment contract is actually worth more than $50 million?
Recently, Elephant Talk (ETAK) issued a press release with a deceptively simple if not ambiguous headline - Elephant Talk Receives $10 Million Service Prepayment as Part of New 5 Year Contract with Existing MNO Client in Europe. This $10 million agreement follows a series of good news from the company including a strategic partnership with FICO. The stock has appreciated from a low of $0.53/share on October 23rd to ~$1.25 in ~two months.
After reading the thinly-worded release and the filing with the SEC who named Vodafone Enabler Espana, S.L. (Vodafone Spain), I believe that the true dynamics and potential of this contract are not being fully taken into account on the current valuation of the company.
The most pressing item that caught my eye was the revelation that Elephant Talk will "receive continuous prepayments of approximately $10 million for the duration of the contract" - does this mean that the contract's value is only $10 million up front, or as I suspect, does it mean the company will potentially receive significantly more, more like $50 million over the course of the five-year term even before the impact of a 13% increase in hosting fees?
To understand the company more and what the release might mean, I did some research and discovered the following:
Elephant Talk is a software technology company that is primarily known as a Mobile Virtual Network Enabler (MVNE). It produces a line of software and services that allows MNOs (Mobile Network Operators) to efficiently manage and operate their networks. This same technology allows the MNO to provide wholesale operators common in Europe, Asia and the Middle East (often referred to as Mobile Virtual Network Operators or MVNOs) to resell the mobile services to customers under their own brands (an example in the US is Boost Mobile which operates its brand on the Sprint (S) Network).
Unlike traditional vendors, Elephant Talk's solutions are virtualized software-based, meaning they utilize technology such as the cloud to provide the capabilities usually only made possible by the expensive hardware sold by vendors like IBM (NYSE:IBM), Amdocs (NYSE:DOX), HP (NYSE:HPQ), Oracle (NASDAQ:ORCL) and Comverse (CNSI). As we have seen in almost every industry, the move to software and the cloud can have powerfully positive impacts on not only capabilities, but reductions on the costs of operating that business. In this case, Elephant Talk allows the operators to forgo the large capital expense associated with new hardware and instead, pay an outsourced "pay as you go" software model which is charged on a per active subscriber basis (which makes it an operating expense for the operator). This model is what is driving cloud adoption in the enterprise globally.
Now, time to unravel this contact and determine if the market valued this news correctly, or as I suspect, incorrectly:
Why is a $10 million prepayment worth more than $50 million to Elephant Talk?
According to the company's business model, Elephant Talk derives its revenue on a recurring basis - it is paid a fee for each active SIM (representing an individual customer/device) currently managed on its proprietary Software Defined Network Architecture (Software DNA™) platform. Therefore, while Elephant Talk may have very limited forward-looking visibility into the ultimate rate of potential adoption ("migration" onto the platform), we can make a few assumptions based upon what we know:
o Vodafone Spain currently has approximately 1.3 million customers on the Elephant Talk platform (source: Ovum Report - On the Radar: Elephant Talk)
o That means a $10 million prepayment today for the existing 1.3 million SIMs equates to a value of approximately $0.77 per SIM.
o Given that we know the company earns its fees on a recurring basis, each year, the company should receive ± $10 million. That means this contract is actually worth at least $50 million to the company assuming the SIM level remains constant!
This "$10 million" contract, while not clearly articulated in the press release, represents a major achievement for a small company like Elephant Talk, a company that reported revenues of $16.7 million for the nine-month period ended September 30th. This contract not only dramatically expands the top line revenue-base but also supports its growing trend towards cash flow positive as seen on the company corporate presentation filed with the SEC.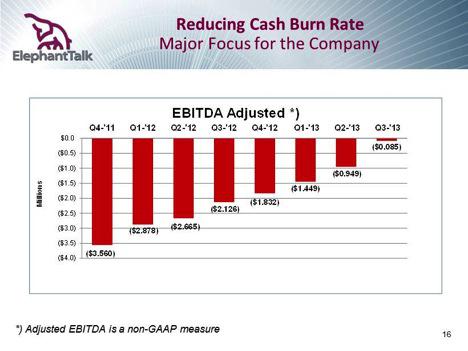 The promise of continued growth in the mobile space for the company remains bright driven by rising mobile device adoption around the world. This growth, we can assume, will in turn, drive subsequent migration rates as well. If Vodafone Spain continues to be a successful test case, according to the contract news release, the potential for the platform to be rolled out in other Vodafone markets remains great. If this happens, Elephant Talk's SIM-driven revenue has the potential to grow exponentially.
Disclosure: I have no positions in any stocks mentioned, and no plans to initiate any positions within the next 72 hours. I wrote this article myself, and it expresses my own opinions. I am not receiving compensation for it. I have no business relationship with any company whose stock is mentioned in this article.