Barrick Gold (NYSE:ABX) is the elephant in the gold space, but its stock has been a disappointment for a few years. In 2013, the company's market capitalization dropped by 50% percent. Peter Munk could not have been pleased.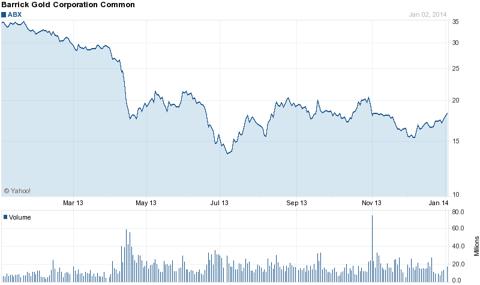 At the heart of Barrick are 6 gold mines producing a total of 3 million ounces a year with all-in sustaining costs of about $660 an ounce and having 58 million ounces of reserves.

Across its total mine portfolio, Barrick is a low cost producer and compares well to the averages in its industry.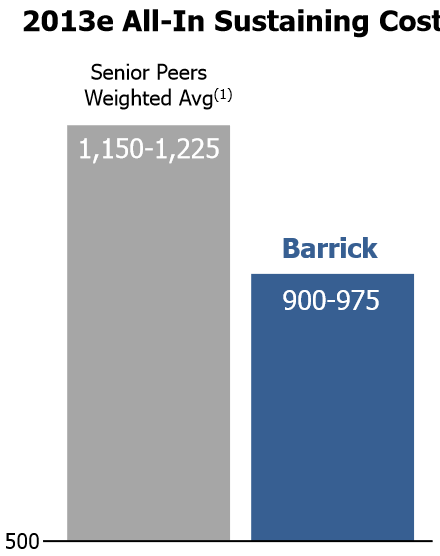 Barrick's poor performance has been the product of two factors, one external and one self-inflicted. Externally, the price of gold tanked last year dropping more than $400 an ounce. With annual production of over 7.4 million ounces which returned $1,669 an ounce in revenue in 2012
Barrick's 2013 expected results reflect a drop in the average gold price to about $1,250 an ounce snatching over $3 billion in revenues from Barrick's income statement. That factor alone could have been responsible for $15 billion of the drop in market value of the company since all $3 billion falls through to the operating income line and a 5 times multiple is within the bounds of sensibility.
The other factor was self inflicted. Barrick's 2011 purchase of Equinox Minerals for $7.66 billion had to be one of the worst thought through and poorly timed acquisitions in Peter Munk's heralded career. That and a dismal hedging program ended in 2009 at a cost of $5.6 billion left Barrick entering 2013 with almost $14 billion in debt , and the financial leverage meant the shareholders suffered a greater drop in value than the company's enterprise value.
The Equinox acquisition has been a disaster to date. Despite the large resource and prospect of a profitable mine, lower copper prices and higher mining costs left the operation pretty well trading dollars with all in costs of $3.04 and an average copper price for 2013 not much better at about $3.25.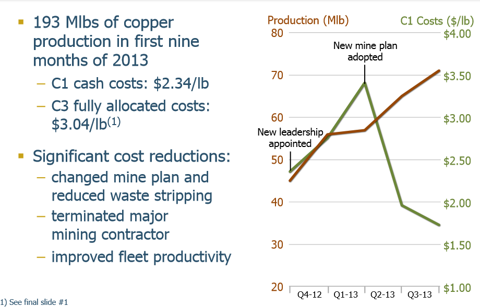 Fast forward to 2014 and Barrick is entering the year with new management including John Thornton attracted by a massive signing bonus but with great credentials, signs the gold price may have bottomed, and a real focus on getting costs down and controlling capital outlays. The huge mine Pascua Lama mine on the Chile-Argentina border has been put on hold deferring $1 billion of capital outlays; a major cost reduction initiative is underway to cut costs by $500 million; and, Barrick has already sold a number of smaller mines for proceeds of more than $300 million.
The return to basics at Barrick may presage a buying opportunity if you are a gold bug. Analysts seem to be turning positive with an October 2013 upgrade by Deutsche Bank.

Estimated earnings of $2.00 a share suggest the stock is cheap even at depressed gold and copper prices, although analysts estimates are all over the map.

Of course, gold and copper prices can go south as easily as rise and the stock has its share of risk.
Some observers think the end of QE is bearish for gold but I disagree. Artificially low interest rates may be coming to an end but the Fed has promised to keep short term rates low for the foreseeable future, and the legacy of QE is more likely to be an uptick in inflation which has historically been positive for gold.
For my money, Barrick at these prices is a decent bet. The January 2016 calls at $20 strike trade for less than $4.00 and represent a lower risk leveraged way to play Barrick. I am long those calls.
Disclosure: I am long ABX, . I wrote this article myself, and it expresses my own opinions. I am not receiving compensation for it (other than from Seeking Alpha). I have no business relationship with any company whose stock is mentioned in this article.
Additional disclosure: I hold the January 2016 ABX $20 calls