"[C]ritics have said that Coke's growth story is over, as reflected in the [lagging] stock price, pointing to the slowing emerging market growth [and] declines in diet soft drinks; some say the pricing in the U.S. is irrational and [there is an] inability to grow in big markets like U.S. and Mexico." -- Analyst on KO's Q3 2013 earnings call
Introduction
By any reckoning, it has been frustrating being a Coca-Cola (NYSE:KO) shareholder during the current bull market. The company seems beset by critics on all sides. Mayors of large cities and, for that matter, entire countries, as well as the usual "public interest" groups, are attempting to demonize, tax and/or ban sugary soft drinks, citing obesity and other health problems - including cancer. Diet soft drinks, on the other hand, have been under attack for their artificial ingredients (namely aspartame), even to the point that some critics claim you can actually gain weight by drinking a zero calorie soda. KO's sparkling products have been largely excluded from the growing North American organic grocery industry, represented by Whole Foods and its imitators. Heck, KO's critics have even created their own Wikipedia page devoted to summarizing the various criticisms of the company.
Meanwhile, KO is attempting to pull off an ambitious restructuring of its North American bottling assets, the results of which remain to be seen. And KO's stock price has been in hibernation, relatively speaking, since the beginning of 2009.
So, is the "Real Thing" a thing of the past, with a stock doomed to underperform the market? Or is the recent lull in KO's share price merely the "pause that refreshes," before climbing to new heights? If the latter, what can the company's management do in 2014 and beyond to reignite KO? I attempt to address these questions in this article.
KO's CFO Apparently Does Not Understand the Value of Share Repurchases (or How to Read a Stock Chart)
On KO's most recent earnings call, an analyst asked about the company's share repurchase program. This question and the response from the CFO, Gary Fayard, is excerpted below.
Wendy Nicholson - Citi Research

And then my second question is looking at the buyback program, the stock is on track for two years of relative underperformance. And we haven't seen that for a while and yet your target for buybacks hasn't changed since the beginning of the year. So I'm kind of surprised the balance sheet you have, with the weakness in the stock, and certainly Muhtar with your resounding confidence about the long term outlook, you're not getting more aggressive on the buyback here. Thanks.

Gary P. Fayard - Chief Financial Officer, Executive Vice President

Yes, Wendy, relative to share repurchase let me just first - let me just start with the preface that don't particularly agree with you on saying our share price has relatively underperformed for the last two years. But after that, couple of thoughts on share repurchase. Our view on share repurchase is that share repurchase is value neutral. It is not something that grows value. It does for the short-term holder, so maybe you can get a bump in the share price, but for the long-term holder it is not something that's value enhancing. It is much more like a cash efficient dividend, which is the way we treat it. And our priorities for cash are number one to reinvest in the business, to grow the business; that will include bolt-on acquisitions, et cetera. Number two would be dividends, which we have increased for the last 51 years, 10% this year. And third, excess cash would be put into share repurchase. And just because we don't need the cash in the business, so it's a return of cash to shareholders. But leveraging the balance sheet to do something that we would view as value neutral, we don't think is the right thing to do. So we continue to just perform exactly in line with the targets that we set at the beginning of the year.
Relative Share Price Performance
First off, the facts simply do not jibe with Mr. Fayard's assertion that KO's share price has not underperformed over the last two years. A price chart of KO versus the S&P clearly evidences KO's relative underperformance over that span. The chart below shows that during the past 2 years, the S&P is up approximately 45%, whereas KO is only up approximately 15% (each not including dividends). KO's underperformance on a total shareholder return basis (i.e., including dividends) for the past 2 years would only be about 2% less, since the dividend yield of the S&P (at around 1.9%) is approximately 1% less than KO's dividend yield. (Incidentally, KO's share price also trails the S&P on a 5-year chart [+85% versus +108%] and a 10-year chart [+65% versus +75%].)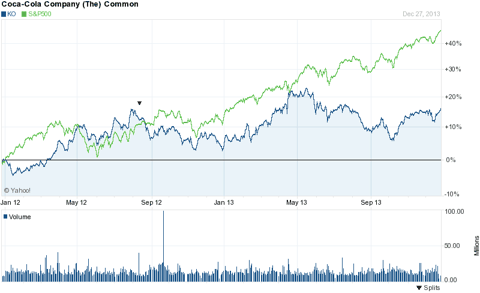 Also notable is that KO has trailed both PepsiCo (NYSE:PEP) and Dr. Pepper Snapple (NYSE:DPS) on a 2-year chart (below), albeit not by the same extent as against the S&P during this period.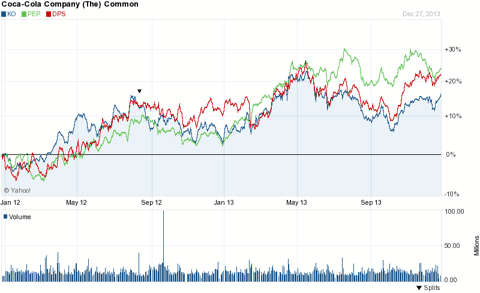 Share Repurchases: "Price is what you pay, value is what you get" - Warren Buffett
What is perhaps even more surprising about the response from KO's CFO to the above question is that he's also dead wrong about share repurchases being "not something that's value enhancing" for the long-term shareholder and that share repurchases are "more like a cash efficient dividend" (sic - I assume he meant to say "tax" efficient instead of "cash" efficient). Clearly, share repurchases are a wholly different animal than dividends. A dividend is a return of (usually) cash to a company's shareholders which does not involve the receipt by the company of anything in return; a repurchase, however, is a transaction involving an exchange of cash for the company's shares with a subset of the company's current shareholder base. Whether a stock repurchase is "value enhancing" or not for a company's shareholders thus depends on whether the company is repurchasing its shares at a price that is below (value enhancing) or above (value destroying) the company's intrinsic value. Obviously, all other things being equal, KO's long-term shareholders should prefer that the company repurchase more of its shares when the stock price is undervalued than when it's fairly valued (under KO's current repurchase plan, the company expects to repurchase between $3 billion and $3.5 billion worth of shares in 2013, or between approximately 1.6% and 1.9% of the company's outstanding shares if repurchased at the current market price).
Warren Buffett, KO's largest shareholder by a wide margin, summarized his views on share repurchases in the 1984 Berkshire Hathaway stockholder letter:
When companies with outstanding businesses and comfortable financial positions find their shares selling far below intrinsic value in the marketplace, no alternative action can benefit shareholders as surely as repurchases.

The companies in which we have our largest investments have all engaged in significant stock repurchases at times when wide discrepancies existed between price and value. As shareholders, we find this encouraging and rewarding for two important reasons-one that is obvious, and one that is subtle and not always understood. The obvious point involves basic arithmetic: major repurchases at prices well below per-share intrinsic business value immediately increase, in a highly significant way, that value. When companies purchase their own stock, they often find it easy to get $2 of present value for $1. Corporate acquisition programs almost never do as well and, in a discouragingly large number of cases, fail to get anything close to $1 of value for each $1 expended.

The other benefit of repurchases is less subject to precise measurement but can be fully as important over time. By making repurchases when a company's market value is well below its business value, management clearly demonstrates that it is given to actions that enhance the wealth of shareholders, rather than to actions that expand management's domain but that do nothing for (or even harm) shareholders. Seeing this, shareholders and potential shareholders increase their estimates of future returns from the business. This upward revision, in turn, produces market prices more in line with intrinsic business value. These prices are entirely rational. Investors should pay more for a business that is lodged in the hands of a manager with demonstrated pro-shareholder leanings than for one in the hands of a self-interested manager marching to a different drummer.

...The key word is "demonstrated". A manager who consistently turns his back on repurchases, when these clearly are in the interests of owners, reveals more than he knows of his motivations. No matter how often or how eloquently he mouths some public relations-inspired phrase such as "maximizing shareholder wealth" (this season's favorite), the market correctly discounts assets lodged with him. His heart is not listening to his mouth-and, after a while, neither will the market. [Emphases added]
As a shareholder, wouldn't you like your company to do its utmost to "get $2 of present value for $1" via share repurchases? The value in doing this is obvious and there is no operational risk involved to extract this value (other than being able to recognize when a company's stock is selling for below intrinsic value). Mr. Fayard's rather cavalier view of the value of share repurchases for long-term shareholders is perhaps one reason KO has trailed the market over the past few years. As set forth below, based on KO's expected future net cash flows, KO's current share price is demonstrably well below the company's intrinsic value per share. Consequently, I believe that the company should ramp up the amount of its share repurchases from 2013 levels, even if this means that they need to leverage up the balance sheet and/or hold off on a dividend increase for a year or two in order to do so.
Restructuring and Possible Spinoff of North American Bottling Assets
Also on the Q3 2013 earnings call, KO's management discussed the status of the restructuring of the company's North American bottling assets:
Bill Schmitz - Deutsche Bank

Can you just talk about the timing of some of the re-franchising in the U.S., because I think we talked a lot about it earlier in the year and it's kind of hit a lull recently?

Muhtar Kent - Chairman, Chief Executive Officer

Yes, I think it's on target as we have said -- reported previously, we've made very sound and significant and good progress and discussions with some of our existing partners, as well as discussions ongoing with some other prospective partners. So we are on target, if not a little bit ahead, and I think you'll hear more about it in the coming sort of period ahead of this and I will ask Steve just to maybe shed some more light on it.

Steve Cahillane - President, Coca-Cola Americas

Bill, I mean the one thing I would really underscore is we absolutely have not hit a lull. Don't take the absence of public commentary to mean that we are not making very good, very constructive progress. All of our bottling partners, both current and prospective, are extremely excited about this business in the United States, about the opportunities to continue to be franchise partners in the United States, to grow the business in the United States. And we are making a very exciting progress and we will have more to report in the coming months.
Just two months after the above exchange, KO shook up its North American management structure, resulting in the abrupt departure of Mr. Cahillane. Clearly, Mr. Kent's patience with the process, as well as other issues involving the North American business, had been exhausted. When the restructuring was originally announced, management was confident that the process would be successful in creating shareholder value, citing $350 million of synergies over four years and EPS accretion by 2012. Even Warren Buffett endorsed the idea of buying the North American bottlers, as witnessed in the following CNBC interview excerpt from March 2010:
BECKY QUICK: Well, we do want to ask you about another one of your companies, Warren. Coca-Cola came out and surprised a lot of people with this news that it's going to be buying the North American bottling operations. This is different than what they'd been talking about in the past.

BUFFETT: Right.

QUICK: And it follows what Pepsi did about a year ago; in fact, follows very closely what they'd been doing. What do you think about this deal?

BUFFETT: Well, I think on balance I like it. I mean, (Chairman & CEO) Muhtar Kent has done a fabulous job with Coke, and there's a lot of execution problems in doing anything like that. Pepsi will have them and we'll have them at Coke. But with Muhtar, I feel confident in the fact that it will get carried off right now. The bottling business is very different than what they call the concentrate business, which is making the Cola-Cola concentrate, gets turned into syrup, gets turned into Cola-Cola. The bottling business is very capital intensive and has low margins. The concentrate business is not capital intensive and has very wide margins. Literally, Coca-Cola with $5 billion of capital could make $8 or $9 billion pre-tax just from the concentrate business. But the bottling business is an entirely different business. So long-term, I like being in the concentrate business much more than the bottling business. But the bottling business, Coca-Cola has what they call a fountain division that sells direct. They have the bottlers. Any time they get a new product there's a question of how it comes under this contract that originally goes back to 1899. It needed rationalization and this move is a big, big step toward rationalizing it, make it so it's more--it's more friendly to the big box retailers of Walmart or some--Costco or somebody like that. And it--but it will--there will be some real execution time involved in it and over time, you would hope that Coca-Cola would have less money involved in the bottling business, because it's a less attractive business.

QUICK: Obviously, you're a long-term shareholder, but when you say that there are very likely to be some execution steps, some difficulties along the way, maybe some stumbles, how much patience do you have as an investor? You talking about year or two?

BUFFETT: I--well, no, I just say that--whenever you're doing anything this big you better--you have to have a lot of confidence in the management and I have confidence in Muhtar to carry this off.
Nearly four years later, investors rightly expect to begin seeing more of the fruits of these labors. A catalyst for unlocking value for KO would be a spinoff of the North American bottling operations, something that KO's management hinted would occur back in 2010. For anxious investors, the clock is ticking. As Mr. Buffett remarked during KO's 2013 annual meeting - at which he made a surprise guest appearance - complacency is one of the chief dangers facing any company's management:
I like to study failure. We want to see what has caused businesses to go bad, and the biggest thing that kills them is complacency. You want a restlessness, a feeling that somebody's always after you, but you're going to stay ahead.
KO will need to evidence a sense of urgency in completing the bottling restructuring if investors expect to see a meaningful uptick in KO's share price.
What is KO's Intrinsic Value?
It is accepted among value investors that a company's intrinsic value is equal to the discounted value of the cash that can be taken out of that business during its remaining life. Future cash flows for any company can and do change dynamically based on the decisions of management, competition, economic growth and other factors (a given market sector's secular growth or decline, for example), although a strong competitive moat can mitigate the negative effects of many of these factors. If we accept current analyst earnings estimates for KO's 2013, 2014 and 2015 fiscal years of 2.09, 2.23 and 2.38, respectively, as being accurate (for our purposes, GAAP net income will serve as a rough proxy for KO's net cash flows), we can derive the following intrinsic values for KO using a base case, a bull case and a bear case scenario, as set forth below:
Base Case
2016-2021: 8% EPS growth; 2022-2032: 6% EPS growth; 6% discount rate; $6 terminal value; minus 2013 dividend of $1.12 = $50.69 Intrinsic Value
Bear Case
2016-2021: 5% EPS growth; 2022-2032: 3% EPS growth; 8% discount rate; $3 terminal value; minus 2013 dividend of $1.12 = $32.14 Intrinsic Value
Bull Case
2016-2021: 10% EPS growth; 2022-2032: 8% EPS growth; 5% discount rate; $8 terminal value; minus 2013 dividend of $1.12 = $67.30 Intrinsic Value
Based on the foregoing, despite the headwinds enumerated in this article, KO appears to be substantially undervalued just over $40 vis-à-vis both the base case and the midpoint of the bull and bear cases.
Conclusion
KO has a long and distinguished history rewarding its shareholders. According to KO's 2012 proxy statement, $40 invested in the company in 1919, when it became public (representing 1 share at the IPO price), would be worth upwards of $10,000,000 today (assuming all dividends were reinvested), which represents a CAGR of approximately 14%. But, as every investor knows, past performance is not indicative of future results.
Notwithstanding the significant competitive advantages that KO enjoys in its industry (see the 1993 Berkshire Hathaway shareholder letter for a good discussion of these advantages), whether this illustrious track record will continue for even the next 5 to 10 years will depend on the quality of the decision-making of, and execution by, KO's management. If KO begins to implement a more shareholder friendly (i.e., aggressive) repurchase program and evidences clear progress with the completion of the North American bottling restructuring and possible spinoff, I believe that the company's intrinsic value should migrate towards the bull case valuation.
Messrs. Kent and Fayard, the ball is in your court.
Disclosure: I am long KO. I wrote this article myself, and it expresses my own opinions. I am not receiving compensation for it (other than from Seeking Alpha). I have no business relationship with any company whose stock is mentioned in this article.