Microsoft (NASDAQ:MSFT) will report earnings January 23, 2014 after the close. The analyst community sees earnings between $0.56 and $0.80 per share on revenues of between $23.3 and $24.3 billion.
I think Microsoft will post a really good quarter primarily as a result of its successful launch of the Surface 2, Surface 2 Pro and Xbox One devices as well as continued growth in its Cloud based businesses. All segments should show improvement.
My crude model for Microsoft shows revenues of between $24.3 and $25.5 billion and earnings per share of $0.76 to $0.85.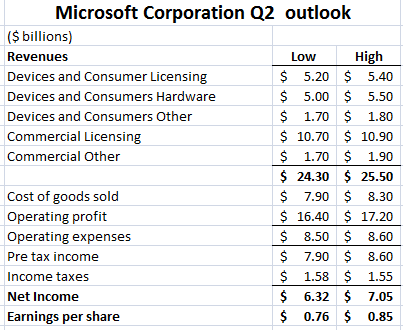 The main contributor to my bullish call is device sales, beginning with the blowout success of the Xbox One product which sold over 2 million units in 18 days following launch - that is an 111,000 per day rate.
I believe Surface 2 and Surface 2 Pro sales were also strong. Microsoft seems to have not only cleared out its original Surface RT and Surface Pro inventory but also sold quite a few of the newer models.
My estimates are sales of:
Surface RT 2,000,000
Surface 2 3,000,000
Surface Pro 1,000,000
Surface Pro 2 1,500,000
Data from Chitika seem consistent with these estimates showing Microsoft's post holiday tablet share increasing from 1.8% to 2.3% of the web traffic in the United States and Canada. Web traffic includes data from all devices in use regardless of when they were sold, so the 2.3% figure reflects 2.3% of total tablets in use in the United States and Canad.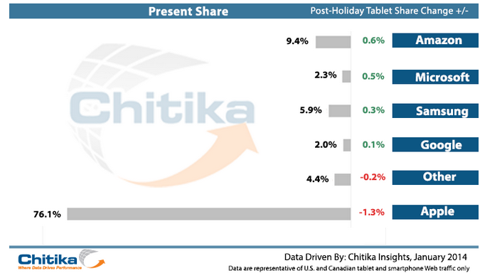 About 99 million tablets were in use in the United States alone in 2013 based on data before Christmas.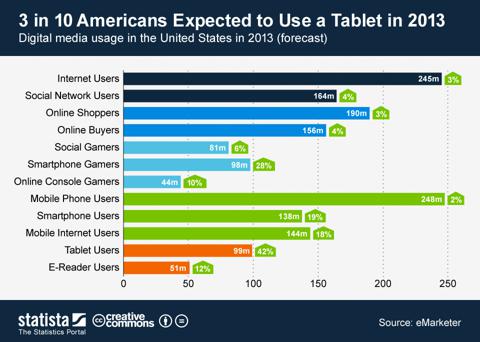 Throw in another 10 million for Canada and Christmas sales of tens of millions and the number of tablets in use in the United States and Canada over Christmas has to be close to 130 million.
Data suggesting iOS tablets create more web traffic per device than Android and presumably Windows tablets are legion, so the 2.3% of web traffic is a lot more than 2.3% of devices in use.
If you assume Windows tablets on average generate about half the traffic generated by an iPad, you come up with about 6 million Surface tablets in use in the United States and Canada, and based on the earlier reporting of Surface sales most of those had have been sold in the Christmas quarter. Of course, the device is sold worldwide so an estimate of 7.5 million for the global market is aggressive but not outrageous. I think it will be confirmed by Microsoft in its release.
The other parts of Microsoft's business remain solid. Commercial licenses, Cloud computing, Office 365 and even Windows OS sales are progressing nicely even if Windows 8.1 lags a bit. Windows phone seems to be getting some traction in Europe in particular.
With the wind at its back, I think Microsoft will surprise to the upside.
I am long MSFT calls and will likely add to that position going into the earnings release.
Disclosure: I am long MSFT. I wrote this article myself, and it expresses my own opinions. I am not receiving compensation for it (other than from Seeking Alpha). I have no business relationship with any company whose stock is mentioned in this article.
Additional disclosure: I hold calls on Microsoft.