If I were an Apple (NASDAQ:AAPL) shareholder, I would be extremely excited and, at the same time, nervous about the company's 2014. Heck, as an Apple fan/enthusiast, I would like nothing better than to see Apple triumph against the many secular headwinds that it faces, smack down Samsung (OTC:SSNLF), and return to fairly powerful free-cash-flow growth. However, as a professional, I can't let my desires as a technology geek and love of a truly great product cloud my investment decisions.
Apple's Last Chance To Really Thwart High End Competition (The Big iPhone)
It's no secret that South Korea's Samsung Electronics (whose sheer scale makes Apple look almost like a puny startup) has been systematically taking over the smartphone market. Don't believe me? Take a look at the most recent smartphone market share numbers: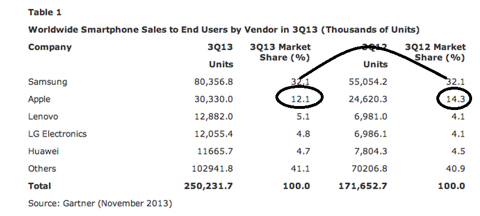 Click to enlarge
This isn't good for Apple. Yes, I know, Apple owns the slower-growing high end, blah blah, but Apple could be doing much better if it captured more of the Samsung Galaxy Note III/Galaxy S4 sales. Remember, the S4 sold 40 million units within a year. This is following claims from many Apple enthusiasts that nobody wants to buy Samsung's S4 because it's a cheap plastic piece of junk (to be fair, I don't think the S4 is a good device, but my opinion doesn't matter here - the sales numbers do). Ditto for the Galaxy Note 3.
Now, I do believe that once Apple does release "big" iPhones to compete with the S4 and the Note III type devices, respectively, that we will see the true "test" and Apple's long term picture will be clear.
What Are You Talking About, Apple Hater?
I'm going to preempt the likely 100 comments that will claim that I'm an "Apple hater" by clarifying that I'm not one, but I do believe that when Apple releases the "big" iPhone(s), we will see precisely one of two things happen:
A massive market share shift away from Samsung at the high end towards Apple, driving a series of revenue/profit beats and leading to a SIGNIFICANT upward repricing ($700+)
The market yawns and only customers that were already going to buy Apple anyway will buy Apple. The stock remains stuck in a range at best (and could decline substantially if Tim Cook actually succumbs to Carl Icahn's proposals).
From a personal perspective, I would tend to bet that Apple will win back a good amount of the share that it lost to the S4/Note III and other "phablet" type devices. Consumers generally like Apple's ecosystem and I would wager good money that none of Apple's competitors will have an industrial design that is quite as good as what Apple ends up putting out. Oh, and the A8 chip should be damn impressive.
Samsung Is Still Vicious
That all being said, Samsung is a particularly vicious competitor, and it will spend the marketing dollars necessary to try to "win" this battle. You can also bet that they'll shamelessly copy anything that Apple does, meaning that Apple's "advantages" will be pretty short lived. It will need to stay one (or more, preferably) steps ahead of Samsung if it is to continue to command the profits that it currently does. Also, remember that Samsung sources DRAM, displays, and apps processors in-house, giving it a real cost structure advantage over design-house-only Apple.
Conclusion
Watch the next iPhone product cycle very closely. If Apple shows that it can wrestle back meaningful amounts of market share back from Samsung's S5/Note IV (or whatever they're called at the time), then Apple's high end story is secure, under lock-and-key, and the shares will probably be trading well north of $650-$700.
If not, then I really wouldn't want to be long the stock. Dead money at best, set to crater (in the case of Icahn destroying Apple's balance sheet) at worst.
Disclosure: I have no positions in any stocks mentioned, and no plans to initiate any positions within the next 72 hours. I wrote this article myself, and it expresses my own opinions. I am not receiving compensation for it (other than from Seeking Alpha). I have no business relationship with any company whose stock is mentioned in this article.