Salesforce.com (NYSE:CRM) is a high-growth cloud computing company and has been ranked by Forbes as the world's most innovative company with 12-month sales growth rate surpassing the 30% mark. Salesforce.com is a darling in the investor community: High growth rates, an extensive acquisitions record and the sexy business segment cloud computing have led to a premium valuation similar to the valuations witnessed during the dotcom years. However, I believe such multiples reflect extraordinary risk for investors particularly when considering Salesforce.com's negative earnings record and projections.
Shares of Salesforce.com have risen 30% over the last twelve month. The company has the second best peer group performance after Adobe Systems (NASDAQ:ADBE) which gained 56%.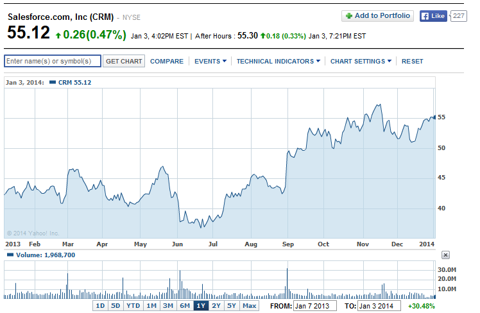 High revenue- and operating cash flow growth have led Salesforce.com's shares gradually higher over the last two years. Salesforce.com gained 118% while Oracle (NASDAQ:ORCL) returned 40%, SAP (NYSE:SAP) 56% and Adobe Systems 106%.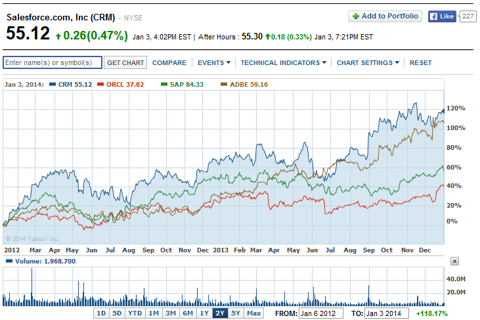 Free cash flow multiple
Salesforce.com has had some decent operating cash flow growth over the last years (see table below). Salesforce.com has achieved OCF growth way north of 20% per annum and I expect those rates to persist at least in 2014 and 2015. I estimate that Salesforce.com manages to achieve $1.2 billion in operating cash flow in 2015 (that is, the financial year ending January 2015). With investing cash outflows normalizing and returning to historical levels, I estimate that Salesforce.com achieves a meaningful turnaround in free cash flow to equity to $333.5 million or $0.56 FCFE per share. This translates to an approximately 1% free cash flow yield and a still massively inflated forward P/FCFE multiple of 98.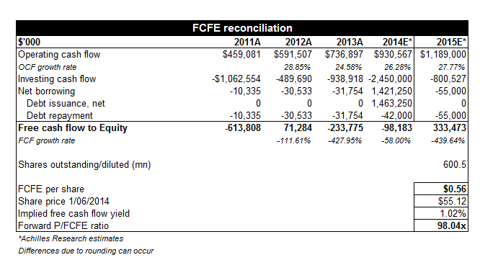 Peer group comparison
The free cash flow valuation from above, which implies quite optimistic assumptions about FCFE growth, indicates that the company trades at extreme cash flow multiples. Not surprisingly, Salesforce.com's forward P/E ratio is just as high. With a P/E ratio of 110.24 Salesforce.com's investors have to shell out a massive growth premium upfront. Other companies such as Oracle, SAP and Adobe Systems trade at meaningfully lower earnings and sales multiples.
The next two charts display the forward P/E and P/S ratios for the peer group as well as the peer group average including and excluding the distorting metrics for Salesforce.com.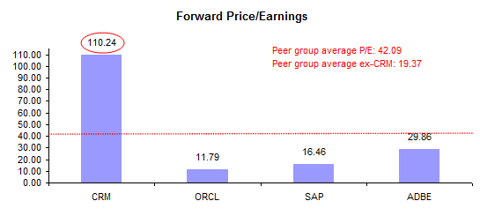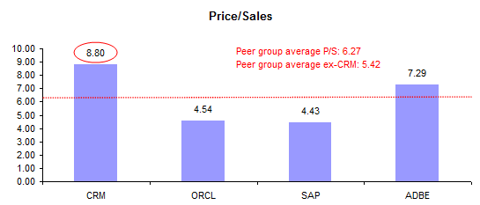 A summary table with valuation metrics as well as Salesforce.com's extraordinary premiums to peer group average P/E and P/S ratios are shown below:

Summary
Investors purchasing Salesforce.com pay a massive upfront growth premium that makes a purchase extraordinarily risky. The free cash flow to equity projections from above indicate that Salesforce.com trades at a massive 98 times forward free cash flow to equity even though the projected turnaround in free cash flow is quite optimistic. The forward P/E ratio of Salesforce.com stands at 110 which shows that investors are overly willing to pay a growth premium. With an earnings and cash flow multiple of around 100, Salesforce.com is in good company with Amazon (NASDAQ:AMZN) and Netflix (NASDAQ:NFLX) which also trade at similar multiples (and also have negative earnings records). Growth expectations are already so high, that the company will disappoint at some point and realign investor expectations with reality. Salesforce.com is among a set of much hyped, high-growth companies that trade at extreme multiples but aren't convincing on the earnings front: Salesforce.com's 2013 nine month net loss came in at $0.19 per diluted share. FY 2012 and 2013 (financial year ending January 2012 and January 2013) also produced negative earnings of $0.09 and $1.92 per diluted share. Investors should stay away.
Disclosure: I am short AMZN. I wrote this article myself, and it expresses my own opinions. I am not receiving compensation for it (other than from Seeking Alpha). I have no business relationship with any company whose stock is mentioned in this article.