Nvidia (NASDAQ:NVDA) is a tale of two businesses; one highly profitable and one not profitable at all. First let's look at the GPU business.
GPU Business
In the latest quarter operating margin for the GPU business was 32.7%. It consists of four primary product lines, including GeForce for desktop and notebook PCs and Macs; Quadro for professional workstations; Tesla for high-performance servers and workstations; and NVIDIA GRID for server graphics solutions. It also includes other related products, licenses and revenue supporting the GPU business, such as memory products.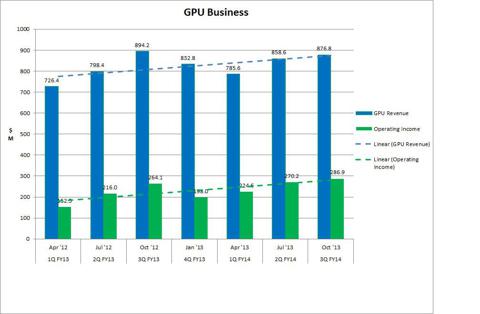 Of course we all missed when Nvidia broke out the Professional Business Solutions Business (Quadro and Tesla) from the Geforce desktop and notebook PCs. Tantalizing hints were dropped like at the UBS Global Technology Conference this November where the VP of Investor Relation's presentation included a slide (page 6) comparing the 1st 3 quarters of this year to the first 3 quarters of last year; Quadro was up 12%, Telsa was up 43%, Gaming GPUs was up 6%, and OEM GPUs were down 8%. But what I am really after is the revenue of non-gaming OEM discrete GPUs because let's face it, Intel (NASDAQ:INTC) graphics is good enough now to eliminate this revenue stream for Nvidia over the next few years. The margins are lower in the OEM GPU business, but it still amounts to significant revenue.
In calendar 2012, Nvidia reported the Quadro and Tesla businesses in the Professional Services Business. For the first 3 quarters the PSB business unit generated $630M in revenue with the majority being Quadro.
Specifically what does Nvidia consider as GPU Gaming Revenue? Thankfully Nvidia's CFO gave us a ballpark figure in this statement at the Q3 conference Call.
Deutsche Bank Securities
"And can you give any color on within the GPU segment what percent you talk about is gaming? I think you said that overall is up about 6% year-to-date, year-over-year which is impressive growth but just to give us an idea of how much of your GPU segment that represents?"
Colette Kress - Chief Financial Officer
"It represents about 400 give or take on the individual quarter, our overall gaming segment."
Now we have all the data we need to get an estimate of Nvidia's OEM GPU revenue by product line in 2013.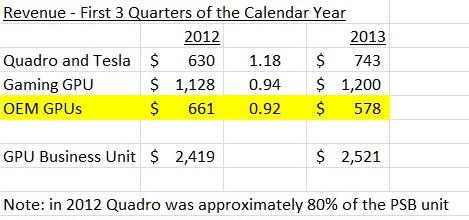 Thus, approximately $192M in revenue per quarter from Non-Gaming OEM GPU sales will probably bleed off over the next few years due to Intel's improving integrated graphics on their CPUs.
Nvidia does have two exciting new business applications for their high margin professional GPUs. The first is Nvidia Grid which puts the GPU boards in the data center allowing graphics intensive applications to be streamed to any device anywhere utilizing Citrix (NASDAQ:CTXS) XenDesktop, VMware Inc. (NYSE:VMW) Horizon View, and Microsoft (NASDAQ:MSFT) Remote FX virtualization solutions. It's currently be supported by all the leading server companies. Amazon (NASDAQ:AMZN) Webservices or AWS has adopted the technology. And last but not least several cloud gaming services have adopted the technology too.
The 2nd new business opportunity is the Big Data Collaboration with IBM
"DENVER, CO - SC13 - NVIDIA and IBM (NYSE: IBM) today announced plans to collaborate on GPU-accelerated versions of IBM's wide portfolio of enterprise software applications on IBM Power Systems.
The move marks the first time that GPU accelerator technology will move beyond the realm of supercomputing and into the heart of enterprise-scale data centers. The collaboration aims to enable IBM customers to more rapidly process, secure and analyze massive volumes of streaming data.
"Companies are looking for new and more efficient ways to drive business value from Big Data and analytics," said Tom Rosamilia, senior vice president, IBM Systems & Technology Group and Integrated Supply Chain. "The combination of IBM and NVIDIA processor technologies can provide clients with an advanced and efficient foundation to achieve this goal."
How big these new businesses become is too early to tell, but both do have the potential to replace the low margin OEM GPU revenue and then some. According to Nvidia the TAM for Nvidia Grid is $5B and for Tesla is $3B.
In the standalone workstation market Nvidia recently lost the Apple Mac Pro GPU slot to Advanced Micro Devices (NYSE:AMD) which is a real negative.
Tegra Processor Business
In the latest quarter the Tegra Processor Business reported a negative operating margin of 119.4%. Tegra Processor business comprises product lines primarily based on Tegra system-on-a-chip and modem processor technologies. This includes Tegra for smartphones and tablets for both Android and Windows RT-based devices; automotive computers, including infotainment and navigation systems; and gaming devices such as SHIELD. It also includes other related products, licenses, and revenue supporting the Tegra Processor business such as Icera baseband processors and RF transceivers, embedded products, and licenses and other revenue associated with game consoles.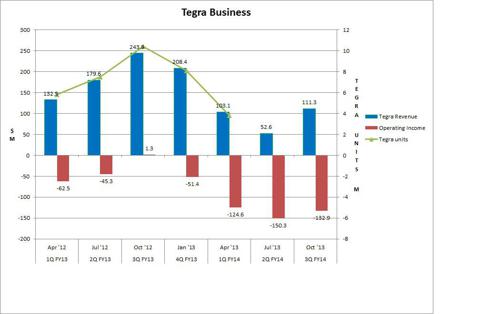 Since breaking even in the 3Q of 2012, Sales have fallen dramatically. Time and again we have heard about the fact that Tegra 4 was delayed in bringing forward Tegra 4i with integrated Icera baseband processor and Tegra 5 with low power Kepler graphics. Perhaps these were the right decisions, but only time and market acceptance of Tegra 4i and Tegra 5 over the next two quarters will tell. One positive development has been the adoption of Tegra processor modules for infotainment and navigation, digital instrument clusters, driver assistance, and rear seat entertainment by the Auto industry. In the 3rd quarter of this year 25% of Tegra sales went into autos which equates to over a $100M per year run rate. Nvidia has stated that they have a $1B to $2B backlog and expect a $450M per year runrate by 2016. This is an excellent business with long design in times and nut long term contracts. In the last conference call the CEO stated that the margins are better for Tegra in automobile than Tegra in smartphones and tablets.
One other potential catalyst is Nvidia's new licensing initiative. Back in June of 2013 they announced they were pursuing licensing their graphics IP. No announced customers so far. Linked is an excellent article on the reasons and potential of this by Jack Gold in Venturebeat.
Although it is old news I believe it is worth repeating. Lacking major design wins for Tegra 4 in tablets other than Microsoft's Surface 2 tablet, Nvidia has taken a page out of their Gaming GPU add in board go to market strategy and launched the Tegra note 7 reference design tablet with multiple GPU board partners worldwide along with a department store chain in Great Britain and a local Chinese white tablet manufacturer. Following sales on various on-line sites such as Newegg and Amazon Japan shows they are selling and selling out frequently, but just how big the production runs are is impossible to tell? HP was a launch partner with their Slate 7 Extreme which is a rebadged Tegra Note 7. After selling out the initial batch, it appears they have been out of stock since then. I am leaning toward these are small production runs.
Nvidia did get one big design win in smartphones in 2013 from the hit Chinese phone maker Xiaomi MI3 which is selling well.
Nvidia also launched a portable gaming console last year which met with critical acclaim, but sales volumes have been small. Nvidia has consistently downplayed this device. It looks more like a vehicle to showcase each new Tegra processor generation and build brand loyalty for Nvidia GTX650 and above Gamer GPUs through PC streaming from your PC to your handheld device. They have also set up a free Beta Cloud Gaming service for Nvidia Shield owners. Of course your internet speed and distance from the server in San Jose affects the experience.
Intel Royalty
Nvidia's Intel Licensing agreement runs thru 2016. This currently generates $66M a quarter in revenue and pre-tax profit. It is by no means certain that Intel will extend or resign the agreement even at a lower royalty rate. The current agreement gives Intel the right to use any Nvidia graphic patents filed before the end of the agreement for the life of the patents.
Cash, Dividend, Note Offering, and Stock Buyback
At the end of Q3 Nvidia had $3.03B in cash or $5.34 per share and pays a quarterly dividend of 8.5 cents or 2.2% at Friday's closing price of $15.67 (Data from Yahoo Finance).
On 11/25 and 11/26 Nvidia issued $1.5B in 5 year Convertable Notes paying 1% interest. The convert price is $20.16. Nvidia used $108M of the proceeds to purchase options hedging any dilutions of shares up to the warrant price sold at $27.14. Nvidia has stated they will use $1B of the proceeds for stock buyback and dividends in fiscal year 2015 beginning February 2014.
Conclusion
Nvidia stock has a lot of puts and takes right now. On the negative side is the Non-Gaming OEM GPU business inevitable decline due to advances in Intel integrated graphics over the next few years. Longer term in 2017 is the potential end of the significant Intel royalty stream. Shorter term is the uncertainty of the viability of the Tegra mobile processor business in smartphones and tablets. Of course Tegra 5 could be a slam dunk winner and Tegra 4i and I500 baseband processors could take off. Nvidia Grid looks quite promising along with Tesla in Big Data applications as well as supercomputing.
The good news is we won't have to wait much longer to know. In the meantime, I intend to keep Nvidia on my watch list but I can't recommend buying the stock right now until I see some traction for Tegra mobile and the new GPU businesses no matter how promising they may look.
Note: I am submitting this article before Nvidia's CES press conference Sunday night. Other S/A writers will do a much better job reporting on those events than I can.
Data from company's earning's releases, 10Qs, 10Ks, and presentations unless otherwise noted.
Disclosure: I have no positions in any stocks mentioned, but may initiate a long position in NVDA, over the next 72 hours. I wrote this article myself, and it expresses my own opinions. I am not receiving compensation for it (other than from Seeking Alpha). I have no business relationship with any company whose stock is mentioned in this article.