As a dividend growth investor always pursuing new opportunities to expand my revenue stream of income-producing stocks, I became intrigued with the insurance sector after reading The Davis Dynasty, written by John Rothchild - an engaging and fascinating biography of three generations of the Davis family, chronicling the family's 50 years of disciplined investing, during which it amassed a $900 million portfolio, with insurance stocks as the core holdings.
Two long-time insurance favorites among dividend growth investors are Aflac (NYSE:AFL) and Chubb (NYSE:CB). I purchased Aflac long before reading the book, but Chubb was always too expensive when I had funds available for investment. Seeking fresh insurance prospects for inclusion in my retirement fund, I examined the most highly recommended companies, settling on three for serious consideration; MetLife (NYSE:MET), The Hanover Insurance Group (NYSE:THG), and The Travelers Companies (NYSE:TRV).
I passed on MetLife pending the decision it may be designated a non-bank, systemically important financial institution, under the Dodd-Frank Act.1 Hanover was attractive, but had enjoyed a steep run-up in price, so for now it resides in my watch list. Travelers had gained 24% the past year, yet the PE remained reasonable relative to historic levels that I recently initiated a small position.
Corporate Profile
The Travelers Companies, Inc. is a leading provider of property casualty insurance for auto, home and business. The company's diverse business lines offer its global customers a wide range of coverage sold primarily through independent agents and brokers. A component of the Dow Jones Industrial Average, Travelers has more than 30,000 employees and operations in the United States and selected international markets. The company generated revenues of approximately $26 billion in 2012. (Source: TRV's web site)
Foremost from a company I am investing in for my retirement fund I seek a sustainable business. Travelers was founded in 1864, insuring travelers against loss of life and personal injury journeying by railway or steamboat. From that modest start, nearly 150 years ago, it endured every imaginable catastrophic event to grow into one of the largest property-casualty insurers in the U.S. In June 2009, it replaced Citigroup in the Dow Index, which quite ironically Travelers was spun off from in 2002. Having achieved the status of a Dow component, it easily meets my sustainable business requirement.
Extraordinary Share Repurchases Help Support 30% Growth in EPS
What leaps off the page when reading the 2012 Annual Report, is the massive share buyback program that began 7 years ago. Share repurchases have reduced the float about 48%, from 716.7 million shares in 2006, to 372.9 million at the close of the September quarter. On October 22, Travelers announced it is committing an additional $5 billion to this ongoing effort. Coupled with the $750 million remaining from the previous buyback fund, Travelers has $5.75 billion dedicated to repurchasing its stock. At current market price that is enough cash to retire 64 million shares, potentially reducing the float another 17%.
Earnings per share ("EPS") have enjoyed a positive surge, resulting from that 48% reduction in the share float. In 2007 with operating profits of $6.2 billion, EPS were $6.85. Analysts project EPS in 2013 to be about $8.91, on operating profits of less than $4 billion. The continuously shrinking share count helped drive the 30% growth in EPS, despite more than $2 billion less in earnings.
More normalized interest rates offer a second catalyst for improving EPS. All insurance companies are reliant on investments from fixed income. Artificially low rates are crimping operating profits at Travelers. As interest rates eventually recover, growth in EPS should expand even more, compounded by the declining share base.
Bolstering the Positive Outlook Going Forward
In spite of low interest rates, I'm not in the bear camp that believes profits will remain sluggish or even trend lower. Reviewing the 3rd quarter results, my optimism abounds considering these highlights.
Net income up 4% from prior year quarter
Record quarterly operating income per diluted share, up 6% from prior year quarter
Return on Equity and Operating Return on Equity of 13.9% and 15.2%, respectively
Strong Net income of $864 million and Operating income of $883 million consistent with prior year quarter
Continued improvement in underlying underwriting margins
Total capital returned to shareholders of $985 million, including $800 million in share repurchases
Written rate gains continued to exceed expected loss cost trends in all segments
Increase in book value per share of 1% and adjusted book value per share of 8%
The increase in book value per share continues an impressive trend CEO and Chairman, Jay S. Fishman, discusses in his 2012 Letter to Shareholders.
In the eight-year period between Dec. 31, 2004 (the year of the Travelers-St. Paul merger), and Dec. 31, 2012, Travelers increased its book value per common share ("BVPS") from $31.35 to $67.31, which represents a compound annual growth rate ("CAGR") of 10.0 percent.
Double-Digit Dividend Growth over the Past 9 Years
Travelers has paid uninterrupted cash dividends for 141 consecutive years. As a dividend growth investor, seeking to build a perpetual revenue stream from consistently rising dividend distributions, a solid track record of proven dividend growth is paramount. Since 2004, dividends have increased an average of 13.4% per year. From the $0.87/share paid in 2004, to the $2.00/year presently, offering a current 2.2% yield.
Equally important to actual dividends is a company's dividend payout ratio. Payout ratio is calculated by dividing the yearly dividends by net income, expressed as a percentage. The lower that percentage the wider the margin of safety for continued dividend growth. This is especially important in the property-casualty insurance industry that can suffer multiple weak quarters, or even an entire year of losses, brought upon by natural disasters.
Despite a one-time spike to 47% in 2011, Travelers' payout ratio has averaged just 24.5% over the last 10 years. That percentage is well below many stalwart dividend growth stocks, providing ample room for continued growth in dividend distributions, especially with the shrinking share count.
Risks Must Always be Weighed, and Most Especially When 'Managing Risk' is the Core Business
My low tolerance for risk is why I focus my investments on dividend growth stocks. However, as attractive as a company's dividend growth appears to be, it is imperative to recognize what can put those dividend distributions at risk. Insurance companies do fail, with the property-casualty sector particularly exposed, considering it is at the mercy of Mother Nature.
While natural disasters like Hurricane Sandy, and the wild fires in the western U.S. provide opportunities to raise rates after such catastrophic events, short term they squeeze margins, strain profits and burn through cash reserves. According to the Insurance Information Institute, costs from catastrophic losses in the U.S. property-casualty industry have increased dramatically over the last 50 years. Measured as a percentage of underwriting premiums, they have risen from a meager 1% in the 1960s-1980s to more than 7% so far in this decade. That is a seven-fold jump in costs.
The property-casualty insurance business is also highly competitive, interest rate sensitive, and subject to severe government regulation. All those factors render it vulnerable to rate cuts, loss of market share, diminishing returns on investment portfolios, and declining profits.
Finally, the insurance sector overall has enjoyed impressive stock price gains the past year. Many analysts are forecasting lower margins, and limited expansion in PE multiples from present levels.
The View from F.A.S.T. Graphs™ 2004 - 2013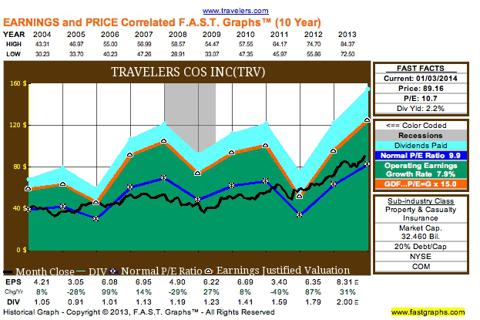 Click to enlarge
The stock price (black line) is trending below its earnings justified valuation (orange line), and just slightly above its historical 9.9 PE (blue line). If the earnings estimate of $8.91/share is realistic, then it is selling at a fair price. With EPS tracking sharply north, I will add to my position at these levels, pending the availability of funds.
Disclaimer
Always perform your own due diligence, and respect that my enthusiasm for a dividend growth investment may not be suitable for your portfolio.
1 A non-bank systemically important financial institution is a regulatory designation placing a company under the supervision of the Federal Reserve. It carries with it considerable capital and liquidity reserve requirements, (similar to a bank), that may restrict the ability to offer guarantees, raise the cost of conducting business, and mandate reduced risk-taking.
Disclosure: I am long TRV. I wrote this article myself, and it expresses my own opinions. I am not receiving compensation for it. I have no business relationship with any company whose stock is mentioned in this article.