Introduction
Advanced Micro Devices (NYSE:AMD) is a semiconductor company that develops computer processors (CPU), graphics processors (GPU) and other products for servers, workstations and personal computers. Their stock price has produced a volatile history with prices as high as $40 in 2006 down to a low of $1.81 in November of 2012. Many believe in AMD's turnaround as it is backed by many recent design wins along with their success in reducing spending while increasing revenues. Should AMD succeed, they are bound to beat expectations eventually and in this article I will discuss three reasons that show a strong potential for greater than projected earnings for the fourth quarter and fiscal year of 2013.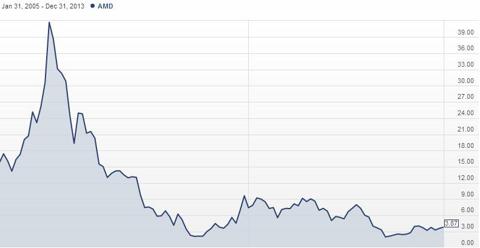 AMD has been on a winning streak lately with a strong launch of new gaming consoles from Microsoft (NASDAQ:MSFT) and Sony (NYSE:SNE), a successful refresh of consumer graphics cards and two slots in the new release of Apple's (NASDAQ:AAPL) Mac Pro featuring two of AMD's professional Radeon graphics cards per unit. In the long run this is just the tip of the iceberg but these recent advantages are three factors that will be included in their next earnings conference call on January 21st and strongly support the idea of a strong beat on estimates and projections.
1. Extreme Demand For New Consoles
The affordable and efficient performance offered by AMD's unique Accelerated Processor Unit (NYSE:APU) gave them the opportunity to be both the CPU and GPU for the new Playstation 4 and Xbox One consoles. The custom "Jaguar" named APU includes an 8-core x86-64 bit processor by AMD plus their Radeon graphics on the same die. This design is cheaper and allowed Sony and Microsoft to release their consoles at a very attractive $399 and $499 which was ideal for their success.
Both consoles are selling at remarkable speeds with online and retail store appearances lasting only minutes. Within 24 hours of their launch, both the PS4 and Xbox sold one million units and in two weeks the PS4 sold 2.1 million with Microsoft achieving 2 million in 18 days. Amazon (NASDAQ:AMZN) reported that each console was selling at 1,000 units per minute during its peak for the holiday season and Sony disclosed that a large shipment of 12,000 units to Amazon lasted less than 30 minutes. With heavily inflated prices still present on Ebay and Craigslist, it is obvious that an extreme demand is present and those figures were limited by supply. In spite of the war between Sony and Microsoft, each sale is a win for AMD and with a greater than expected popularity, it can be suggested that the high ongoing demand will contribute to strong earnings and potentially a beat in their upcoming earnings announcement.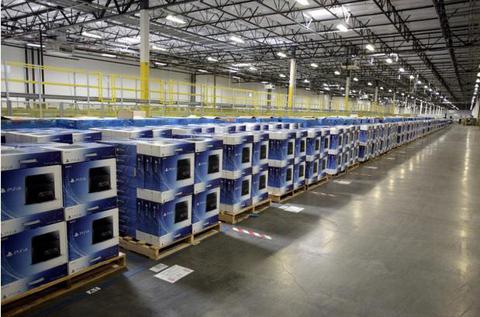 2. Unforeseen demand for new graphics cards
Next we have the recent release of the "Hawaii" named GPU consumer graphics cards that have been extremely popular from both gamers and crypto-currency miners. Most of these graphics cards are sold out to a point that have caused inflated prices. AMD released these new cards over a two-month period and had everyone on their toes when they promised a new graphics card king for gaming at an affordable price. This meant defeating Nvidia's (NASDAQ:NVDA) leading GTX Titan graphics card that was priced at $1000. AMD was successful by releasing the R9 290X and shocked the industry by offering an equal performance while being priced at $549, nearly half of Nvidia's Titan.
Nvidia was forced to drop prices on their entire lineup to compete in the price war but also added the GTX 780Ti, their new performance king. While the GTX 780Ti reclaimed the throne by offering the best performance, it came at a hefty $700. AMD unexpectedly struck one last time and did what they do best by offering the best performance per dollar on the market. This was the R9 290 (non-"x"). It is a more affordable version of the "x" with nearly 90% the performance but priced at an astonishing $399. Below is a benchmark by Tech of Tomorrow showing the performance of these graphics cards using Crisis 3. Performances do vary by game but according to this graph, the GTX 780Ti only offers 6.9 frames per second more on Crisis 3 (1080p) than the R9 290 for an unpleasant $300 more. This made AMD's R9 290 the best value on the market, giving it the nod from gamers.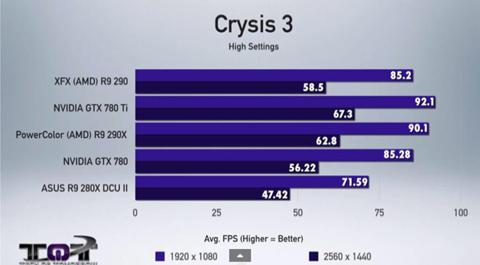 Although these new cards performed well in gaming, crypto currency miners discovered that AMD's new Radeon graphics cards could mine the new rapid-growing digital currencies, BitCoin and LiteCoin, at incredible efficiency. This meant real money profits for miners and led to individuals buying AMD graphics cards at literally truckloads causing major shortages. With such a heavy demand from both gamers and crypto currency miners, AMD's new graphics cards experienced an unforeseen surge in sales. This kind of demand causes ramps in productions and will certainly reflect positively in their upcoming earnings release.
3. Apple's New Mac Pro Sells Out
Finally, for this quarter we have the addition of AMD producing two professional Radeon graphics cards for each new Mac Pro by Apple. This Mac Pro features an all new innovative design that is unique, compact, powerful, and thanks to AMD also good value. AMD's spot in the Mac Pro was a win for Apple, AMD, and consumers. Purchasing workstation graphics cards separately by AMD would costs thousands of dollars more and with the new Mac Pro, consumers are getting these graphics cards for approximately $750 each. This is expected to add an estimated average of $500 in revenue per card, or $1000 per Mac Pro for AMD. Although AMD may have bent over a bit to get this deal, it was necessary due to their tiny market share in professional graphics compared to Nvidia.
The new Mac Pro has been very popular with all pre-orders for the first shipment sold out after just two days. The next available shipment isn't until February and we can expect its popularity to continue throughout 2014. Analyst Gene Munster predicts that Apple will sell 1.1 million Mac Pros for 2014 and although this may only contribute to less than 1% of Apple's sales for the year, this could be a significant boost of $1.1 billion in revenue for AMD. With the Mac Pro being included into AMD's earnings for Q4 2013, we can easily expect good news for their conference call later this month.
Conclusion
In spite of falling CPU revenues from a suffering PC market, these new additions to AMD's revenue will not only make up for these losses but also bring growth to their future. We have already witnessed last quarter that AMD can be profitable in a falling PC market thanks to the next gen consoles and now we have an even broader source of income that will contribute to their success in both the near and distant future. Many AMD longs have been playing the waiting game and have battled losses from recent earnings but I believe that these three developments will give AMD a very high probability of beating estimates for the fourth quarter and fiscal year of 2013.
Disclosure: I am long AMD. I wrote this article myself, and it expresses my own opinions. I am not receiving compensation for it (other than from Seeking Alpha). I have no business relationship with any company whose stock is mentioned in this article.