Shares of Priceline.com (NASDAQ:PCLN) continued to mark new 52-week Highs throughout much of November and December 2013 as Goldman Sachs (NYSE:GS) added the travel website company to its Conviction Buy List in late November 2013. Goldman Sachs issued a share price target of $1,500 based on recovering European sentiment, mobile traffic growth and economies of scale. Priceline.com has meaningfully gained in value over the last few years and analysts usually don't want to stop the party and issue ever increasing target prices. In any case, I believe the company has an intrinsic value of around $999 per share and therefore appears to be overvalued.
Share performance
Priceline.com produced a great return for shareholders over the last year: Shares of the commercial website ran up 72% higher while volatility was kept pretty much in check.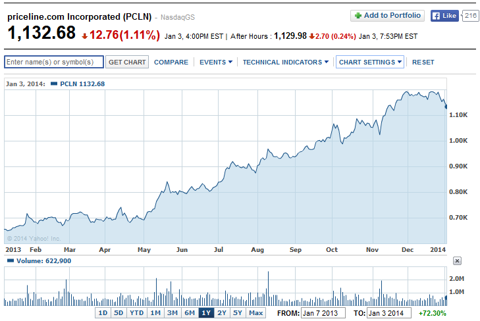 Click to enlarge
Compared to other travel purchase websites, Priceline.com did comparatively well with a gain of 136% over a two-year measurement period while Expedia (NASDAQ:EXPE) returned 137% and Orbitz Worldwide (NYSE:OWW) 85%.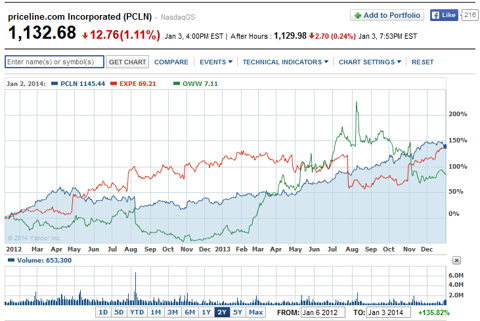 Click to enlarge
Free cash flow valuation
The table below summarizes Priceline.com's historical operating-, investing- and free cash flows to equity from 2010-2012 and incorporates my cash flow estimates for FY 2013 and FY 2014.
Priceline.com's operating cash flow has increased by growth rates of 73% and 33% over the last two full financial years and my model similarly assumes double-digit growth rates although they are declining over time (same assumption for FCFE growth rates). As a result, I estimate that Priceline.com could achieve about $48 per share in FCFE in 2014 which translates into an initial free cash flow yield of 4.24% and an implied forward P/FCFE ratio of 23.60.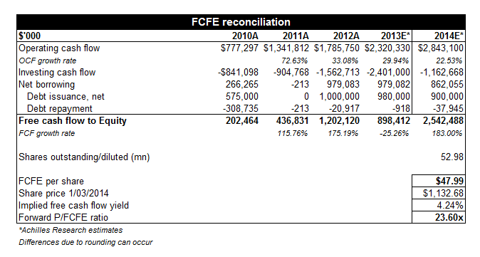 Click to enlarge
Applying a discounted free cash flow model (assumptions: 10% equity cost of capital, 5% terminal growth rate), Priceline.com's intrinsic value comes out at $999 per share. With shares currently trading at $1,132.68 the model implies about 12% downside potential and indicates that shares of Priceline.com are slightly overvalued at the moment.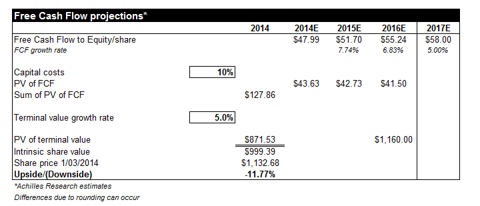 Click to enlarge
Market valuation
Bringing in a market-based valuation dimension, Priceline.com trades at a forward earnings multiple of 22.25 which is about the same as the free cash flow multiple from above. Expedia, with the same two-year share performance, trades at 18.57x forward earnings and Orbitz Worldwide at nearly 27x.
The two following charts compare Priceline.com's P/E and P/S ratio to those of Expedia and Orbitz Worldwide and the respective peer group averages.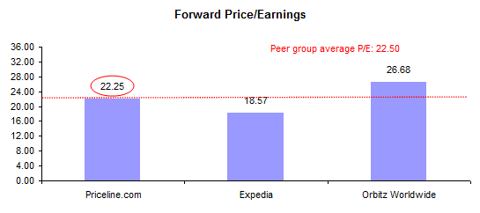 Click to enlarge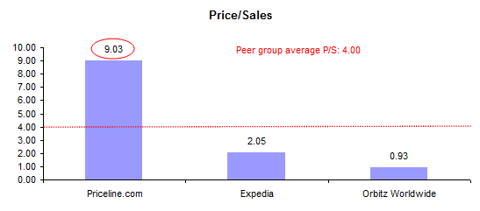 Click to enlarge
The table below summarizes the valuation metrics for travel purchase websites and the discount/premium to the respective peer group average.

Click to enlarge
Conclusion
Priceline.com is a fast growing company which has carved out a niche for itself based on its price bidding business model and the share price has been doing extraordinarily well over the last two years. However, Priceline.com is no longer a cheap company. Based on the free cash flow to equity valuation model from above the company currently trades at nearly 24x estimated free cash flow for this year. It also trades at the largest P/S ratio of nine and a P/E ratio of 22.25. The intrinsic value estimate of $999.38 indicates that the company has about 12% downside potential. At those valuation metrics investors are unlikely to get a bargain and an investment in Priceline.com is more of speculative nature.
Disclosure: I have no positions in any stocks mentioned, and no plans to initiate any positions within the next 72 hours. I wrote this article myself, and it expresses my own opinions. I am not receiving compensation for it (other than from Seeking Alpha). I have no business relationship with any company whose stock is mentioned in this article.