It's been a while since Chinese solar manufacturers have been challenging First Solar's (NASDAQ:FSLR) low-cost advantage of its cadmium telluride, or CdTe, solar products, which ultimately help provide lower-priced solar panels. The fall in polysilicon prices (basic raw material for silicon panels) has reduced costs for Chinese manufacturers while supply-demand imbalance has closed the price gap as well.
First Solar has worked hard to sustain its advantage over Chinese silicon-based panel manufacturers. Reducing cost has helped the company ease margin pressure and maintain profitability when Chinese manufacturers were posting negative bottom lines. The company has taken bold initiatives towards reducing the manufacturing cost of its panels through its cost-reduction program highlighted on the analyst day.
In the recent quarter First Solar achieved its biggest quarterly cost reduction in the past six years by reducing manufacturing costs 12% quarter over quarter to $0.59 per watt, while its core module manufacturing cost (which excludes break, recycling, and warranty charges) stood at $0.49 per watt. In comparison, even the biggest monocrystalline silicon manufacturer based in China, Yingli Green Energy (NYSE:YGE), had an average manufacturing cost of $0.53 per watt during the third quarter of 2013. Yingli's manufacturing cost reduction resulted from manufacturing process innovations and improvement in cell efficiency. In addition, the fall in basic raw material (polysilicon) prices also helped cut costs.
Apart from cost leadership, First Solar has been matching the module efficiency of silicon panels. As of the third quarter, First Solar's lead production line had touched efficiency of 13.9%, while the company expects to replicate this conversion efficiency across its other production lines as well over the next few quarters. Since acquiring GE's high-efficient CdTe technology, First Solar has continuously improved its conversion efficiency and expects that it will end 2015 with module efficiency of 15.1% to 16.2%. The following is the roadmap for 2015 laid out during the annual analyst meeting of 2013.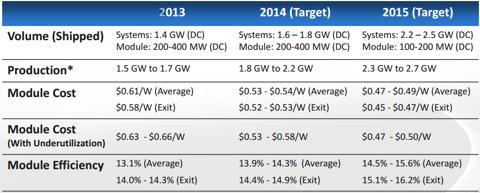 Source: Company Presentation
Cost and conversion efficiency is key to First Solar's component segment business. Also, polysilicon prices have stabilized and basic raw material prices for the silicon module are expected to increase by 25% in 2014. The fall in polysilicon prices played a major role in cost reduction among Chinese solar panel manufacturers and therefore stabilization will provide no further scope unless there is some manufacturing process improvement. This is a positive for First Solar, as it will help it maintain its cost leadership in the market.
Project business key for 2014
First Solar's system business has been important to the company's top-line growth, while it also helped offset the negative impact of a fall in solar panels due to weak demand. First Solar's system business (project) provides a higher margin than its component business (solar panels), and therefore it is a lucrative one to target in future. For a clearer picture, the following is the margin comparison among the system and component businesses:
| | | | |
| --- | --- | --- | --- |
| Gross margin | 2011 | | 2013 (until third quarter) |
| System | 37.1% | 36.5% | 36.03% |
| Component | 34.3% | 4.7% | 10% |
Source: Sec Filings
As presented from the above table, the component business's margin fell drastically, while the system business's margin was sustained. The fall in its component business was due to the decline in solar panel prices because of weak demand. A strong project book and higher margins make the system business a key growth driver for the company this year. For the first nine months of 2013, First Solar maintained a book-to-bill ratio of more than 1, while for the third quarter this ratio was around 2:1. This denotes the strong project booking during the year. First Solar's project pipeline looks strong, but one project to watch out for this year is the 550-megawatt AC Desert Sunlight project, situated in Chuckwalla Valley, California. The company has initiated the revenue recognition from this project from the third quarter, and with expected closure of revenue recognition pegged for 2014, this project will provide an upside to the company's system business.
Rise in the share of non-U.S. market
First Solar may be the leading player in its domestic U.S. market, but globally it still lags behind other solar-module manufacturers. The company derives 80% of its revenue from the U.S., and therefore it is important to reduce its U.S. dependence and tap opportunities from emerging solar-module markets. Last year, First Solar took a bold step towards increasing its presence in emerging solar-module markets, especially in Japan. Demand for solar panels in Japan has increased at robust rate due to government initiatives to shift towards clean energy and reduce dependence on nuclear energy. For the third quarter of 2013, Japan's solar-module demand rose 27% quarter over quarter to 2.07 gigawatt, or GW, and the country is on track to become the second biggest solar module market after China.
Japan's solar-module market (especially the residential segment) favors high-efficient panels rather than low-cost, low-efficient solar panels. Thus, First Solar's low-efficient CdTe solar panels might affect the company's growth plans in Japan. To match the efficiency level of other solar-module manufacturers, First Solar acquired TetraSun in April last year. TetraSun is developing solar-cell architecture, which gives efficiencies exceeding 21% (similar to monocrystalline Si cells) with manufacturing costs similar to conventional multi-crystalline silicon solar modules. First Solar has already signed a distribution agreement with Japan's leading distributor of oil and other energy solutions, JX Nippon. Through JX Nippon's distribution channels First Solar will provide high-efficiency TetraSun products through April 2015.
TetraSun's commercial manufacturing put First Solar right in line with well established, high-efficiency solar-module provider SunPower (NASDAQ:SPWR). SunPower has performed well in Japan due to its monocrystalline products, which provide solar-panel efficiency of more than 20%. During the third quarter of 2013, Japan contributed 26% of SunPower's total shipments, thus growing 130% year over year. The company has 10% to 15% share in Japan's residential market. SunPower intends to penetrate this market further through more customization specifically for the Japanese roof-top market.
Conclusion
First Solar's future looks bright, with the company continuously improving in efficiency and cost, and with the acquisition of TetraSun, it can now provide diversified products. In addition, First Solar's strong bookings in 2013 will help sustain the system business's revenue growth this year, while increased market presence in non-U.S. markets will help diversify its geographical mix. Considering First Solar's growth prospects, I recommend buying this stock.
Disclosure: I have no positions in any stocks mentioned, and no plans to initiate any positions within the next 72 hours.
Business relationship disclosure: Fusion Research is a team of equity analysts. This article was written by Rohit Gupta, one of our research analysts. We did not receive compensation for this article (other than from Seeking Alpha), and we have no business relationship with any company whose stock is mentioned in this article