This will be a short, but sweet, note. After viewing the live webcast of NVIDIA's (NASDAQ:NVDA) CES press conference, I came away absolutely shocked at what NVIDIA has managed to bring to the table. Indeed, while I had been a bit uneasy about NVIDIA's decision to delay Tegra 4 in order to speed-up its next generation "Project Logan" (i.e. Tegra K1) SoC, it seems that the move was well worth it.
NVIDIA's Tegra K1 - Does The "K" Stand For Kickass?
At the press conference, NVIDIA unveiled its next generation Tegra K1 system-on-chip. Apparently, it's going to come in two flavors: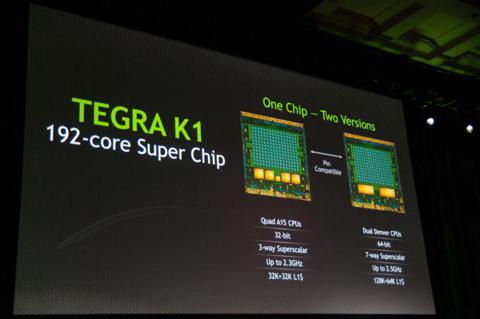 While both flavors come with a 192-core version of its "Kepler" GPU (also known as a single SMX in Kepler-architecture speak), the real surprise was that there will be two iterations. The first will come with the standard quad ARM (NASDAQ:ARMH) Cortex A15 CPUs, but the second version - slated for a second half of 2014 launch - will sport two of NVIDIA's custom designed ARMv8-based "Denver" CPUs.
The neat thing about Denver is that it looks to be a VERY beefy CPU core, in the same vein as what Apple did with its "Cyclone" processor rather than what the traditional mobile SoC vendors have been doing (i.e. wimpier cores). This means very high single threaded performance (which I've argued time and again is most important). This processor core could easily serve - in a multi-core configuration - as the basis for a very high performance server processor or PC processor (if x86 compatibility weren't an issue) considering that it is extremely wide (7-wide, to be precise) and likely very high performance.
The Apple A7 Comparison - Interesting
At the press conference, NVIDIA pointed out that the 192-core GPU block in the Tegra K1 (both variants) is about 3x the performance of the Imagination Technologies (OTCPK:IGNMF) PowerVR G6430 in the Apple A7. While I would like some more detailed performance numbers particularly coupled with precise power measurements, it really does stand to reason that a company like NVIDIA with efficient, high performance GPUs in its DNA would be able to pull this off for a tablet-oriented chip.
At any rate, unless Qualcomm (NASDAQ:QCOM) announces something on top of its Snapdragon 805 that ends up spoiling the party, and unless Intel (NASDAQ:INTC) pulls in its Cherry Trail tablet chip, it seems to me that NVIDIA should have the highest performing GPU in any low-power SoC on the planet for the balance of 2014. After three generations (Tegra 2, 3, and 4) of disappointing graphics performance in mobile from the world leader in graphics technology, this is finally the SoC that rights the ship and shows investors and OEMs what NVIDIA is made of.
I'm Legitimately Thrilled
While I still want to see what Qualcomm and Intel have in store for this year's CES, it's going to be very difficult to top what NVIDIA showed off today at CES. As an NVIDIA long for well over a year now who has heard continued prognostications about the "death" of NVIDIA, I'm gratified that management and the teams seem to have pulled through. All that's left now is the launch of Tegra K1 based tablets - with ARM-designed CPU cores in 1H 2014 and NVIDIA's shiny, super-fast new "Denver" core in 2H 2014.
Disclosure: I am long NVDA, INTC, IGNMF. I wrote this article myself, and it expresses my own opinions. I am not receiving compensation for it (other than from Seeking Alpha). I have no business relationship with any company whose stock is mentioned in this article.