The September, 2013 IHS Global Insight/HIRI Products Market Forecast for 2013 total home improvement product sales were revised upward to $293 billion.
To this amount I add a portion of the construction industry's annual sales of approximately $1.7 trillion reported in 2012, to discover how much physical product is available and traditionally sold by home improvement retailers. Then I subtract an estimated $1.0 trillion for the construction industry's expenditure of labor, equipment rental and overhead to arrive at construction industry's expenditure solely for building material: approximately $700 billion.
The $700 billion construction material sales added to the $293 billion home improvement material sales amount to $993 billion available for sale at retail.
Home Depot (NYSE:HD) and Lowe's (NYSE:LOW) represented (Year end 2012) $125 billion of this total. This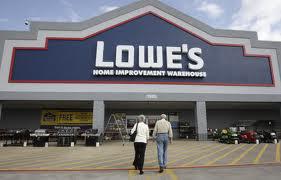 amount represents 12.5% of industry total, an amazingly large portion of the home improvement and the construction industry sales, as it includes tens of thousands of competitors such as hardware stores, wholesale distributors, home improvement centers, lumber yards, carpet and flooring stores, paint stores and many specialty dealers who offer building and home improvement product.
The large portion of industry sales by the two largest vendors shows how effective they are as part of the retailing scene.
Merchandise categories are so complex and data collection so intricate that accurate calculation of building and improvement industry sales are difficult to compile. Both Lowe's and Home Depot sell product that is not offered in the traditional home improvement and construction inventories.
The dollar amount of these items makes sales estimates even more inexact. None-the-less, it is clear to most observers that Home Depot and Lowe's have reigned with increasing sales where others have faltered.
The home improvement and construction industry have shown distinct trends in growth and decline during the past 5 years. The hardware store industry has suffered badly as shown by the 75% sales loss by a large buying group, Ace hardware, which exclusively services many of the country's hardware stores.
Housing starts as shown by new residential construction have declined then grown since 2008 recently reaching a 22.8% rate of annual growth. Home improvement specialty stores have irregularly grown or declined in sales over the last 5 years.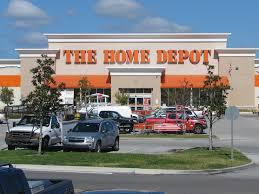 The success of Home Depot and Lowe's, compared against the sales of other retailers, indicates the industry has now matured since our two large retailers' entrance into the retail market place has stabilized.
It is more difficult than in the past for either of our two giants to increase sales by capturing them from small competitors, since much of the less effective competition has been eliminated during recently difficult economic times.
They must seek new and innovative ways of increasing their sales volume or increase it by winning sales from each other.
The home improvement and building industry data are a good basis for predicting the future. The HIRO report estimates that industry sales should increase from 4.3% to 7% in the following years. Logic indicates that sales amounts of Home Depot and Lowe's should follow the inflationary trends.
IBISWORLD, a reporting service is not as confident as HIRO about the home improvement industry's growth prospects. I expect that growth should fall somewhere between the two estimates.
In recent years Home Depot has outperformed Lowe's in sales, profit and gross margin. If we base our preference for investment on the recent past, then Home Depot is the clear winner.
There exists another set of metrics that we may use in making our investment selection. It is potential for growth. Home Depot sells approximately 40% more merchandise than Lowe's.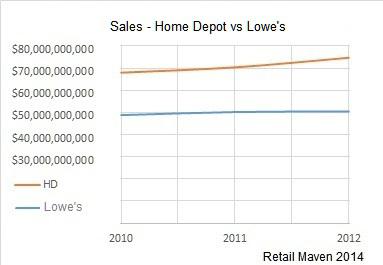 It operates 417 more stores and achieves greater sales per unit area than Lowe's. Lowe's stores are larger, averaging 111,000 sq. ft. versus 104,000 sq. ft. for Home Depot.
If Lowe's can attract innovative management willing to perform large operational changes, it may be possible for them to catch up to The Home Depot in financial productivity. Lowe's operates stores that, I observe, are not fully developed, and have lots of clean, open space to fill with product and to be used as a backdrop for new merchandising ideas.
Home Depot has little reason to open more stores since the retail marketplace has been saturated with their stores. Lowe's still has cause to fill out some portions of the marketplace where it is not represented.
Home Depot is led by Francis Blake, a former GE executive and graduate from Harvard University with a degree in jurisprudence who was the US Deputy Secretary of Energy. He joined Home Depot in 2002 before becoming its CEO and chairman of the board in 2007. The financial performance of Home Depot has recently out-performed its chief competitor, Lowe's, under his leadership.
Lowe's CEO, Robert A. Niblock, has been the Chairman of the Board and Chief Executive Officer of Lowe's Companies Inc. since January 28, 2005 and President since 2011. Mr. Niblock served as the President of Lowe's Companies, Inc. from March 2003 to December 15, 2006. He holds a degree in accounting from the University of North Carolina. He joined Lowe's Companies, Inc. in 1993 and served as its Executive Vice President from 2001 to 2003 and its Chief Financial Officer from 2000 to 2003.
It is notable that neither the CEO of Lowe's nor that of Home Depot has had extensive, hands-on experience in retail operations.
I suggested above that the cause of Lowe's sluggishness may be ascribed to inadequate management performance.
The Lowe's board should examine Lowe's recent decline, considering management's apparent inattention to store level operations, and make changes in its staff that will bring Lowe's back to its path of inventive merchandising.
Anecdotal tales do little to tell of an organization's character, but I am including my astonishing observation, which indicates Lowe's management is committing the extreme retail sin of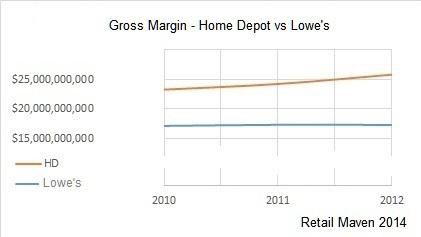 ignoring preservation of its organization's image.
Lowe's has brought in a solar energy contractor, Sungevity, to operate within its stores.
The Sungevity Company is fond of the color orange, so much so that the walls of their offices are painted brightly with it, and their employees are encouraged to wear the color orange to work. Sungevity presents its product in Lowe's stores. The color orange is splashed over its literature, signage and website. When one clicks on the solar energy portion of the Lowe's website one sees the Sungevity logo displayed in a bright orange color.
Orange also happens to be the theme color of Home Depot. It defines Home Depot's character even more than does the Home Depot logo.
This color is so intertwined with Home Depot's image that when I visited a Lowe's store and asked about solar energy installation, I was told by a Lowe's employee, who handed me a bright orange-colored Sungevity flyer, that he thought I should visit the local Home Depot to discover more. I believe that he thought Home Depot was offering their solar energy services within Lowe's stores.
In retail they say, "Someone must mind the shop."
The important position that both of these retailers play in our economy suggests that we should include one or both of them as part of our investment portfolio. Investment history has always shown the investor's attempt to discover best opportunity when presented. My bet is that Home Depot will continue to outperform Lowe's by a large margin.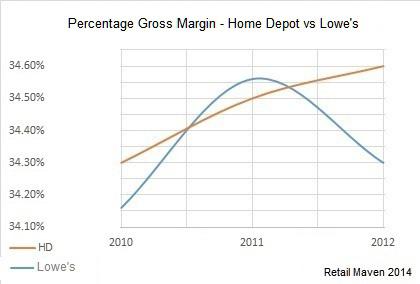 Within the next few years I don't see cause why the large home improvement stores should outperform the market. Lowe's and Home Depot are deeply entrenched in their enviable positions, and should not show any performance surprises.
Lowe's should display moderate growth, and will probably continue its pattern of under-performance when compared to Home Depot.
Home Depot represents an investment that might be included in most investors' portfolios since the home improvement industry represents a large, clear sector of our economy.
Lowe's represents the same sector, but investing with it is questionable because of its recent under-performance.
I question how these organizations have been so successful in the past, and whether Home Depot will follow the decline that has recently occurred at Lowe's.
I also see a large number of operational problems within Home Depot stores that it could be remedied. Its stores are not sufficiently staffed to rapidly obtain assistance, and store display of small parts should be placed on mounted boards so that customers can identify which item that they need. Home Depot's lumber department is strewn with rejected material that customers have picked over. This material is not salable, and gives customers a poor impression of Home Depot's product quality.
Attention and remediation by Home Deport to these and many other small oversights of merchandising techniques will keep it at the forefront of the home improvement industry.
Possibly the success of these two giant entities is a remnant from their past when they, Home Depot and Lowe's, were run by retailers rather than by accountants and lawyers.
Follow my instablog with SA to determine how these predictions progress. My recommendations are listed in chronological order, and will inform you when to exit my recommended positions.
Much of my data has been derived from Home Depot 10-K and Lowe's 10-K reports.
Disclosure: I am long HD. I wrote this article myself, and it expresses my own opinions. I am not receiving compensation for it (other than from Seeking Alpha). I have no business relationship with any company whose stock is mentioned in this article.