GOL Linhas Aereas Inteligentes S.A. (NYSE:GOL), the largest low-cost airline in Latin America, has announced its preliminary traffic figures for February 2010.
During the month, total passenger traffic grew 46.9% over the same period last year, fueled by 47.9% growth in the domestic market and 40.3% growth in the international market. The improvement came from economic growth in Brazil and Latin America, and the expansion of GOL's competitive advantages, especially its cost structure, exemplary service, dynamic fare management and the revitalization of the SMILES program.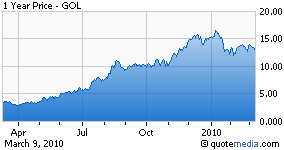 Based on fleet renewal and strong demand, aircraft utilization exceeded 12.5 block hours/day, above the 11 block hours/day recorded in February 2009. These two factors helped increase GOL's cost advantages in its operational markets.
The company's international market saw an increase in demand following adjustments to its international route network. New routes include flights from Brazil to the Caribbean and also to Aruba and Curacao.
New airport stores have been opened, including renovation of airport stores abroad in order to adjust them to GOL's business model and the client profile of the location in question.
GOL remains better positioned to capitalize on the increase of discounted air travel in Brazil and the rest of Latin America, given its strong market share and efficient operations. We expect the company to experience growth in the short-to-medium term given its continued investment in fleet renovation and international agreements.
Moreover, other Latin American and Chinese airline stocks have performed well in 2009. We believe that 2010 may be another profitable year for the airlines industry in emerging markets, provided the overall economy continues to grow. Current estimates for 2010 suggest that growth in emerging markets will be higher than the developed markets.