Micron's (NASDAQ:MU) earnings will be released after the bell on Tuesday, January 7th, but rather than look backward to the quarter about to be reported, I'd like to look forward to five catalysts that will drive bottom line growth in 2014. I'm going to assume that you're already familiar with the change in secular trend that will leave supply constrained indefinitely, as it's been discussed extensively before, and that you're already aware of the skyrocketing demand for SSDs. Today, we'll just consider some lesser-known medium term items.
The Weak Yen
Out of Micron's approximately 560,000 wafers per month, approximately 120,000 are produced by Micron's recent acquisition, Elpida. Much of the production cost for Elpida is paid for with Japanese yen, while the chips and whole wafers are sold to customers like Apple (NASDAQ:AAPL) for US dollars. A weaker yen gives cost savings in production, as has been repeatedly told to us by Micron's Kipp Bedard:
"And then of course the yen depreciating from say roughly 80 yen to the dollar then up to whatever 90 -- high 90s today, we have been pretty public about the effect of that in that 97, 98 yen to the dollar range and one yen move impacts their operating profit by about $5 million to $7 million. If it depreciates, it gets better operating profit. If it appreciates, it is going to lessen that. So, that is a pretty big factor to keep watching going forward."
That quote is from September 3rd. Now, your dollar buys closer to 105 yen, and many analysts see it getting to 110 or higher in 2014 thanks to the actions of the Federal Reserve and the Bank of Japan. If we take the mid-point of $6 million per yen, the 8 yen change in the past 3 months saves around $48 million per quarter. That's 4.4 cents per quarter, per share. A further move to 110 yen to the dollar would mean 7.1 cents per quarter, per share. Not bad. As an added bonus, Elpida's purchase price is denominated in yen and will be paid in annual installments, making the remaining debt decrease as the yen weakens.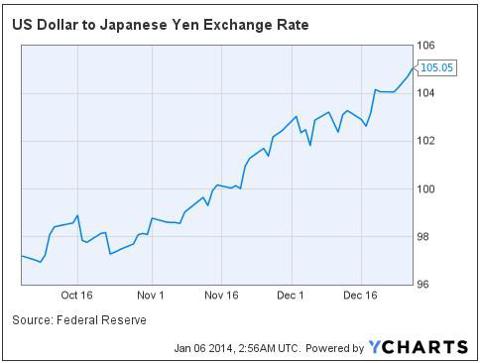 Unique Products
Micron sells the most memory (Samsung (OTC:SSNLF) produces the most, but uses much of it internally) and has the widest product portfolio of any of the memory producers, but more importantly, it is increasingly adding unique, high margin products which are progressively helping it escape the role of commodity producer. These products are mostly centered around the idea that the bottleneck for a memory product is how quickly you can push data through it. The industry has typically tackled this problem with incremental, evolutionary solutions as opposed to revolutionary approaches. Micron is doing both. I mentioned in a previous article the incredible opportunity that the Automata Processor presents, which will derive part of its speed from not having to fetch data so often. While we'll see samples in the upcoming months, we're unlikely to see much in the way of sales in 2014. Micron recently incrementally improved performance of its DDR3 in server and networking applications through a collaboration with Broadcom (BRCM), and that solution is available now. More importantly, Micron will be bringing the Hybrid Memory Cube into volume production in 2014. Much like the Automata Processor, its benefits are incredible:
Provides up to 15X the bandwidth of a DDR3 module.
Uses up to 70% less energy per bit than DDR3-1333.
Reduces the memory footprint by nearly 90% compared to today's RDIMMs.
Includes logic layer flexibility, which enables HMC to be tailored to multiple platforms and applications.
Enables significantly lower system latency as a result of HMC's massive parallelism.
Reduces the complexity of designing in the memory device due to HMC's abstracted interface.
Lowers total cost of ownership thanks to HMC's high performance, low energy, and reliability, availability, and serviceability capabilities
Developing Markets
The DRAM and NAND content of mobile devices continues to increase -- Samsung's Galaxy Note 3 is now up to 3GB of DRAM, which was a pretty decent amount for a full-sized computer not long ago. More importantly, the developing world is switching from feature phones to smartphones. A feature phone has nearly zero memory content. The feature phone to smartphone upgrade in developing markets is facilitated by both increasing standards of living, and improving mobile networks. According to Gartner:
"Worldwide smartphone sales to end users reached 250.2 million units, up 45.8 percent from the third quarter of 2012. Asia/Pacific led the growth in both markets - the smartphone segment with 77.3 percent increase and the mobile phone segment with 11.9 percent growth."
China Mobile, the world's largest carrier with 763.3 million subscribers, is only just now getting both 4G access and the iPhone. China mobile has 181.12 million subscribers on 3G, with the remaining more than half a billion people on the antiquated 2G network. They expect to sell 190 million to 220 million 3G and 4G smartphones as subscribers move to a more modern experience. China Mobile is the most obvious example of developing market growth, but is by no means unique.
Gaming
In much the same way that the new is replacing the old in the mobile world, console gaming has seen the birth of a new generation of devices. Both the PlayStation 4 and Xbox One were released recently and come with 8GB of expensive GDDR5, 16 times the DRAM content of the older models that they replace. Analysts are quick to jump on the slowing PC market, but somehow slower to note the memory boom in both console gaming and tablets that together more than compensate for the loss in PCs.
Increasing Efficiency
Despite boom times in the memory industry, Micron is implementing a pair of cost saving measures. The first was a cut of about 1,500 jobs late in 2013. The second, a work in progress, is to reduce testing and packaging costs for Elpida. Micron is able to build its own testers, and in fact hasn't bought one in more than a decade. Packaging, too, should see cost reductions as Elpida uses Powertech -- ChipMOS (NASDAQ:IMOS), a lower cost provider and Micron's longtime packaging partner, is known to be bidding for the work. Micron expects to be able to cut backend costs in half over time.
2014 And Beyond
While the near term issue for Micron is Tuesday's earnings release, I think it's important to keep in mind the many catalysts that Micron has in 2014. Shares are dramatically underpriced, and I expect to see them over $30 within six months.
Disclosure: I am long MU, IMOS, . I wrote this article myself, and it expresses my own opinions. I am not receiving compensation for it (other than from Seeking Alpha). I have no business relationship with any company whose stock is mentioned in this article.