Investors in FireEye (NASDAQ:FEYE) are having a great start of the year. On the final day of the short trading week, the company announced the transformative acquisition of Mandiant, accompanied by a strong update on the fourth quarter.
In a response, shares rose over 30% halfway during the trading session, as investors applauded the deal. The news is great, yet with shares approaching a valuation of $8 billion, or some 20 times revenues for next year, I remain cautious.
FireEye Announces The Acquisition Of Mandiant
Just a few months after its public offering, FireEye announced the large acquisition of Mandiant. The company will acquire the privately held provider of advanced endpoint security products and security incident response management solutions to boost its cyber security offerings.
FireEye will issue 21.5 million shares and offer $106.5 million in cash for the company. Based on Thursday's closing price, this values Mandiant at $991 million, close to a billion. After Friday's jump, with shares trading north of $53 per share, the deal is valued around $1.25 billion.
Mandiant has more than 2 million endpoints being installed on a global basis. The company serves over a third of the Fortune 100 list, responding to many high-profile security incidents.
The company which was founded in 2004 is on track to report sales north of $100 million in 2013. Revenues have grown at compounded annual growth rates exceeding 50% in the past three years, while the company is profitable. Gross margins are seen between 70 and 74%.
Implications Of The Deal
With the deal, FireEye will fortify its position in the increasingly more important market for cyber attacks. The company knows Mandiant well, as the deal follows yearly two years of collaboration with the firm.
FireEye pioneered the use of virtual machine theory with the introduction of the Multi-Vector Virtual Execution engine. There are more than 2 million of these virtual machines deployed, providing a solid protection on a real time basis to the company's customers.
FireEye Is Firing Its Cylinders As Well
On top of the deal, FireEye announced a very strong performance in the fourth quarter as well. Billings are now seen between $95 and a $100 million, up 96 to 106% on the year before. Previously, billings were only seen at $82 to $86 million.
Conversion is a slightly bigger issue, yet revenues are seen up significantly as well. Fourth quarter sales are seen between $55 and $57 million, up 74 to 80% on the year before. The guidance implies that revenues are seen $3 million higher than previously expected.
Billings are very strong, adding to the backlog. At the midpoint of the guidance, billings are seen 1.74 times greater than revenues, implying much good for future revenues.
Therefore full year revenues for 2013 are now seen around $160 million, plus or minus a million, which means revenues are set to double compared to the year before.
A Leading Position
According to FireEye's acquisition presentation, the company will create the only company delivering a comprehensive platform to detect, resolve and prevent attacks on a global scale. This is being done through the deal, combining the leading threat detection vendor and the leader in incident response management.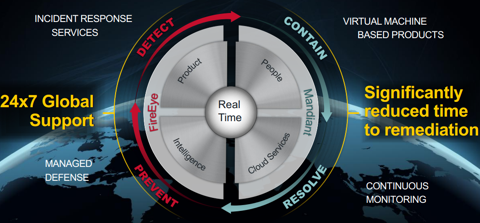 The new company will boost its total addressable global market to $30 billion. The greater global scale and profitability allows for rapid growth, while cross selling in particular result in significant synergy opportunities.
Fireworks In 2014.
FireEye is seen to report revenues of $240 to $250 million for next year, marking still nice growth of 53% on a an annual basis. Mandiant is expected to generate $160 million in revenues, implying combined revenues of $400 million or slightly more, growing at rates of over 50%.
As such, both firms are seen growing revenues at rates of about 50% next year, while reporting similar gross margins in the 70-75% area. While FireEye is not yet profitable, Mandiant is reporting profits. It should be noted that FireEye is expected to turn about 1.5 times as much revenue as Mandiant next year. Given the similar characteristics on other fields, the reported $1.0-$1.2 billion deal tag looks very favorable, comparing to FireEye's stand alone valuation of $5.0 billion before the deal. This value rose to roughly $6.3 billion on the back of the deal with shares trading around $53 per share. This excludes the to be issued shares to finance the deal.
No wonder why investors are very enthusiastic. FireEye acquires a very similar company in terms of growth at roughly 10 times sales for 2013, compared to its own valuation at 40 times sales. Growth rates are similar and Mandiant is already turning profits. On top of this comes the huge opportunity for cross selling, while leveraging FireEye's international structure to drive growth.
Around $53 per share, the market value has risen to about $7.5 billion including the new shares, valuing the combination at nearly 20 times expected revenues for 2014.
In September, I concluded that the company did not make a great investment at the time. The strong momentum following the public offering made me cautious on valuation reasons despite strong growth. Yet I did not want to initiate a short position given the limited float of the company following the offering. The absolutely great deal, by using its own expensive stock to acquire a complementary company at a huge relative discount is a great step.
Even so I remain cautious after the huge 30% plus jump on Friday, but applaud management and shareholders on a great deal.
Disclosure: I have no positions in any stocks mentioned, and no plans to initiate any positions within the next 72 hours. I wrote this article myself, and it expresses my own opinions. I am not receiving compensation for it (other than from Seeking Alpha). I have no business relationship with any company whose stock is mentioned in this article.