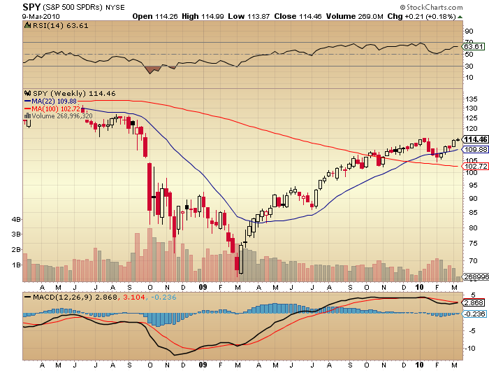 Manipulation by the Vampire Squids (yes, there are more) --
I believe the stock market bottomed a year ago yesterday, and has been steadily walked up by market participants at the behest of the US Government (think Goldman Sachs (GS) or JP Morgan (JPM) or even some account at the Fed or Treasury), it doesn't matter.
The fact that once the market fell, and stopped falling, outfits like Goldman were able to mint billions of dollars per quarter tells you not that they have the best computer programs in the world, or the smartest most logical or intuitive traders, but rather that they took out positions that they knew would be profitable. In short, they knew as did others that the market would be higher tomorrow than it was today.
How did they know? Because they were part of a program to walk the stock market back up. It's just common sense. With banks collapsing under the weight of bad debt, much of which is bad mortgage debt, and consumers' wealth taking the triple hit of unemployment, falling stock market valuations, and falling housing prices, the easiest and quickest asset to "fix" was stock market valuations.
One year later the game goes on, and I suspect it will go on for some time. At this point returns will be much more muted, but downside is limited because as much as stocks are sold by investors or speculators, people with infinitely deeper pockets will be there to buy it. That is why the stock market refuses to go down in spite of heavy volume sell offs and light volume rallies. The market has been and continues to be "walked up" and kept up.
It's nothing new in Wall Street history, it's just a bit much to get one's mind around in that all stock markets world wide have nearly identical charts for the past year, with nearly identical returns off the bottom. Commodities too. Welcome to the world of the controlled market where everyone who invests makes money. The world of guaranteed outcomes. A world without risk.
Disclosure:
Physical precious metals