The following series marks my top ten positions for 2014. This marks the sixth annual list I have published on Seeking Alpha. Here is a look at returns over the last five years:
· 2009: +99.9%
· 2010: +32.9%
· 2011: -11.3%
· 2012: +17.6%
· 2013: +41.3%
Investors who followed my picks each year since 2009 would have seen a $10,000 investment turn into $38,389.
It's hard to believe that 2013 has come to a close. The year seemed to fly by and was another rewarding one for investors who followed by top ten stock picks for the year. Without further ado, here are my ten selections of stocks that I believe will outperform the market and produce gains for investors.
Fomento Economico Mexicano (NYSE:FMX)
Start Price: $97.87
52 Week Range: $87.02 to $126.11
Top Three Reasons to Buy:
1. OXXO Growth/Cross-Selling
2. Bet on Mexico
3. Beaten Down Shares
Fomento Economico, also known as Femsa, is a huge Mexican conglomerate that has all the right pieces to show investors growth in 2014. The company operates in three major segments: Coca-Cola Femsa, Femsa Comercio, and Heineken. Fomento owns OXXO, the largest convenience store in Latin America. After selling off its beer division, Fomento now owns 20% of Heineken.
There were 11,200 OXXO locations at the end of the third quarter. In the third quarter, the company opened 195 new OXXO stores. The company opens one new store every eight hours on average. The expansion of the OXXO brand is not complete. In its home market of Mexico, OXXO is set to pass Organizacion Soriana as the number two retailer in Mexico in 2014, trailing only Wal-Mart de Mexico.
In the third quarter, the Comercio business saw growth of 13%. Same store sales increased 1.6%, with higher average tickets offsetting less traffic. The Comercio segment is set for huge growth for Fomento. Through a series of acquisitions, the business segment should have a huge 2014 and could provide upside for investors and offset any weakness the beverage unit shows. In 2013, Fomento bought stakes in two pharmacy companies: Farmacias FM Moderna (100%) and Farmacias YZA (75%). Through the two acquisitions, Femsa has over 400 locations in Mexico. The two pharmacies are very regional and Femsa has plans to expand its pharmacy presence nationally.
Femsa Comercio also acquired a quick service restaurant operator in Mexico. Femsa Comercio acquired an 80% stake in Dona Tota, a restaurant operator with 204 units in Mexico and one 11 units in Texas. One of my favorite things about the Comercio segment is the idea of integrating new acquisitions within OXXO stores. During its recent third quarter earnings call, the company offered the following, "And I think that's going to be heavily reinforced by the acquisition of Dona Tota, mostly in terms of the skills that we're acquiring from this business and some of the cross-sharing practices that-between OXXO and Dona Tota are going to start as soon as we close the transaction." Femsa also offered this up about its recent acquisition, "We think there are learnings from us participating in this pharmacy sector, as well as in the fast-food offering that we can really leverage within the OXXO store."
After opening over 11,000 locations in Mexico, Femsa plans on expanding the brand in Colombia, where it currently has 36 locations. Going forward, plans call for OXXO to enter Brazil after Colombia expansion is complete.
Femsa owns 48.9% of Coke Femsa (NYSE:KOF), while Coca-Cola (NYSE:KO) owns the remaining 28.7% not owned by the public. Coke Femsa has operations in Argentina, Brazil, Colombia, Mexico, Venezuela, Guatemala, Nicaragua, Costa Rica, and Panama. Back in 2003, Mexico and the Central America region made up 73% of Coca-Cola Femsa revenue. In the last twelve months, that figure has dropped all the way to 46%. The company's South America beverage segment now accounts for 54% of Coca-Cola Femsa's revenue.
That dependence on Mexico could fall even further with recent deals in Brazil. Coca-Cola Femsa acquired Spaipa SA Industria Brasilieira de Bebidas. The deal will increase the company's volume in Brazil by 40%. Through recent acquisitions, Coca-Cola Femsa will now reach 33% of Brazil's population. With an upcoming World Cup (2014) and Summer Olympics (2016) in Brazil, Coca-Cola Femsa may be expanding its South American presence at the perfect time.
The big negative surrounding Fomento is a recent decision by the Mexican government to levy a tax on carbonated soft drinks. The tax will consist of 1 peso per litre, an amount equal to about 8 cents in USD. It will be interesting to see what this does for sales of Coca-Cola products in Mexico. The country ranks number one in consumption of Coca-Cola beverages around the world. Mexicans consume 728 8oz portions in a year on average. The next highest country is Chile at 460 portions, so you can see how big of a lead Mexico has. The good news is Femsa operates and has strong positions in four of the top seven consuming areas of Coke products. Behind Mexico at number one is Panama (#4), Argentina (#5), and Brazil (#7).
Despite this huge negative, I believe shares have extreme value going forward as other segments pick up sales growth and outperform. Mexico's middle class shows signs of improvement and this company could be one of the biggest benefactors from growth in the country. Mexican beverages segment continues to make up less of Femsa's total revenue than ever before.
Several facts and figures from the following investor presentation.
Forestar Group Inc. (NYSE:FOR)
Start Price: $21.27
52 Week Range: $16.82 to $25.12
Top Three Reasons to Buy:
1. Cheap Oil and Real Estate Play
2. Strong 2014 Catalysts
3. Key Assets
Investing in Forestar Group is a bet on several areas. The company is a rising star in the oil development and real estate markets, through its three key business segments of real estate, oil and gas, and water. With a market capitalization of under $800 million, this small time player has plenty of room to run and should continue its positive momentum into 2014.
Simply put, Forestar Group says "we are focused on recognizing and responsibly delivering the greatest value from every acre." The company's real estate segment spans across 10 states, with 14 key markets and over 132,000 acres of land. There are currently 72 real estate projects that are entitled, developed, or under development across 14,000 acres.
The key for the real estate segment could be multifamily properties. Forestar continues to create these apartment style dwellings to capture monthly income for its real estate segment. There are several units already existing and a growing number coming in the pipeline, including one for the Dallas market that should open in 2014.
Forestar owns and leases land in some of the most prolific oil and gas basins in the United States. The company owns or has interest in 809,000 net acres, with over 73% of that total owned outright. Forestar also makes money by leasing out its oil based land to third parties.
The smaller segment for Forestar is water. Through three segments, aquifers, reservoirs, and mitigation, Forestar is growing its water segment, particularly in Texas. The company estimates that with growing population in Texas, there could be a shortage of water someday, which would benefit a water reserve rich company like Forestar. The company has groundwater rights on over 1.5 million acres. Timberlands are also important to Forestar. The company has 135,000 dedicated acres for timberlands that help create fiber growth and sales.
In the most recent third quarter, the company reported net income of $11.8 million, good for earnings per share of $0.33. The strong earnings were led by real estate, where the company saw its highest residential lot sales since becoming a publicly traded company. Other highlights for the quarter included:
· Sold 547 developed residential lots (an increase of 103%)
· Saw oil production increase 170%
· Now have over 1600 lots under option contracts with homebuilders
· Sold 1340 acres undeveloped land (average $4950 per acre)
· Sold 19 commercial acres (average $257,000 per acre)
· Sold 46 acres of residential tracts (average $109,000 per acre)
· Leased 7500 mineral acres for $2.0 million
· 31 new oil and gas wells drilled (also 18 waiting on completion)
· Sold 141,000 tons of fiber at average of $17.33 per ton
By business segment for revenue and net income versus the prior year:
| | | | |
| --- | --- | --- | --- |
| | Real Estate | Oil and Gas | Other Natural Resource |
| Q3 2012 Revenue | $27.1 mil. | $10.5 mil. | $3.0 mil. |
| Q3 2013 Revenue | $50.4 mil. | $22.1 mil. | $2.7 mil. |
| Q3 2012 Earnings | $12.7 mil. | $1.0 mil. | $1.0 mil. |
| Q3 2013 Earnings | $13.2 mil. | $0.5 mil. | $0.5 mil. |
Fiscal 2014 is setting up to be one of the best in company history. Back in 2013, the company had objectives of 1900 residential lot sales and production of 1.1 million barrels of oil. Forestar is exceeding these projections and should have much higher expectations for 2014. The company said it "expect(s) accelerated momentum in real estate sales and oil production in 2014." Forestar also expects "working interest investments to essentially double in 2014." A new debt offering in November also gave the company $145 million in proceeds to further fund additional land developments or acquisitions. Take a bet on increased land prices, strength of oil, and other assets like water and timber all in one stock with Forestar Group.
GT Advanced Technologies (GTAT)
Start Price: $8.72
52 Week Range: $2.61 to $10.75
Top Three Reasons to Buy:
1. Sapphire Demand
2. Huge Backlog/Future Orders
3. Discounted Shares
If you have never heard of GT Advanced Technologies prior to this article, get ready to hear about them a lot in 2014. The company is a major benefactor of new Apple (NASDAQ:AAPL) products and recently signed a game changing deal with the beloved consumer electronics company.
On November 4th, GT announced a new deal with Apple to supply sapphire for new devices. Apple is making a prepayment of $578 million to GT, that will be paid back over a five year span. Apple is also helping GT secure production facilities in Arizona to ramp up sapphire products. GT issued this statement, "We're very pleased to have entered into the multi-year supply agreement that we announced today to provide Apple with sapphire material. This is a significant milestone in GT's diversification strategy, and it provides a path to add a recurring revenue stream to our otherwise cyclical equipment business model."
Sapphire is one of the leading technologies going forward for smartphones and tablets. The material is thinner, stronger, and more scratch resistant than current products like Gorilla Glass from Corning (NYSE:GLW). The big drawback is the price of sapphire, which is the result of limited demand for the product. With Apple's new deal and existing technology from GT, the cost of sapphire is ready to drop and could soon be on several devices, including a 2015 new iPhone and iPad.
Sapphire is actually already used by Apple to cover camera lenses and the home button on newer models of iPhones. This is done to protect the most valuable pieces, without having to cover the entire screen. According to this article, the cost of sapphire to cover a screen would be 7 times the amount paid for a similar Gorilla Glass screen. Going forward, Apple is rumored to want to use sapphire for new 4.7" and 5.5" iPhones with curved displays.
Part of the reason for Apple's commitment to GT over other sapphire suppliers is the Hyperion ion technology owned by GT. Back in November, GT announced its acquisition of the assets of Twin Creek Technologies. With that deal came over 30 current US patents and 70 pending US and international patents. One of those patents centers around ion implanter technology that enables the production of low cost thin substitutes with minimal material loss. GT paid $10 million for the assets, with existing future royalty payments due down the road. Tech Crunch provides further details including Apple patents for "sapphire laminates".
There are several small drawbacks on the Apple deal. The first being that GT is "subject to certain exclusivity terms during the duration of the agreement." This likely means the company can't make sapphire for other big phone companies. However, this doesn't stop GT from advancing growth in other areas like solar and LED lights. Also, Apple offers no guaranteed volumes under the deal and requires GT to hit minimum product numbers. These small setbacks are minimal compared to the impact having Apple behind you has on a small company like GT.
Past smartphones, there are other markets for sapphire, including LED, camera covers, and point of sale devices. These were all pointed out by GT during an investor presentation. I believe GT will be busy in 2014 with the Apple deal, but any signs of new products to come could boost shares even further.
It's hard to believe that over two years ago, 100% of GT's revenue was made up from the solar segment. In 2012, polysilicon segment revenue made up 63%. The declining solar market has brought GT down with it. Back in 2010 and 2011, revenue soared above $800 million with totals of $822.0 million and $873.4 million respectively. In fiscal 2012, revenue fell to $733.4 million.
In the most recent third quarter, orders of $7 million decreased 5%. Revenue of $40.3 million was down 76% from the prior year. However, those numbers were off of investors' minds with the announcement of the Apple partnership. Backlog also fell $44 million from the previous quarter to a total of $658 million. That number will continue to increase with Apple and others ramping up new deals for sapphire and solar products.
Analysts on Yahoo Finance are forecasting revenue to hit $692.5 million for fiscal 2014, representing an increase of 128% from current 2013 estimates. After the Apple deal, GT gave an estimate for 2014 revenue in the range of $600 to $800 million. After seeing sapphire make up 30% of revenue in 2012, the company now believes sapphire will account for 80% of 2014 revenue.
GT Advanced is one of the best under $10 stocks you will find for 2014 and beyond. Shares are actually trading 23% lower than highs hit on the backs of the Apple deal. That's right, you can head into the new year with a discount to GT highs hit after the major announcement.
Ligand Pharmaceuticals (NASDAQ:LGND)
Start Price: $52.60
52 Week Range: $19.03 to $58.48
Top Three Reasons to Buy:
1. Huge Pipeline of Drugs
2. Captisol/HepDirect Demand
3. Launch of Several Royalty Drugs
One of my favorite stocks for not just 2014, but the next ten years is Ligand Pharmaceuticals. While, I don't own any shares at the time of writing, I will begin accumulating shares this year for the long term. I highlighted the stock in an article in October, but the article is currently only available for premium Seeking Alpha readers. Here is an updated look at this unique drug company that can reward shareholders for years ahead.
Recent third quarter revenue doubled to $2.5 million. Earnings per share hit $0.12 on the success of key drugs seeing increased sales and royalty rates with the associated drugs hitting new highs. During the third quarter earnings call, Ligand said "Our royalty revenue from our 5 royalty-bearing assets increased significantly, with the most growth contribution coming from Promacta and Kyprolis." The company, offering a hint at growth ahead, also offered this, "Our portfolio has never been larger or as advanced in stage or quality as it is now."
In the third quarter, total sales of Promacta, a drug owned by Glaxo Smith Kline (NYSE:GSK), hit $76 million, which was an increase of 43% and 9% from the prior year and quarter respectively. The increased sales helped bump the royalty rate Ligand received up to 8%, which is part of the third highest grossing tier. The drug is now approved in 37 countries and should see increased revenue ahead. Promacta is patented through 2027 and remains active in expanded trials. The drug has seen double digit growth in all geographic regions. Ligand has a royalty rate tiered between 4.7 and 9.4%.
Looking ahead, Ligand will also add revenue from the recently approved Pfizer estrogen drug Duavive in the next few months. Duavive is a treatment for women to help with hot flashes and osteoporosis. There is estimated to be 33 million women between the ages of 43 and 59 in the United States alone. Of that group, 50% experience hot flashes and are part of the market for this drug. The drug will begin delivery on February 3rd, creating one upcoming catalyst for Ligand shares. Ligand receives a royalty of 0.5% on the first $400 million in sales. From $400 million to $1 billion in sales, the royalty rises to 1.5%. If sales hit $1 billion, the royalty increases to 2.5%. Obviously the success of the drug could be a huge catalyst for shares if it can hit the top range of sales. The company gives the examples of revenue generated from $1 billion and $2 billion in sales at $11 million and $36 million royalty payments respectively.
Other recent highlights for Ligand include:
· Partnership with CURx Pharmaceuticals, a drug to treat seizures in hospital patients, has a potential $21 million in milestones, and comes with a lofty 6 to 7.5% tiered royalty rate.
· Ligand's key diabetes asset LGD-6972 entered Phase I studies
Ligand ended the third quarter with $8.2 million in cash and $5.5 million in accounts receivables. The company has also been paying down much of its debt. In the current fiscal year, Ligand paid off over $16 million of its debt. Over the last twelve months, the company has lowered debt by 56%. The lowered debt has also led the company to consider share buybacks and paying a dividend. I believe a dividend could be paid as early as 2014, with 2015 a more likely date due to increased drugs on the market.
From a recent investor presentation, here is a look at some drugs being developed from Ligand:
· Melphalan: from Spectrum Pharmaceuticals, stem cell drug treatment of multiple myeloma, partnered in March of 2013, has $50 million in potential milestones, includes double digit royalty, NDA filing in mid-2014
· Retrophin RE-021: treats a rare kidney disease that has no FDA approved treatments, giving the drug the fast track, projects peak sales of $1 billion, includes $75 million in milestones and a 9% sales royalty
· CURx Captisol drug: IV epileptic drug would enhance a market that has only oral drugs approved for epileptic patients, includes $21 million in potential milestones and a tiered royalty of 6 to 7.5%
Several of Ligand's top approved drugs and in clinical trial drugs center around the company's Captisol technology. This technology, which was acquired by Ligand, is 100% owned and continues to be highly sought after by large drug companies. Ligand has a patent on the technology until 2029 and 2025 in the United States and Europe respectively. A future event to watch for is Ligand's HepDirect, which is a technology that targets drug delivery directly to the liver. This technology is patented and could be a huge future catalyst for Ligand, as drug makers realize the benefits. HepDirect news should pick up in April, when the company presents the benefits of the technology at the EASL Conference in London.
The other huge potential for Ligand comes from an unpartnered Glucagon Diabetes drug. Diabetes affects 350 million people worldwide and over 26 million in the United States, representing 11% of the home country's population. Diabetes drugs had an estimated market of $33 billion in 2012. That figure is expected to almost double to $60 billion in 2020. With this drug, known as LGD-6972, Ligand could have a huge blockbuster on its hands. Phase I trials started in November and the company will wait until results to discuss marketing opportunities. The drug remains "one of Ligand's most significant un-partnered assets."
Upcoming catalysts for Ligand include:
· Pradefovir Phase I (Q1)
· BACE Phase II and III safety results (Q1)
· BACE Phase III initiation (Q1)
· Vertex Captisol Drug Phase II (Q1)
· Fablyn launch (Q2)
· Kyprolis Phase III results for additional treatments (1H 2014)
· Melphalan NDA (1H 2014)
· MEI-143 Phase II (1H 2014)
· MEI-344 Phase IB Start (1H 2014)
· CE-Delafoxacin Phase III (Q3)
· Duavee EU Approval Expected (Q3)
· Glucagon Phase I Results (2H 2014)
· IV-Topiramate Phase II Results (2H 2014)
· Noxafil-IV Approval Expected (Q3)
· Hospira Undisclosed Captisol Drug Launch (Q3)
· Lundbeck CE-Carbamazepine Approval Expected (Q4)
· CE-Delafloxacin NDA Filing (Q4)
Another catalyst that might gain some traction is Ligand's acquisition of Selexis assets. Ligand paid $4.5 million for the assets to 15 fully funded programs. The deal gave Ligand $17 million in potential milestones and a current estimated $40 million in annual royalty possibilities. This deal also follows Ligand's strategy of passing on the costs of development to the large drug companies, while sharing in the wealth (via royalties and milestones) of approved drugs.
Ligand's possible biggest blockbuster continues to progress well in trials. MK-8931, an Alzheimer's drug partnered with Merck (NYSE:MRK) recently moved into Phase III trials. This marked the first time a drug in this class has made it into Phase III trials. JP Morgan estimates the drug could see peak annual sales of $5 billion if approved. This would represent a huge potential for Ligand as it will receive a royalty payment on sales later on.
Ligand Pharmaceuticals is not your average drug company that spends billions of dollars on research and development of drugs to get one blockbuster on the market. The company operates with a unique licensing and royalty market plan. The company buys drug assets and technologies and then sells them to large drug companies for potential milestone payments and royalties down the road. The company also operates with what it calls a "shots on goal" mentality, which means that if it attempts a large amount of shots, it will eventually score a goal. This applies to the drug market with a large number of drugs being put in trials and several eventually becoming approved and blockbusters.
In fact, the company's shots on goal operates under two key principles:
· The more programs in development, the more likely you will have success
· A company does not need to retain full program rights to generate significant revenue and cash flow
By the year 2016, Ligand estimates that royalties will make up more than 75% of revenue. The company has minimal costs and very high potential revenue, making for a perfect stock going forward. The company does face similar sharp movements in share price based on drug trial and approvals or declines. However, Ligand has many drugs in trials, so one failure isn't usually enough to hurt the stock for the long term.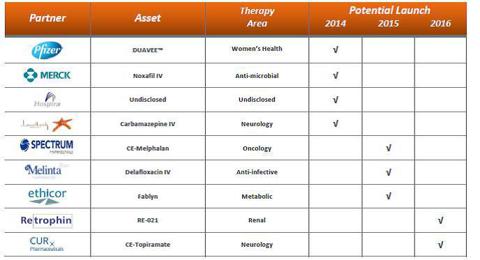 In 2014, four new partnered drugs are expected to launch in 2014. This number is also expected to grow to 20 by 2020, representing a huge possible opportunity for long term investors. There is also over $700 million in potential milestones from existing deals. Revenue of royalty producing assets is estimated to hit $2.2 billion by 2016. That figure is estimated to hit $10 billion by 2020. Due to its strong royalty rates, Ligand has estimated the following revenue and earnings figures going forward:
| | | |
| --- | --- | --- |
| | Revenue | Earnings Per Share |
| 2014 | $62 to $65 million | $1.40 to $1.45 |
| 2015 | $81 million | $2.13 |
| 2016 | $106 million | $3.18 |
Ligand believes its annual revenue will hit $200 million by 2020. With low operating costs, earnings per share would likely increase dramatically over that time as well. This company has too many catalyst to ignore. Invest in Ligand now and reap the royalties later on. Your portfolio will thank you.
Information from an investor presentation found here.
Limoneira (NASDAQ:LMNR)
Start Price: $26.59
52 Week Range: $17.19 to $27.40
Top Three Reasons to Buy:
1. Rich Agricultural Assets
2. East Area I and II
3. Acquisitions
It's always tough recommending a stock that just hit its 52 week high. However, Limoneira is one of my favorite stocks going forward. Back in August, my article was selected as a SA Pro article, which is currently only available to subscribers. Since that time, shares are up 23% and seem destined for further gains after several recent events.
Linoneira operates in three business segments: agribusiness, rental operations, and real estate developments. Agribusiness, particularly growing lemons and avocados, is the main revenue driver for the company and the reason why I called the company boring. However, the big reason to invest in Limoneira is its "vast real estate assets" that are "heavily undervalued and misunderstood".
The company is expected to break ground on East Area I in 2014. This unique piece of real estate will create an almost new town with commercial, residential, and community buildings. The centerpiece of the 550 acres is 1500 residential units. These houses will sell at an average price point of $500,000. Limoneira is expected to see proceeds of $150 million from this project, which represents almost half of the company's market capitalization.
During a recent transaction, Limoneira provided an update on the East Area I and II properties. The company expects to break ground in 2014 and begin home sales in 2015. Limoneira also expects to provide an update on the progress during its January 2014 fourth quarter earnings call. The 1500 units offered in Phase I represent 25% of all homes being built or considered in Ventura County. More details in January or once ground has broken, shares could break out as investors see the value being created going forward.
Limoneira owns 1870 acres for lemons, 1250 acres for avocados, 1700 acres for oranges, and 690 acres for additional fruits. Those numbers continue to expand as Limoneira continues its acquisition spree of meaningful agricultural real estate. In July, Limoneira signed a deal with Cardiz for a possible 1280 acres dedicated to lemons. That deal will not create meaningful revenue for Limoneira until 2018, but should be one reason for analysts or the company at investor presentations to get excited about shares going forward. The deal increases the lemon acreage by over 66%.
In October, Limoneira also acquired 760 acres in California for a purchase price of $8.75 million. This deal gives Limoneira an additional 400 acres of lemon orchards, and also 360 acres used for cattle grazing. The deal also included water assets and agricultural equipment and supplies. The deal gives Limoneira lemon acres of over 3400. Limoneira now has over 10,000 total acres. The company was particularly bullish on this deal, because it enables a year's supply of lemons to customers. Limoneira expects 200,000 cartons of lemons for fiscal 2014. That number will increase to 300,000 to 350,000 in a couple of years, when new acres are monetized.
At the start of December, Limoneira sold several properties in California for $8.1 million. This deal is one of several by the company to get rid of non-agricultural assets to continue its acquisition spree and help pay off debt. The company said, "We will use the cash generated by the sale to pay down our debt and to invest in the growth of our agribusiness and other strategic initiatives. This transaction is in-line with our long-term strategy to opportunistically monetize our rich portfolio of assets."
In my initial Limoneira article, I called for shares to double in five years. I now think it will be even quicker and see shares doubling by the end of 2015 as revenue is generated and realized from the East Area project. With the beginning of sales starting in 2014, shares should see a nice return for investors in the new year.
Nabors Industries Ltd. (NYSE:NBR)
Start Price: $16.99
52 Week Range: $14.34 to $18.33
Top Three Reasons to Buy:
1. International Growth
2. Shares Stuck in Range
3. Pace-X
I think one of the continued best plays investors can make in 2014 is picks revolving around oil. For the year, I have selected two stocks I believe will continue to capitalize on large companies search and drill for oil. The first oil related stock I have selected is Nabors, who operates the world's largest on land drilling rig fleet.
Nabors offers:
· 477 land drilling rigs
· 4 offshore barge rigs
· 5 offshore jack-ups
· 36 offshore platinums
Nabor's biggest growth opportunity may be a series of drilling devices created under its specialty segment. The company recently completed construction of two rigs for customers in the Far East. Nabors is also working on two of the most sophisticated deepwater platform rigs for the Gulf of Mexico region. These deepwater rigs are specifically designed for multi-well drilling on a pad. When delivered, these rigs should demand high rates and will help increase Nabors exposure to offshore rigs.
The company's Pace-X rigs continue to see increased demand. At the end of the third quarter, there was 16 under construction. These rigs are capable of drilling 200' x 120' compared to rivals, who according to Nabors drill in ranges of 100' x 8' and 120' x 30'. Other highlights of the Pace-X are:
· Smaller modular footprint and walking system
· Scalable size and capacity
· Well control integrated into walking rig
· Higher hydraulic horsepower and closed loop mud system
Along with its oil drilling devices, Nabors also offers innovative drilling software and licenses technology for managing pressure drilling operations. These additional services help bring in extra revenue and continue to see high demand as oil companies work to maximize revenue and profits through the use of technology. In 2012, total services revenue accounted for 44% of the company's revenue total.
In the second quarter, Nabors continued a trend to lower its debt. During quarter number two, debt was lowered by an additional $302 million. Revenue in the United States region fell during the second quarter from $145.4 million to $69.8 million. In Canada ($3.9 million vs. $0.5 million) and international markets ($32.5 million versus $16.4 million), revenue fared much better. That should be a continued trend to play out. In 2012, the United States lower 48 states made up 26% of company revenue. International and Canada made up 17% and 8% respectively.
Nabors shares had a pretty compact trading range in 2013 ($14.34 to $18.33). I believe shares are headed to $20 on international strength and new product launches. Analysts are forecasting only 6% revenue growth in fiscal 2014, which I believe is a deep discount to the number that will be turned in. While investors continue to get excited about drilling on the water, land drilling is not dead and continues to see increased margins with better technology.
Information taken from Nabors Investor Relations website.
Ocean Rig (NASDAQ:ORIG)
Start Price: $19.25
52 Week Range: $13.45 to $20.97
Top Three Reasons to Buy:
1. Conversion of MLP/Dividend Start
2. Deepwater Pure Play
3. Strong Bookings
Ocean Rig is a great bet on continued oil drilling and a new fleet. The company is a pure-play on deepwater drilling and is seeing a rise in demand and average daily rate for its in demand devices. Here is a look at the company's own reasons to buy the stock, given at an October Goldman Sachs Conference:
· Pure play ultra deepwater driller with premium assets
· Large backlog and high EBITDA growth
· Favorable market fundamentals
· Experience operating UDW assets since 2001
· Healthy debt profile and earnings visibility
Ocean Rig has a base of 11 rigs, which is set to grow over the next several years. Despite its small base, Ocean Rig has the 6th largest fleet of ultra-deepwater rigs, thanks to it being 100% committed to that area. Ocean Rig also has one of the newest fleets, with an average age of 2.9 years. Rival Seadrill (NYSE:SDRL) is first with an average age of 1.9 years, but some of the biggest like Transocean (NYSE:RIG) and Diamond Offshore (NYSE:DO) have equipment that is 20.1 years and 29.2 years old on average respectively. With this young growing fleet, Ocean Rig is often thrown around as a takeover target by one of the larger rivals. Ocean Rig is still over 50% owned by DryShips (NASDAQ:DRYS)(owned 59.4% in October). The company has three 56th generation drillships scheduled for delivery in 2014 and 2015.
Over the last 10 years, Ocean Rig has helped 31 different companies complete work on 161 wells. The company continues to see strong retention and higher priced contracts thanks to its young fleet. The company has 99% of its days booked for 2014. In 2015, 71% of days are booked. Only 38% is booked for 2016, but that number should increase throughout 2014 and could be one event that drives shares higher.
In the third quarter, Ocean Rig reported an average fleetwide operating performance of 98.4%. Total revenue grew sharply to $328.5 million, from the prior year's $285.7 million. Operating income nearly doubled from $50.5 million to $98.8 million. Despite the increased revenue, drilling expenses were lower than the prior year, which showcases the company's ability to successfully cut operating costs as planned.
Another reason investors are flowing into Ocean Rig is its intention to create a master limited partnership, which should unlock value. During the third quarter earnings call, the company made the announcement. "We are commencing the creation of a new master limited partnership subsidiary with a targeted initial public offering launch date within the second quarter of 2014." This move should see more investors jump into Ocean Rig right before the IPO or spin-off of the MLP unit.
Ocean Rig also announced a planned dividend payment during its third quarter earnings call. The company will spend $25 million to payout earnings to shareholders in May of 2014. While this initial dividend will be small compared to peers, it represents a willingness to reward shareholders by the company. This dividend should rise over the next several years and might increase institutional holdings for Ocean Rig.
Orange (NYSE:ORAN)
Start Price: $12.35
52 Week Range: $9.10 to $14.68
Top Three Reasons to Buy:
1. Emerging Markets
2. International Expansion
3. Dividend Yield
The company previously known as France Telecom continues to offer a great way for investors to play the growing telecommunications boom in emerging markets. Orange continues to diversify away from its home base of France to offer investors access to regions like South Africa, Portugal, and Denmark. The company is also rumored to be entering the markets of Canada and Myanmar soon. Canada is dominated by three players in telecom and Orange could disrupt that with lower pricing and pressure on the existing competition. Myanmar will be a gold mine for phone companies that can monetize the growing population of phone users. Less than 10% of the 60 million people that live in Myanmar have mobile phones.
Orange launched its Horizons subsidiary in January. That lower cost unit has a presence in Germany, Italy, Holland, South Africa, Sweden, Denmark, and Portugal. Through Horizons, Orange also has physical stores in South Africa and Portugal.
While many investors are writing off the company's home French market, I believe it offers opportunity. Average revenue per user is declining, but Orange is growing its 4G presence in France and should see an uptick in revenue per user and subscriber numbers. As of September, Orange had 32% of the nation covered with 4G access, with a goal of 40% by the end of the year.
With shares trading at $12.35, Orange is also a huge valuation play. Zacks is forecasting fiscal 2013 earnings per share of $1.26. Orange is now trading at less than ten times current fiscal earnings. That number should also hit higher in 2014 with planned cost cutting measures by the company. Orange also plans on paying out 40-45% of cash flow in the form of semi-annual dividends. Investors will be rewarded with dividends as they wait investors to follow this global telecom play throughout 2014.
Pepsi (NYSE:PEP)
Start Price: $82.94
52 Week Range: $68.64 to $87.06
Top Three Reasons to Buy
1. Breakup/Merger Rumors
2. Strong Snack Food Growth
3. Dividend Yield/Buybacks
Back in July, I discussed buying shares of Pepsi on rumors of activist moves. Since that time, shares have fallen 4% and now remain ready to break out on new rumors and an actual deal to create value for Pepsi shareholders.
That original recommendation centered around the involvement of Nelson Peltz's Trian Fund Management and a plan to create value. Peltz's plan was to spin-off Pepsi's snack business from drinks and merge the business with food giant Mondelez (NASDAQ:MDLZ). Peltz's letter to Pepsi suggested similar moves could vault Pepsi shares to a range of $136 to $175. With shares at $83, there is a possible 100% upside according to Peltz.
Now, new reports from Dealreporter remind investors that Pepsi and Mondelez talks could heat up in January with new board meetings planned for both companies. Keep in mind that Peltz owns stakes in both Pepsi (12 million shares) and Mondelez (40.3 million shares). While these are low percentages of the total company, Peltz is on to something and could begin to get shareholders talking or other activists involved in either company.
Another sign of things to come for Pepsi could be its recent deal signed with Buffalo Wild Wings (NASDAQ:BWLD). Pepsi stole another restaurant chain away from rival Coca-Cola and will now see its products served in over 950 locations in North America. While this is a minimal deal for beverages, compared to 1000s of restaurants already under contract for both Pepsi and Coca-Cola, it shows a trend that could continue.
Buffalo Wild Wings can easily integrate Pepsi food products like Doritos, Tostitos and Fritos into its menu. This move, which would be similar to what Yum Brands (NYSE:YUM) Taco Bell has done, could increase same store sales at Buffalo Wild Wings and really make the switch from Coke payoff. My early favorite is a Doritos flavored sauce for the restaurant's famous wings. Taco Bell sold over 600 million Doritos flavored tacos from March 2012 to August 2013.
In the most recent third quarter, Pepsi showed strong growth in food categories around the world. Total organic revenue for the company was up 3.3%. That was led by gains in Americas Food (+7%), Latin America Foods (+ double digits), and other emerging market food areas. Earnings per share were $1.24 and strengthened by better profit margins. The company has announced $3 billion of planned savings from 2012 to 2014. Cash flow from operations is up 30% to $6.7 billion through the first three quarters.
Starz (NASDAQ:STRZA)
Start Price: $29.23
52 Week Range: $13.38 to $30.72
Top Three Reason to Buy:
1. "Black Sails"
2. Low Expectations
3. Original Programming
Shares of Starz, owner of the namesake channel and Encore premium channels, were up an amazing 113% in 2013. Call me crazy, but I think shares have room to run another 25 to 30% in 2014 as its original programming heats up and shows investors the opportunities ahead. In fact, I have recommended buying shares of Starz on two separate occasions in 2013 (April, July).
The big catalyst coming for Starz is the premiere of "Black Sails" during this month. The pirate adventure produced by Michael Bay is already gaining a following. The pilot episode premiered at the 2013 San Diego Comic Con and helped build buzz for the show. Perhaps it was that early buzz that has seen the show picked up for distribution in 115 countries. The extremely important thing here is "Black Sails" is a Starz original that gives the company more profit from deals with other countries. Amazingly enough, the show has also already been renewed for a second season, despite not airing on television yet.
The hopes are high for this show and early success in ratings numbers could send Starz shares much higher. On the flip side, poor ratings after already renewing the show could cause shares to plunge and show that Starz isn't ready for the big time yet. However, with Michael Bay behind the project and high buzz, I think ratings should be high for quite some time.
Another series coming in 2014 to look forward to is "Outlander". According to Starz CEO Chris Albrecht, "The books weave a fascinating tapestry of history, spirituality, love and honor, not to mention plenty of time travel, sex and warfare." That plot line seems to appeal to a nice audience range. Premiering in 2014, "Outlander" is based on a seven book series by Diana Gabaldon that began in 1991.
Back in June, Starz signed a 16 episode deal with Sony Television Pictures. Ronald D. Moore is serving as a writer for the show and that should be reason for Starz investors to celebrate. Moore is an accomplished television personality behind hits like "Battlestar Galactica", "Star Trek: The Next Generation", "Star Trek: Deep Space Nine" and "Roswell". Moore also wrote screenplays for "Mission: Impossible II" and several Star Trek movies.
Also to help the buzz is the fact that the eighth book in the series will be released in June of 2014. Titled, "Written in My Own Heart's Blood", the eighth book will continue the legacy and should help keep demand for the show fresh in anyone who has read the books minds.
From a November investor presentation, here is the current lineup of shows for 2014:
· Quarter 1: "Black Sails"
· Quarter 2: "Power", "Da Vinci's Demons" (second season)
· Quarter 3: "Outlander"
· Quarter 4: "Fortitude"
Announcements for future shows should pick up in 2014 as well, which could provide a catalyst for shares. Starz announced its intentions to have 65-75 hours of original programming a week by 2017 and a total of 50 per week by 2014. In 2012, Starz had only 28 hours of original scripted television per week, compared to 77 and 85 for HBO and Showtime respectively.
Starz continues to rack up subscribers and awards. The company was recently nominated for 6 Golden Globe Awards for its two mini-series "The White Queen" and "Dancing on the Edge". In the third quarter, Starz had 22 million subscribers, the highest ever for the company. Encore had 35 million subscribers to end the quarter, giving the company a combined 57 million subs.
Revenue continues to heat up as well. In 2012, revenue came in at $1.63 billion. This was a marginal improvement over the $1.61 billion reported in fiscal 2011. Over the last twelve months, revenue has hit $1.78 billion, showing a sign of things to come. Strength in subscribers and distribution deals, like a partnership with AMC Networks (NASDAQ:AMCX) to distribute "The Walking Dead" on DVD continues to have a great impact on revenue growth.
Analysts on Yahoo Finance see Starz posting a 9.7% increase in fiscal 2013 revenue. However, the next fiscal year analysts see revenue falling 2.9% to $1.74 billion. To me, I see revenue going higher if the company can score a couple hits with original programming. The distribution network and Sony movie deal are safeties in case the ambitious plans fall through. This pick is a risk for sure with the recent gains, but I believe it is worth the money here.
Conclusion
As you can see, several of my picks are stocks I have recommended to readers over the last two years. While the market was up huge in 2013, it has created buying opportunities in stocks the market has not recognized or fully valued. The biggest themes with the picks seem to be oil (FOR, ORIG, NBR), land (LMNR, FOR), and beverages (FMX, PEP). These are three sectors I believe should see strong growth in 2014. Several of these stocks are also ones that I believe may take time to see significant increases in share prices, but when they do they could double current values (LMNR, LGND, GTAT). Thanks for reading and good luck in 2014.
Disclosure: I have no positions in any stocks mentioned, but may initiate a long position in GTAT, LGND over the next 72 hours. I wrote this article myself, and it expresses my own opinions. I am not receiving compensation for it (other than from Seeking Alpha). I have no business relationship with any company whose stock is mentioned in this article.