Carmat SA (OTC:CKMTF) (market cap 476 million euros) is fresh from its recent triumph in performing the first artificial heart implant. The heart weighs 700 grams and was the product of long and intensive investment by this bio-med company. The French company makes no bones (or makes no livers?) in stating that today the heart, tomorrow other organs. Skeptics take note: Carmat has the backing of the French state (via the Banque Public d'Investissements, created by the French government in 2012) and the deep pockets of French aeronautic company EADS (with a 30% shareholder investment in the company). This puts them in pride of place in this market compared to their American competitors Abiomed and Syncardia.
However, it should be noted that Carmat is a start-up, and it currently quotes on the grey sheet market in the OTC. It is in the initial stages of its foray into the artificial heart implant market. Notwithstanding the recent success of its implant, it still has to run clinical trials and can expect EU approval for generalized artificial heart implants not before 2015 at the earliest. Besides being quoted on the OTC market in the grey market, it is also quoted in Paris under ALCAR.PA and in Frankfurt under the ticker CXT.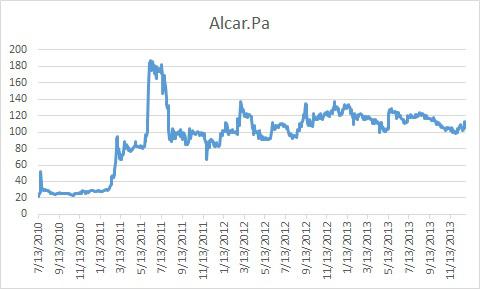 Source: finance.yahoo.com
Returns volatile this year, but less so since April.
Any investor in this stock experienced a heart-palpitating (couldn't resist the bad pun) volatility in returns.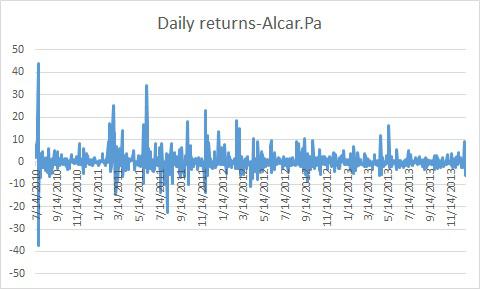 Source: finance.yahoo.com
In fact, as the following Table shows, the stock has been posting well above average returns, but this year the stock has been buffeted by news, both positive and negative. On the 4th of March, the company announced that, given its strong cash position (11 million euros) at that point, that it would not need to go back to the capital markets for additional stock issuances. Then in September of this year, management further announced that it had reduced its first half losses to 4.9 million euros against an analogous loss of 10.7 million euros the year prior.
| | | | |
| --- | --- | --- | --- |
| | Since 2010 | Since June 2013 | Since October 2013 |
| Average annualized returns | 62% | -40% | -20% |
Source: finance.yahoo.com
Bovine pericardial tissue reduces risk of rejection.
The progenitor of the the CARMAT total artificial heart was the Jarvik-7 which was implanted in 1982. Of course, the innovation of Carmat is that their heart is not supposed to just bridge the time to heart implantation, but to be a permanent replacement. The main issues have been the risk of rejection of the heart and also the possibility of thrombogenesis, or the risk of blood clot. Carmat claims that their ePFTE bovine pericardial tissue (used to coat the synthetic material of the heart itself) replicates the features of heparin-coated surfaces such as CBAS, (a bio-active coating surface), produced by companies such as Carmeda, in their attempt to reduce the risk of thrombogenesis.
In simple terms, the bovine tissue, and not artificial materials, touch human blood, reducing the risks of clotting. The heart has two chambers, with a miniaturized pumping system of motors and hydraulic fluids, and costs $200,000. In addition, the Carmat heart, although a little bigger than the average human heart (for men), has a self-regulating mechanism via embedded sensors. The heart has a maximum possible life of 230 million beats (or approximately five years). Nevertheless, for approximately 6 million people in Western Europe suffering from advanced stage heart disease, five years would be a welcome extension of their life.
Persistent losses yet conservative accounting practices. It is not unheard of for start-ups to register losses for quite a few years. Carmat is no exception. Their revenues so far consist almost entirely of subsidies by the BPI.
| | | | | |
| --- | --- | --- | --- | --- |
| | Half year 2013 | 2012 | 2011 | 2010 |
| Profits (losses) per share (euros) | -2.36 | -4.13 | -3.26 | -2.02 |
| Revenues (euros) | 2,873,627 | 17989 | 6,101,753 | 5,048,697 |
Source: carmatsa.com
But, as is often the case with French start-ups, their balance sheet is conservative and cash-rich.
| | | | | |
| --- | --- | --- | --- | --- |
| | Half year 2013 | 2012 | 2011 | 2010 |
| Cash as % of assets | 40% | 35% | 13% | 2% |
| Licence and patent value (net of amortizations) | 72,490 | 168,468 | 234,707 | 300,112 |
Source: carmatsa.com
Carmat reports that it uses straight-line depreciation for 1 to 3 years for its software and 15 years for its patents. This is especially practical for Carmat, given that the French tax code allows for a carryover of a linear depreciation schedule in the case of losses. It also indicates a bio-med company with relatively conservative accounting practices, compensating for their consistent loss-making posture over the past years.
Revenue sources for the time being research subsidies which are written down every year.
The company's only revenues source to date is a research subsidy from OSEO (the French governmental organization that guarantees credits provided to entrepreneurial companies). So far, the company has written down these subsidies as conditional advances, and has accounted for accrued charges anticipated revenues originating from royalties, licenses, and in 2010, for services rendered under the progress of services rendered method. It also capitalizes interest on the OSEO loan.
| | | | |
| --- | --- | --- | --- |
| | 2010 | 2011 | 2012 |
| Accrued charges (euros) | 353,995 | 300,960 | 203,577 |
| Conditional advances written down (euros) | 2,018,892 | 3,743,141 | 3,743,141 |
| Capitalized interest on loan (euros) | 78,096 | 217,066 | 460,054 |
Source: carmatsa.com
Clearly the company is banking on a slow upward trend to revenues, but is writing down its loans in advance. It has outstanding financial debt (long-term) of 605,140 euros, again, reflecting its relatively conservative strategy.
Ahead of its competitors. It does seem to be the case that Carmat has a leg-up on its competitors. Abiomed (NASDAQ:ABMD) for the time being fabricates mechanical circulatory support devices (recent EPS of 3 cents/share). This company makes devices that provide circulatory support for up to six hours and is looking to get FDA approval for a minimally invasive cardiac assist device that aims to improve patient hemodynamics (or relating to the blood flow to the heart). Syncardia, for its part, (an Arizona based company) has developed the total artificial heart but for temporary purposes, in particular for patients suffering from end-stage heart failure affecting both sides of the heart.
Forward looking revenue sources from agreements with heart centers in Belgium, Poland, Slovenia and Saudi Arabia.
Carmat is currently targeting the 16 billion euro donor heart market with only 4,000 donor hearts globally. Its software can be regulated remotely, and it currently has agreements to implant hearts in Belgium, Slovenia, Poland and Saudi Arabia. It has an estimated timeline of 12-18 months to complete its clinical studies.
Even in the most optimistic estimates for the company, investors should be aware that consensus estimates for sales is, on average 3.75 million euros and 7.5 million euros in 2014. However, given the continued upward trend in expenses, average EPS for 2013 stands at -3.64 euros and -4 euros for 2014.
Risk factors. I tend to be partial to French start-ups, especially if they're not too loaded with debt and have significant access to financing institutions such as BPI. The fact that EADS (EAD.PA) is a significant shareholder also means access to significant state intervention if need be, especially if French national prestige is involved. The company's innovation is in the area of its use of biological materials to divide the ventricles of the heart as well as self-regulation of the heart. That said, it should be noted that the recent implant is just Phase II. The recent implant will allow the company to apply to the ANSM (the French medical regulatory authority) to pursue clinical trials and eventually enter into the development phase. Given the current pace, and assuming no problems, the most optimistic scenario would predict a launch no earlier than 2015. Nevertheless, it might be the time to get in at the bottom for this company.
Disclosure: I have no positions in any stocks mentioned, and no plans to initiate any positions within the next 72 hours. I wrote this article myself, and it expresses my own opinions. I am not receiving compensation for it (other than from Seeking Alpha). I have no business relationship with any company whose stock is mentioned in this article.