While most REITs experienced an unremarkable year insofar as their operations were concerned in 2013, the wild ride many stocks took was one of the more remarkable sector stories of the 2013 domestic equity market. And though I think it's safe to say we're unlikely to see such a bi-polar swing in pricing this year, I nevertheless wouldn't rule out a somewhat volatile campaign as investors continue to sort through valuations and growth rates. Sector pricing and yields will be further impacted by how the Fed proceeds with the "taper" and the consequent direction of the 10-year Treasury.
Current State of REITS
Negative investor sentiment on REITs continues to be a difficult hurdle for sector constituents to overcome in an otherwise robust equity and dividend-equity market. The perception is that REITs will suffer in a rising interest rate environment. With the Fed's taper finally taking effect this month, the visibility for an ultimate end to ZIRP is starting to gain traction, which has lead to a higher 10-year Treasury, and continued poor perception of REITs.
The rate negativity is a two-part phenomenon. As long rates rise, as they did the second half of last year, the comparative yield allure for the group becomes less attractive. REITS such as Tanger (NYSE:SKT), Federal (NYSE:FRT), and the nation's largest REIT Simon Property (NYSE:SPG) which only yield 3% may be considered much less attractive by the income investor who can now buy the 10-year Treasury for the same yield. One can buy a high grade corporate with far less than 10-year maturity for 3 percent as well.
In the chart below we can see that these lower yielding REITs basically tracked the performance of IYR, the iShares Dow Jones Index over the past year offering little portfolio value.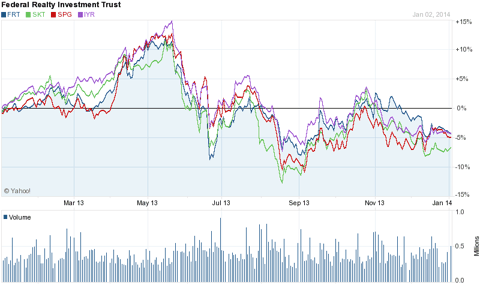 Part two of the rate saga is borrowing costs. Since REITs are dependent on variable leverage to support growth, as debt service costs rise there is less cash available to pay dividends. Although one might assume that the operating income of a REIT will become more robust in a higher rate environment, to what extent that might occur will vary from REIT to REIT, and will be dependent upon property locales as well as lease duration and contractual step up specifics.
While sentiment, for the aforementioned reasons, is negative, operational fundamentals are certainly not in the tank. However, well established REITs are not seeing robust growth - with low to mid single digit growth fairly widespread. Thus, given a rather mundane outlook for the next year, and potentially for many years to come, if one is looking at this space, I would keep my expectations to a minimum and be circumspect about the companies I take stakes in.
Exploiting Valuation Discrepancies
When one scans the individual REIT landscape, there is great divergence on the valuations currently being applied by the market. Above mentioned Federal Realty, an owner of shopping centers and one of the few REITs with an 'A-' rating from S&P, trades at a lofty, better than 20X 2014 FFO multiple and lackluster 3% yield. Triple net bellwether Realty Income (NYSE:O) now trades below 15X FFO this year's expectations at a 5.9% yield, and Lexington Properties (NYSE:LXP), which leases a mix of property types to single tenants, sells for less than 10X this year's FFO expectations at a 6.5% yield clip.
The interesting thing about these three companies is that they are all expected to grow FFO in the 6-7% range this year. So why is there such a valuation and yield discrepancy?
Part of the resolution is related to the companies' credit ratings and balance sheet strength as well as perceptions related to the durability of individual cash flow sources. Federal's unsecured debt is rated A-/A3 by S&P/Moody's while Realty's is BBB+/Baa1 and Lexington's is unrated by S&P but rated Baa2 by Moody's. While maybe not a symmetric rule, it does appear that the less leveraged a REIT's finances are, the higher the valuation the equity market tends to apply to it.
But does Lexington deserve to be trading at half the multiple of Federal and 50% less than Realty Income? I would agree that it deserves to trade at somewhat of a discount, but certainly not this severe of one. While I would reserve the move for only more sophisticated investors, maybe a pair trade of a short of Federal Realty and a long on Lexington is worthy of investigation. Regardless of what you think about that idea, I think Lexington appears like a value for total return investors in today's market.
I would recommend readers review Brad Thomas's latest article on Lexington which furthers the bull case. Though I'm not quite as optimistic as Brad on the price front next year, I think the stock provides decent return potential in the year ahead.
Other individual names that I see operational value in the year ahead include:
American Realty Capital Properties (ARCP)
EPR Properties (NYSE:EPR)
Omega Healthcare (NYSE:OHI)
LaSalle Hotel Properties (NYSE:LHO)
And though it is not as cheap as the above mentioned names, Realty Income, now selling at 15X this year's FFO expectations, at a 5.9% yield has become a worthy consideration for income investors seeking a high quality, diversified source dividend stream.
Keeping It Simple
Since many diversified investors simply don't have the room in their portfolios or the desire to craft a portfolio of several REITs, there are other options. Simple solutions include Vanguard's ETF index product VNQ and aforementioned IYR. However, for those looking to be a bit more aggressive, you may want to consider the following pooled products that I've run across over the past year:
1. PowerShares KBW Premium Yield Equity REIT (NASDAQ:KBWY)
As the name implies, this ETF invests in a basket of REITs, skewing towards smaller-cap, higher yield issues (the fund yields currently yields in the neighborhood of 5%). Here is a list of the top holdings with better than 3% positions.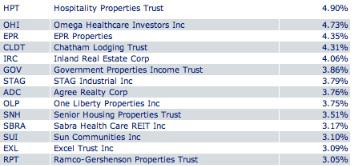 This is a fund that does not own a lot of the larger-cap names and possesses an extremely reasonable 35 basis point expense ratio, however I don't like the fact that three of its top holdings (HPT,GOV,SNH) are externally managed by RMR. While external managers are not necessarily destructive, their interests are not usually aligned with those of shareholders, given their fee based compensation.
Nevertheless for those looking to diversify from garden variety REIT fare, this would be a simple way to access the smaller-cap REIT space.
2. IQ U.S. Real Estate Small Cap ETF (NYSEARCA:ROOF)
I see this as another fund with an interesting group of holdings to complement a large-cap portfolio. While the fee here is double at nearly 70 basis points, the yield is closer to 6%, adjusted for return of capital and capital gains distributions through the year. Here is a recent list of this fund's top holdings and allocations:

Clearly this is not a pure equity REIT portfolio, as it holds nearly a quarter position in the mortgage REIT space. While I'm generally not a fan of mortgage REITs for conservative income investors, most mREITs are currently trading at vast discounts to book, which in a portfolio like this could be a value add. However, unquestionably, mREITs raise the overall risk profile of this portfolio as compared to the PowerShares product.
Investors should also be aware of the very small nature of these portfolios. With AUM of only 66M and 40M, respectively, KBWY and ROOF are not particularly liquid, so investors may have trouble building and conversely liquidating positions.
3. Cohen and Steers Quality Income Realty (NYSE:RQI)
RQI is a closed-end fund currently trading at a 10% discount to net asset value, advertising a 7.6% distribution. Taking a look at the top holdings, the fund basically has the feel of a large-cap REIT index fund, with the added boost of 27% leverage.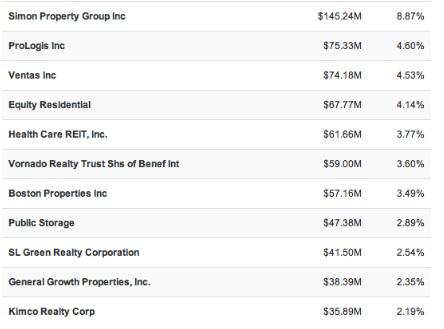 While the 7.6% yield may seem attractive, if one looks closer at the source of the distribution over the past several years, it has been mainly classified as return of capital and long-term capital gains. Thus, where the "real" yield of the fund sits may be substantially lower, which may not make it a good choice for a non-qualified account. Between general and leverage expenses, you are also paying upwards of 200 basis points to own this fund, which makes it an expensive buy.
Still, with a 10% discount, you are able to purchase REIT assets at 90 cents on the dollar, which in my mind certainly makes this fund worthy of consideration and an alternate idea for those considering the Vanguard or iShares ETF products.
General REIT Risks
I feel the biggest threat to your REIT capital in 2014 is the movement of the 10-year bond. Sitting right at 3%, another sharp snap higher will likely create a somewhat symmetric snap lower in REIT pricing, perhaps affecting those REITs sitting at higher valuations and lower yields the most. Whether this occurs or not will be predicated on the speed and success of the Fed's taper efforts. While I would not necessarily try to get into a guessing game on the 10-year, I would recommend positioning allocations defensively to protect against further upwards movement.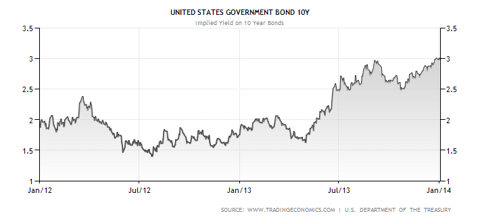 This might mean buying assets with perceived and visible quantitative value, diversifying and/or mitigating the risks of owning large-cap, low yielders selling at premium FFOs. From an overall portfolio, total return perspective, I'd probably recommend an even weight allocation, at most. Pure income or dividend growth investors may consider an overweight position, but must be cognizant of opportunity cost peril if the 10-year moves towards 4 percent.
Longer-term, the prospect for the Fed to begin a tightening spree looms. Yet for REITs that have reduced leverage and pushed out fixed maturities, the operational risks may not be as high as the market is anticipating. Still, if FFO or dividend growth becomes lackluster for individual REITs and/or the sector as a whole, investors may view REITs as an easily expendable asset in a higher risk-free yield world.
Disclosure: I am long ARCP, EPR, LHO, LXP. I wrote this article myself, and it expresses my own opinions. I am not receiving compensation for it (other than from Seeking Alpha). I have no business relationship with any company whose stock is mentioned in this article.
Disclaimer: The above should not be considered or construed as individualized or specific investment advice. Do your own research and consult a professional, if necessary, before making investment decisions.