Infrastructure assets have several key characteristics that have made them attractive alternative investments for institutional investors. Infrastructure assets have high barriers to entry due to strict zoning requirements and large capital investments required for new builds. Infrastructure investments have long useful lives, typically greater than 20 years. Infrastructure often has inelastic demand, allowing stable cash flow generation, even during economic downturns. With these attractive characteristics, it is no wonder that global infrastructure investments have become viewed as an attractive alternative investment.
Individual investors now have access to broad baskets of global infrastructure investments through ETFs. A long-term allocation to infrastructure can be used to diversify portfolios while providing an attractive total return with a strong income stream.
Available global infrastructure ETFs include:
SPDR S&P Global Infrastructure ETF (NYSEARCA:GII), which charges 0.40% fee and offers a 4.13% dividend yield.
iShares Global Infrastructure ETF (NYSEARCA:IGF), which charges a 0.48% fee and offers a 3.46% dividend yield.
ETFs are also available specifically for infrastructure in emerging markets. These ETFs include:
PowerShares Emerging Markets Infrastructure ETF (NYSEARCA:PXR), which charges a 0.75% fee and yields 1.49%.
iShares Emerging Markets Infrastructure ETF (NASDAQ:EMIF), which also charges a 0.75 fee but yields 2.87%.
Even emerging market country specific infrastructure ETFs are available. These ETFs include:
EGShares Brazil Infrastructure ETF (NYSEARCA:BRXX), which charges 0.85% and pays a yield of 3.24%.
EGShares China Infrastructure ETF (NYSEARCA:CHXX), which charges 0.85% and pays a yield of 1.45%.
EGShares India Infrastructure ETF (NYSEARCA:INXX), which charges 0.85% and has a 12-month yield of 12.45%.
(Fee and yield sourced from Morningstar)
There are also several closed end funds available that offer exposure to infrastructure. Below is a profile of the Cohen & Steers Infrastructure Fund, Inc. (NYSE:UTF). This is one of the available closed end funds investing in global infrastructure. UTF offers a diversified infrastructure portfolio with strong active management and a 7% distribution. The fund is also trading at a double-digit discount to its net asset value offering an attractive entry point.
Performance:
Using an ETF with a similar investment objective gives a good comparison to allow for evaluation of the management's performance. IGF offers a relatively similar investment objective to UTF and allows a good comparison to evaluate performance. As you can see below, on a NAV basis, UTF has strong relative returns on all annualized periods. UTF has also outperformed on most available annual periods. The exception is 2008 where UTF underperformed by more than 10%. This was likely driven by UTF's use of leverage, which can amplify returns but increases risk.

Data as of 11/30/2013 Source: Morningstar

Data as of 11/30/2013 Source: Morningstar
UTF has also outperformed the benchmark that Cohen & Steers uses to evaluate performance. The fund's performance compared to the benchmark is shown below. The time period is from the fund's inception 3/30/2004 to 9/30/2013.

Source: Cohen & Steers
Premium/Discount: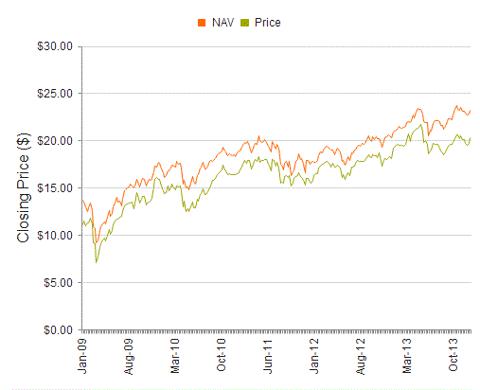 Source: CEFConnect
The fund closed 12/31/2013 at a 12.08% discount to the NAV or underlying value of the portfolio. This is below the 52-week average discount of 10.38%. During the past 12 months the fund's discount has traded as low as 13.93% and as high as 5.95%. The discount has been fairly persistent. There could be several factors that contribute to the discount including; the embedded capital gains within the portfolio, occasional return of capital, and relatively high leverage. The recent expansion in the discount is likely due to concern about the effect of a rising interest rate environment on investments that are highly capital intensive. The persistent discount is a bit surprising in light of the strong NAV performance. If interest rates don't move too quickly and the economy is strong enough to provide pricing power, infrastructure assets should be able to perform well driving the discount to narrow. Another factor that could drive the discount to contract is share repurchase authorization. Management has the ability to repurchase 10% of outstanding shares in a calendar year. UTF repurchased 203,023 shares in 2013 through November 30 and a total of 790,352 shares since the inception of the program.
Expense Ratio:
The management fee is 0.85% of managed assets. Administrative fees and director's fees are also charged. Assets purchased with leverage are included in the fee calculation, which drives the fee as a percentage of net assets higher. The calculated management fee and other expenses came to 1.45% in 2012. When the 0.62% interest expense is added in, the total annual expense ratio was 2.07% in 2012. The total cost of the fund is pretty high but not uncommon for leveraged closed end funds. The fund shows outperformance over both the fund's stated benchmark and ETFs investing in similar assets. This strong performance shows management has been able to overcome the fund's relatively high cost structure.
Distribution:
The fund pays a $0.36 distribution quarterly. This represents 6.99% at the current market price and 6.15% at NAV. A portion of the distribution over the past few years has been return of capital. However, the return of capital has not significantly hurt NAV performance.
Leverage:
UTF has an $850 million credit agreement in place with BNP Paribas. As of 6/30/2013, there was $800 million outstanding. UTF has both fixed and floating components of the agreement. As of 9/30/2013, 90% of leverage was fixed rate and 10% was floating rate. The weighted average rate on financing was 1.9% and the weighted average term was 4.8 years. There is a 0.55% fee on the unused portion of the credit facility. Leverage represented 29% of managed assets on 9/30/2013.
Liquidity:
UTF is large for a CEF with $2 billion in net assets. However, trading volume is only moderate with 150,000 shares traded on average. This represents $3 million in daily volume at current prices. This is a reasonable amount of liquidity for a CEF and should allow individual investors the ability to get their orders filled. It is always wise to use limit orders to purchase or sell shares of closed-end funds, as the bid/ask spread can be wide.
Management:
UTF is managed by Cohen & Steers (NYSE:CNS). CNS is known for its investments in real estate but they also have solid reputation in real assets, utilities, and infrastructure investments. UTF's performance has been consistent and strong, showing the skill of management.
Holdings:
Asset Allocation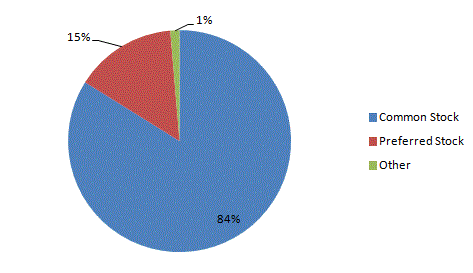 The fund is mostly invested in listed common equities with a relatively small allocation to preferred stocks to generate additional income. The other component of the fund includes corporate bonds, warrants, and short-term investments.
Country Allocation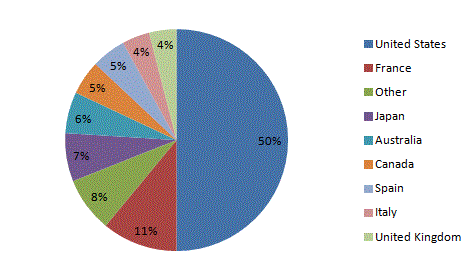 The largest country allocation is to the United States, which represents roughly half of the total portfolio. The fund offers broad diversification to global infrastructure securities. This also exposes the fund to currency fluctuations, which can impact the fund's performance.
Sector Allocation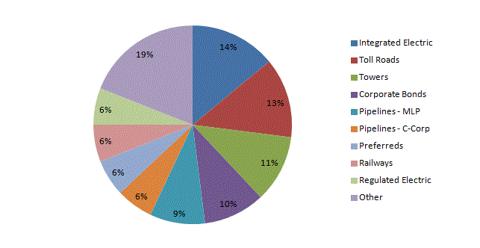 UTF offers broad sector diversification. The sector breakdown given by CNS likely shows over diversification as regulated electric, integrated electric, gas, and water utilities are all listed separately. Also, the allocation to "Corporate Bonds" above is mostly capital preferred stock. This difference drives the difference between the sector allocation review and the asset allocation review.
UTF has assets that would benefit from multiple types of economic and rate environments. Utilities, bonds, and preferred stocks should perform well in a slow economy with low inflation. Railways, airports, marine ports, and toll roads should perform well in a stronger economy. The allocation to towers benefits from the growth in smartphones and mobile data. Pipelines are set up to benefit from the growing energy production in North America. Pipelines offer an inexpensive way to transport energy. Pipelines could see additional support after the recent train accident in North Dakota.
Top Holdings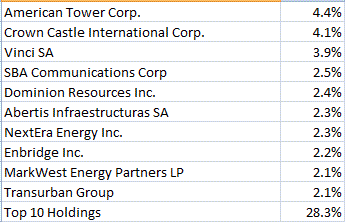 The fund offers a diverse portfolio with 164 total holdings and only 28.3% of the fund in the top ten holdings. The managers are willing to make some larger bets, with a couple of securities held at more than 4% of the portfolio. The portfolio turnover is moderate usually ranging between 40% and 50% per year. The highest turnover in the past 5 year was in 2009 when the turnover rate was 113%.
*The source of all portfolio information was Cohen & Steers as of 9/30/2013
Strategy:
UTF's investment objective is total return with an emphasis on income. The fund invests at least 80% of managed asset in securities issued by infrastructure companies including utilities, pipelines, toll roads, airports, railroads, ports, telecommunication companies, and other infrastructure companies. The fund is not limited in the amount of international or emerging market exposure it can take. The fund can invest up to 20% of assets in preferred securities. Up to 25% of assets can be invested in preferred stock or fixed income securities of companies with below investment-grade credit ratings. The fund is also allowed buy or sell options to manage risk and produce additional income.
Tax Issues:
As of June 30, 2013, the fund had $465,657,974 of net unrealized appreciation. These gains are offset by $141,044,124 in tax loss carry forwards that expire 12/31/2016. This means investors could see capital gains distributions from the fund as assets held at a gain are sold. Embedded capital gains represent roughly 17% of the fund's net assets.
Conclusion:
Global infrastructure is an attractive alternative investment that can provide strong total returns and portfolio diversification. UTF provides individual investors access to an actively managed fund with strong performance and an attractive distribution. The market is currently offering this fund at an attractive 12% discount. The large discount to NAV offers traders the opportunity to benefit from the discount narrowing. Longer-term investors should benefit from a strong management team investing in an attractive asset class.
Disclosure: I am long UTF. I wrote this article myself, and it expresses my own opinions. I am not receiving compensation for it (other than from Seeking Alpha). I have no business relationship with any company whose stock is mentioned in this article.